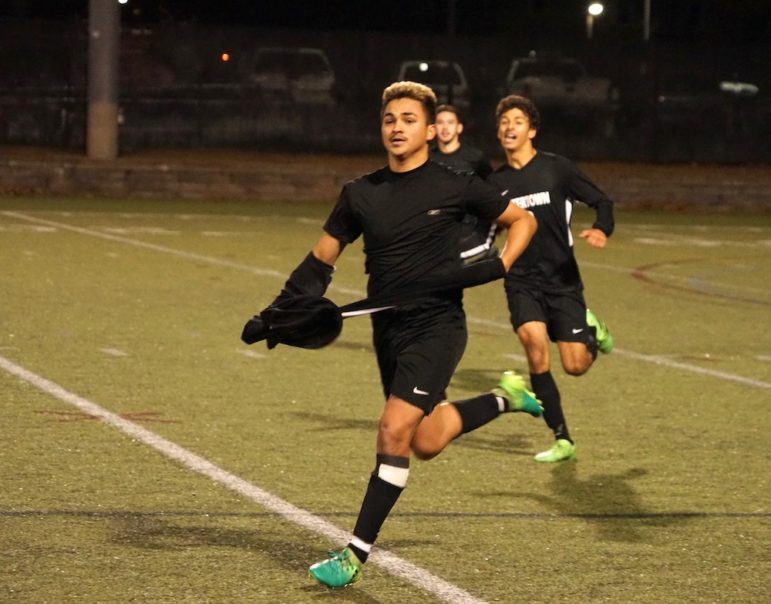 Watertown junior Rodrigo Freitas received several honors following the 2019 boys soccer season, including making the All-State team, League MVP, and was one of five Raiders to make the Middlesex League All-Stars.
Freitas and the Raiders won the Middlesex League Small (Freedom) Division and got to the North Section Semifinals. He was one of three Middlesex League players named to the All-State team. The midfielder also made the Middlesex League All-Conference team — the best players from the Small and Large school divisions — and the Eastern Massachusetts All-Stars
Other Raiders on the League All-Stars are senior Gevork Kaapetyan, senior Devon Breen, junior Nicholas DiPace and junior Caiden Kiani.
The Middlesex League released the following list of boys soccer players to earn honors:
2019 Middlesex League and Eastern Massachusetts All Stars
Middlesex League Small All-Stars
Gevork Karapetyan Watertown 2020
Devon Breen Watertown 2020
Rodrigo Freitas Watertown 2021
Nicholas DiPace Watertown 2021
Caiden Kiani Watertown 2021
Patrick Collins Wakefield 2020
Anthony Pellegrino Wakefield 2020
Joao Valdevino Wakefield 2021
Mattew Sellers Wakefield 2022
Robert Weisen Melrose 2020
Tommy Bergin Melrose 2021
Tarekegn O'Neil Melrose 2021
Kevin Sarkis Stoneham 2020
Yves Maurer Stoneham 2023
Benji Ramirez Burlington 2020
Sean Theurer Burlington 2021
Aidan McGrath Wilmington 2021
At-Large All-Stars
Ryan Clarke Wilmington 2020
Michael Dileo Stoneham 2022
Furio Forconi Melrose 2020
Middlesex League Small Most Valuable Player
Rodrigo Freitas Watertown 2021
Middlesex League Large All-Stars
Sam Boehm Lexington 2020
Robert Lloyd Lexington 2020
Dylan Corbett Lexington 2020
Malte Steines Lexington 2020
Conor Murphy Lexington 2020
Will Hoffheinz Winchester 2020
Diego Diaz Winchester 2021
Aras Kaya Winchester 2020
Dylan Ross Winchester 2021
Jon Brabo Belmont 2020
Ali Noorouzi Belmont 2021
Michael Ciano Belmont 2021
Christian Trauger Reading 2020
Ethan Dumas Reading 2020
Grant Greisman Arlington 2020
Sean Connelly Arlington 2020
Kevin Barry Woburn 2020
At-Large All-Stars
Christian O'Sullivan Reading 2020
Declan Dolan Arlington 2020
Sam Chung Lexington 2022
Middlesex League Large Most Valuable Player
Will Hoffheinz Winchester 2020
Eastern Massachusetts All-Stars
Will Hoffheinz Winchester 2020
Dylan Corbett Lexington 2020
Rodrigo Freitas Watertown 2021
Jon Brabo Belmont 2020
Sean Connelly Arlington 2020
Diego Diaz Winchester 2021
Christian Trauger Reading 2020
Malte Steines Lexington 2020
Middlesex League All Conference – ML Best XI
Will Hoffheinz Winchester 2020
Dylan Corbett Lexington 2020
Rodrigo Freitas Watertown 2021
Jon Brabo Belmont 2020
Sean Connelly Arlington 2020
Diego Diaz Winchester 2021
Christian Trauger Reading 2020
Malte Steines Lexington 2020
Robert Lloyd Lexington 2020
Patrick Collins Wakefield 2020
Ali Noorouzi Belmont 2021
All-State Team
Will Hoffheinz Winchester 2020
Dylan Corbett Lexington 2020
Rodrigo Freitas Watertown 2021
All-New England Team
Will Hoffheinz Winchester 2020