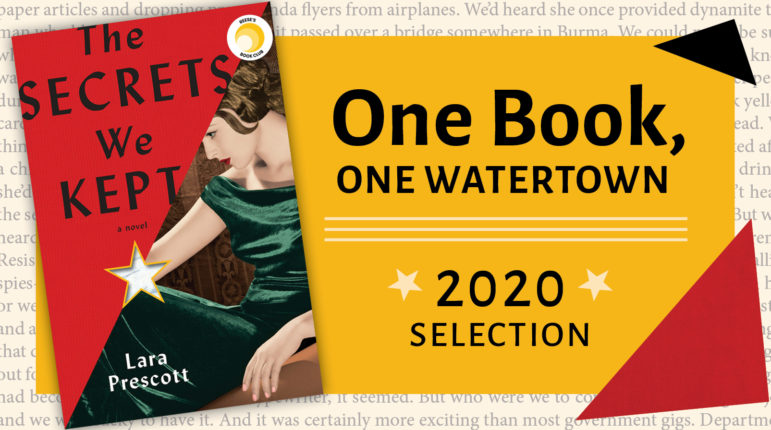 The Watertown Free Public Library is pleased to announce Lara Prescott's debut novel, The Secrets They Kept as our selection for One Book, One Watertown 2020. Copies of the book, including large print, playaway, ebooks, and e-audiobooks will be available at the Library in January, across from the Reference Desk. A full schedule of March programs will follow.
"A gorgeous and romantic feast of a novel anchored by a cast of indelible secretaries." – The New York Times
"Enthralling… This is the rare page-turner with prose that's as wily as its plot." – Vogue
During the cold war, the CIA pursued an initiative known as "cultural diplomacy." Operating on the premise that "great art comes from true freedom", the agency seized on painting, music, and literature as powerful tools for promoting the western world's values behind the Iron Curtain. In 1955, the CIA recruited secretaries from the typing pool, and charged them with acquiring the manuscript for Boris Pasternak's controversial Doctor Zhivago, ensuring it was published in the West, and then translated into Russian and leaked back into the Soviet Union.
The Secrets We Kept is the thrilling tale of secretaries turned spies, of love and duty, and of sacrifice–inspired by the true story of the CIA plot to infiltrate the hearts and minds of Soviet Russia, not with traditional propaganda, but with a timeless love story: Doctor Zhivago. This novel paints a captivating and often charming portrait of another time, while managing to positively shimmer with significance in today's political clime.
We look forward to community conversations about literature as propaganda, the value of women's work, breathtaking fashions of the 1950s, the love story of Boris and his mistress Olga (the inspiration for Lara), the dangers of totalitarianism, and so much more. As always, we invite you, your friends, and families, to read the book during the cold and dark of January and February. We'll host programs in March to bring the community together to engage about this lovely debut.
For more information about One Book, One Watertown visit: watertownlib.org/onebook