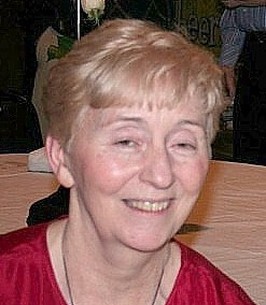 Nancy R. (Blair) Dota, a longtime resident of Westford, age 81, passed away peacefully on Wednesday, January 1, 2020, at Apple Valley Nursing Center in Ayer. She was the beloved wife of Frank N. Dota with whom she shared 66 years of marriage.
She was born in Watertown, MA on January 8, 1938 and was a daughter of the late Malcom and Margaret (Sullivan) Blair. She graduated from Watertown High School in 1956
Nancy was employed for many years as a Lab Technician at Teledyne, Inc. Nancy was very athletic and enjoyed being outdoors and swimming on Nabnasset Lake. She loved spending time with family and friends and hosting family gatherings at her home. Her happiest times were spending quality time with her children. She was also welcoming, kind, caring, intelligent and giving. She volunteered and donated to the St. Jude Children's Research Hospital.
In addition to her loving husband, Nancy is survived by her children: Christopher and his fiancé Donna Gleeson of Dedham MA, Frank Jr. of Bloomfield, CO, Ronald Dota of Needles CA, Rebecca Crump (Dota) of Auburn, N.H, and Nick F. Dota of Billerica MA, her sister Patricia (Blair) Ryan, and several nieces and nephews. Nancy was a loving grandmother to her grandchildren.
Visiting hours will be held on Sunday, Jan. 5, from 5:00pm to 8:00pm at the Blake Chelmsford Funeral Home, 24 Worthen Street, Chelmsford MA.
A Mass of Christian Burial will celebrated on Monday, Jan 6, at 10:00am at St. Catherine of Alexandria Parish, 107 North Main Street, Westford.
KINDLY MEET AT CHURCH.
Interment will be held privately at a later date.