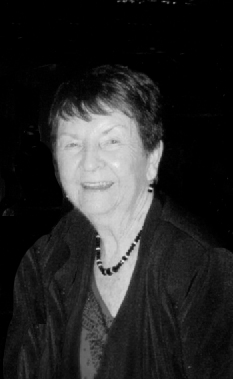 Teresa (Mullins) Driscoll, of Reading, formerly of Woburn, Jan. 19. Passed peacefully at home with her loving family by her side. She was 91 years old.
Teresa was born in Somerville. She was one of 9 children born to Irish immigrants, Timothy and Julia Mullins. She grew up in Somerville in a modest home that was always bustling at the edges with family and friends. For Teresa, the dynamics, chaos, and environment of growing up in such a large family was thought to be normal and that every home was that way. Her parents gave Teresa a strong foundation upon which she lived the rest of her life. It was based on faith, resilience, and the fact that family always came first.
Teresa received a full scholarship that enabled her to attend and graduate from St. Clement High School. The Mullins family bond always remained strong. All her siblings remained close throughout their lives and all the nieces and nephews were more like best friends. The Mullins family celebrated Memorial Day, July Fourth, and Labor Day with big cookouts. On Christmas Eve, Teresa hosted a large open house for her family and friends. Teresa had a way of making all of her children, grandchildren, and great grandchildren that they were her favorite.
She was truly the matriarch of the Driscoll Clan with 6 children, 11 grandchildren and 3 great grandchildren. She raised her family in Woburn in a neighborhood filled with children and with great neighbors. She was a watchful, caring, and loving mother. She was very involved in all their lives growing up. She taught CCD at St. Barbara Church, was a Brownie leader, and Cub Scout Den mother. She was encouraging and supportive and was always there for her children's school, sporting, and life events. She didn't have favorites, made everyone feel special and always had the right words or actions for every situation or crisis. At the same time, she could see both sides of a situation and wouldn't hesitate to let her position be known. Teresa still believed in the lost art of writing a letter. Just like all mothers, she worried for everyone.
There were countless family trips where she packed 2 adults, 6 kids, and a dog up in a station wagon. They vacationed in Manomet, Cape Cod, Rumney, Rye, N.H. and even Nashua, N.H. When the grandchildren came along, there were many family vacations spent renting a home on Rainbow Road in West Yarmouth. Her grandchildren particularly enjoyed the "Theme Nights" during the weekly stay. She had a dry wit and loved to laugh. She forever referenced "Distinctly Superior" in speaking of her children, grandchildren, and great grandchildren. She lived her life caring for her family and when her last years became a challenge, her children, their in-laws, and grandchildren were there to ease her struggles, watch over her and smother her with love.
Thanks also to all of her special aides for their loving care, in particular Becky & Donna.
Beloved mother of Michael & his wife Jane of Watertown, Brian & his wife Mary of Medfield, Paula Wheeler & her husband Harry of Reading, Mark & his wife Linda of Derry, N.H., Peter of Reading and Leanne Norris & her husband Michael of Reading.
Proud grandmother of Amy, Allison, Aileen, Erin, Christopher & Sean Driscoll, Sarah Giorgio, Colleen Endres, Tara Charmanski and Kristina & Caroline Norris. Great grandmother of Piper & Tallulah Endres and Natalie Charmanski. Sister of Mary Mullins of Wilmington and the late Julia Francis Gillis, Anne Byrnes, Joan Foohey, and Patrick, John, Thomas & Timothy Mullins.
Sister-in-law of Phyllis Mullins of Reading and Helen Mullins of North Reading. Teresa is also survived by many nieces and nephews.
Visiting hours will be held at the Edward V Sullivan Funeral Home, 43 Winn St., BURLINGTON (Exit 34 off Rt. 128/95 Woburn side) on Thursday, Jan. 23 from 4-8 p.m. Funeral from the Funeral Home on Friday, Jan. 24 at 9 a.m. Followed by a Mass of Christian Burial in St. Margaret's Church, 111 Winn St., Burlington at 10 a.m. Burial to follow in Holy Cross Cemetery, Malden.
lIn lieu of flowers memorials in Teresa's name may be made to Care Dimensions, 75 Sylvan St., Suite B-102, Danvers, MA 01923 www.caredimensions.org For directions, obituary & online guestbook see www.sullivanfuneralhome.net & www.stmargaretburlington.org