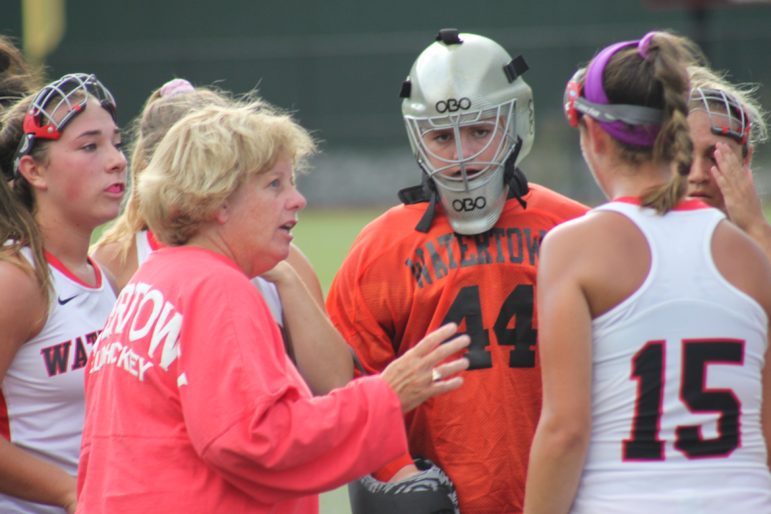 Watertown High School field hockey coach Eileen Donahue will add to her growing list of accolades during the Massachusetts Celebration of Girls and Women in Sport Day.
On Feb. 7, Donahue will be one of four women to receive the Massachusetts Women in Athletics Distinguished Service Award. The award will be presented at the annual event held at Faneuil Hall in Boston.
Earlier this year, Donahue was inducted into the National Field Hockey Coaches Association Hall of Fame. During her career in Watertown, Donahue's teams have won 18 state championships, 25 North Section titles and 29 Middlesex League titles. Her record stands at 680-34-46 in her 33 years at WHS, including a national record unbeaten streak of 184 games from 2009 to 2017, and also the longest winning streak in high school field hockey with 124 straight wins.
Also attending the event will be WHS students Ally Kennedy, who plays field hockey and lacrosse, and Aurise Tattrie, a field hockey player.
Find out more about the Massachusetts Celebration of Girls and Women in Sport Day in the announcement below:
Elaine "Laney" Clement-Holbrook, girls' basketball coaching legend, will provide the keynote address at The Massachusetts Celebration of Girls and Women in Sport Day (GWS Day) on Friday, February 7, 2020 at the Great Hall at Faneuil Hall in Boston. This event, which runs from 10:00 a.m. to noon, is a formal but fun recognition day for high school female athletes and the adults who support and inspire them.  The event is co-sponsored by the Massachusetts Interscholastic Athletic Association (MIAA) and the New Agenda: Northeast.
This morning's celebration will recognize two honored female athletes from each participating high school and nine participating schools have included athletes from their Unified Program. In addition to Clement-Holbrook's keynote address, the event will also feature the recognition of the four 2020 recipients of the Massachusetts Women in Athletics Distinguished Service Award. Honorees are: Lynn Anderson, Field Hockey Coach, Mohawk Trail Regional High School, Shelburne Falls; Eileen Donahue, Field Hockey Coach, Watertown High School, Watertown; Martha Jamieson, Athletic Director, Silver Lake Regional High School, Kingston; and, Theresa Nyhan, Teacher and Coach, Mansfield High School, Mansfield.
Keynote speaker Laney Clement-Holbrook served Oliver Ames High School as a teacher and coach since 1975. She was a teacher of Health, Physical Education, General Science and Biology until she retired in 2011. She was the Freshman Field Hockey Coach from 1975-1982 and the Head Softball Coach from 1975-1982, and, since 1976, she has been the Head Basketball Coach. A coaching legend, Laney is the Commonwealth's "winningest" girls' basketball coach capturing numerous league and state championships.  In 2017, she was chosen for the national honor of coaching the East Squad of the McDonald's All-American Game in Chicago.
Lorelei Marcel, a junior at Lexington High school, will sing the national anthem, and Vicki Caburian, a teacher and coach at Lincoln-Sudbury Regional High School, will read the gubernatorial proclamation announcing that Friday, February 7, 2020, is recognized as Girls and Women in Sport Day in Massachusetts.
The MIAA is a private, non-profit association organized by its member schools to govern, coordinate and promote education-based programs for high school students. The student-athletes served in the MIAA's 380 member schools fill over 230,000 team positions in 38 sports. The New Agenda: Northeast was formed in 1986 to advance the role of girls and women in spot; the regional organization sponsors a Hall of Fame Luncheon each year to recognize women who have distinguished themselves in sports education and promotion.