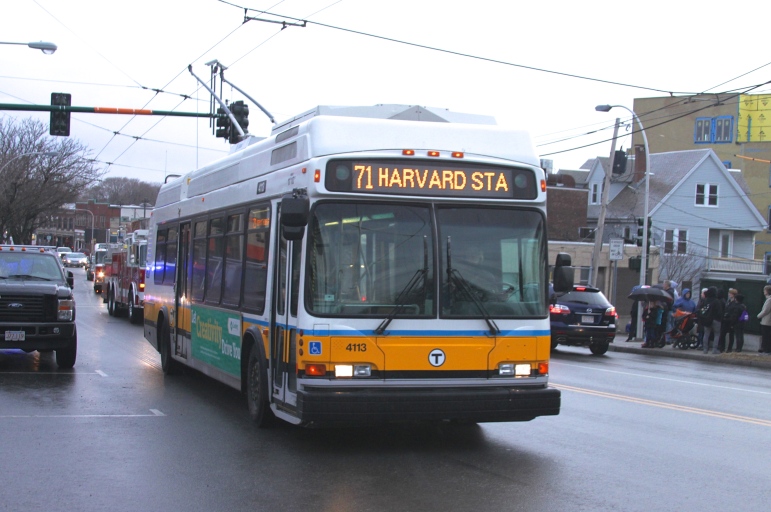 The following piece was provided by State Sen. Will Brownsberger, who represents Watertown, Belmont and parts of Boston:
I often get complaints about bunching and related gaps in service on MBTA buses. Sometimes you'll see 4 buses go through together and sometimes you might wait 30 minutes for a bus that is supposed to come every 5 or 10 minutes.
Bunching is a perennial challenge for MBTA bus operations, especially on the trolley lines (71 and 73) where buses cannot pass each other. I recently sat down with senior bus operations managers at the MBTA to get an update on their efforts to keep service properly spaced.
Current technology is a major barrier to addressing the bunching problem. Other than the farebox, everything on the bus is run by a system originally procured almost 20 years ago called "Transit Master." Transit Master keeps records on who is driving the bus, displays the route signs on the bus, provides radio communications, makes the stop announcements, counts passengers and, most importantly, tells the driver in real time whether the bus is ahead or behind schedule.
When the driver sits down in the bus at the start of their shift and logs in to the system, a schedule is loaded for their whole shift. That schedule doesn't change dynamically to reflect traffic conditions. Congestion is built into schedules, but traffic is not entirely predictable and when traffic is especially bad, buses fall behind schedule. Even if a bus is running behind schedule and the trailing bus has caught up, the trailing bus driver is being told by the system to keep pressing to stay on schedule, even if that means staying right behind the lead bus.
For the foreseeable future, the MBTA is married to Transit Master. And it does not seem wise to add a second independent system that the drivers should look at – safety is always the top priority and we don't want drivers looking in multiple places. So, for now, the drivers themselves cannot help much to solve the bunching problem.
The dispatchers in downtown Boston have an overview of the whole system. They can see bunching emerge, but they have dozens of lines in front of them and they can't see the local conditions causing bunching and so they are not likely to directly intervene.
Inspectors are dispersed around the system and the T is rolling out new technology for them so that they can see the overview that dispatchers see. This should better allow them to revise schedules dynamically to manage bunching, but like the dispatchers, they have a lot of balls in the air and it may be hard for them to intervene consistently. For example, the single stationary inspector at Bennet Alley in Harvard Square has roughly 10 bus lines to watch. That inspector has to make sure that drivers are showing up for their routes and are ready for service. There are other roving inspectors in the zone, but they tend to focus on solving problems out on the lines – mechanical failures and special traffic problems.
Possibly compounding the technological and personnel limitations, the MBTA's principal performance metric is whether buses and trains are "on time" – not more than 1 minute early or 5 minutes late. That means that dispatchers and inspectors who have authority to hold and release buses from the endpoints of their runs have some disincentive to enforce rational spacing. Holding a bus for spacing might be the best thing for riders down the line but could make that bus technically late and hurt performance stats. The metric is under review, but there is no timeline for a new metric that would better suit high-frequency bus lines.
To me, it looks like adding inspectors would create capacity to manage spacing more aggressively and that speaks to the general need for more funding for the MBTA. I am hopeful that the legislature will be able to substantially increase the MBTA's operating budget in this cycle to address field management issues like bunching, as well as fundamental gaps in safety inspections, resiliency planning, and capital planning.
As always, I appreciate feedback at 617-722-1280, William.brownsberger@masenate.gov or willbrownsberger.com.