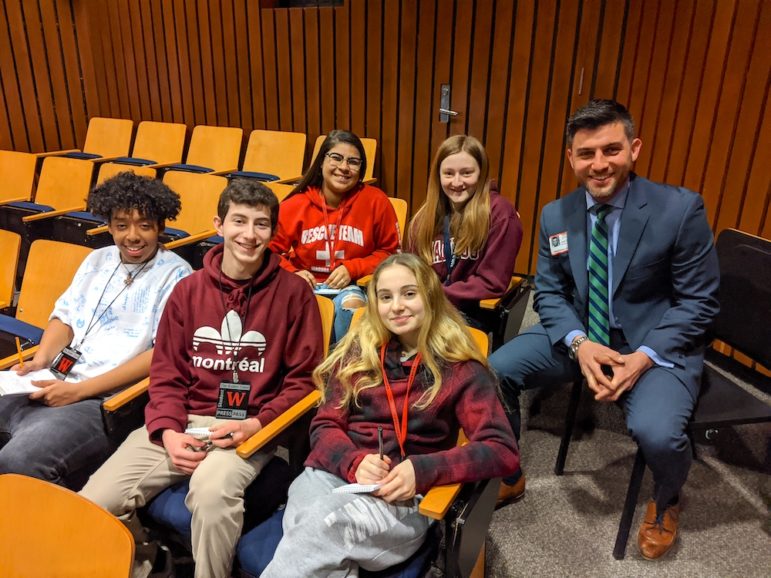 Watertown High School's next principal has a wide breadth of educational experience, and also has ties to town. The School Committee formally met Joel Giacobozzi at Monday night's meeting.
Superintendent Dede Galdston picked Giacobozzi from the three finalists, who visited Watertown at the end of January. He currently serves as associate head master at Boston Latin, and previously was assistant principal at Scituate High School and took part in the principal internship program in the Boston Public Schools.
"A couple of the things I thought were impressive to me was about Joe's candidacy was, one, Joel's commitment to Watertown — he has a family background in Watertown, but in general he has a very sincere desire to be our principal in Watertown, not just any community, but with us," Galdston said. "Also, he is committed to meeting the needs of all students."
She joked that she tried to recruit Giacobozzi to join the band for the WHS musical "Chicago" last weekend, because he was a classical trumpet minor in college.
Galdston also thanked Shirley Lundberg, who is retiring after the end of the school year, for all her work at the school.
Giacobozzi said that he would love to jump in get to work in Watertown right away, but he will have to wait until July 1, 2020. He said he was honored to be selected.
"It is a really difficult job. It is a community that, in my selfish opinion, deserves the best," Giacobozzi said. "I have big shoes to fill. I really am excited, I think the hardest part right now is I want to jump in and start working in the school, but I can't yet."
He will be putting together an entry plan, and will be setting meetings with people to learn about the high school.
"My biggest task, at first, is listening, to hear what's working and what needs tweaking, and jump into the work," Giacobozzi said.
The School Committee welcomed Giacobozzi. School Committee Vice Chair Kendra Foley said that she is excited to see what the new principal can bring to the school.
"A few years ago, I read an article that said if you want to fix the schools go to the principal's office — just underlining the importance of that role and how powerful it is," Foley said. "There is so much potential at the high school and an opportunity for you to lead it to new heights."
The process of selecting the new WHS principal began about two months ago with a round of interviews by the screening committee, Galdston said. The three finalists were invited to visit the school, where they met students, teachers, parents and others. Then Galdston visited the finalists' current schools.
Galdston said she also listened to what parents and students had to say about the candidates before making the choice of Giacobozzi as the next person to lead Watertown High School.