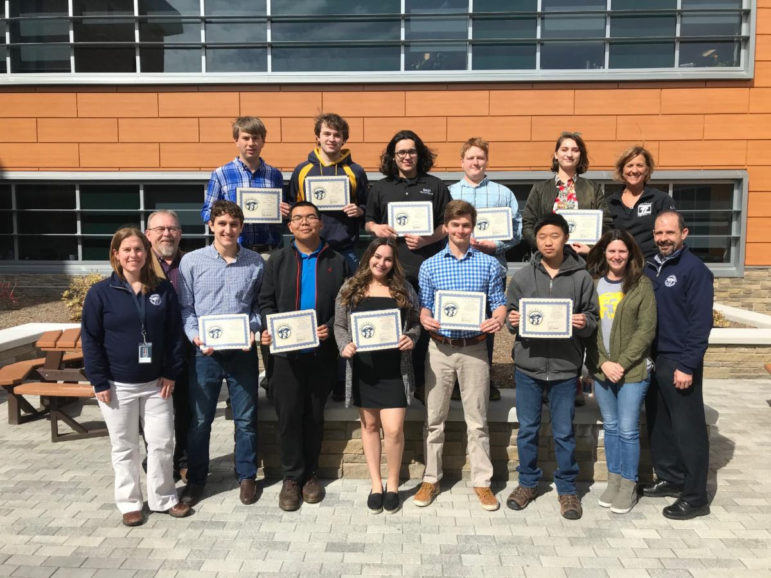 Minuteman High School sent out the following announcement:
Twelve students from the Class of 2020 at Minuteman Regional Vocational Technical High School were recently recognized as "Outstanding Seniors" shortly before the coronavirus emergency closed schools in March. The 12 seniors were treated to a luncheon with Minuteman administrators in the school's student-run restaurant, The District Café.
"Minuteman is a place where we foster students' strengths so they can excel in their education and as leaders for those around them," said Edward A. Bouquillon, Superintendent-Director of Minuteman. "The coronavirus has put a damper on the events we typically hold to honor our seniors at the end of the year. But we want all our students, especially our 'Outstanding Seniors,' to know that we are very proud of them."
Each year, teachers and staff nominate seniors for separate, annual statewide awards for seniors from the Massachusetts Association of Vocational Administrators (MAVA) and the Massachusetts Vocational Association (MVA).
Nominated students must have a minimum 3.5 grade point average, display technical competence in their career major, exhibit leadership qualities, vocational-related work experience, excellent class attendance, extra-curricular activities and community service involvement.
"All of these students demonstrated a determination to learn, leadership, and a desire to improve their school and communities," said Principal George Clement. "They are all wonderful role models and deserve to be recognized more than ever."
Jack O'Keefe, a biotechnology major from Stow, was selected as Minuteman's Outstanding Senior for the annual recognition from MAVA. He currently ranks fourth in academic standing for the Class of 2020. In his sophomore and junior years, Jack and his team earned bronze and silver medals, respectively, in the entrepreneurship and management technology categories of the state competition of SkillsUSA, a national organization in which career technical education students demonstrate job skills. Jack and his team also won the silver medal at the Massachusetts Future Farmers of America's state competition last year for a project on cross contamination. Jack was a conference all-star and captain of Minuteman's football team this year, playing quarterback during his four-year career. He has played on the school's basketball team all four years, co-captain of the math team, previously served as a Minuteman Peer Leader, and has volunteered at his local church.
James Riley, an engineering technology major from Lancaster, was selected as Minuteman's Outstanding Senior nominee for the annual Walter J. Markum Award from MVA. James served as co-president on the school's student leadership team for SkillsUSA. He previously won a bronze medal for mobile robotics and a silver medal for additive manufacturing in a SkillsUSA student competition. Described as hard working, dependable, upbeat, and passionate, James has also served as a Peer Leader and Student Ambassador at Minuteman. For the past two years, James has competed in Savage Soccer, an engineering and robotics competition sponsored by Worcester Polytechnic Institute. He has been co-captain of Minuteman's math team and captain of the varsity golf team.
Rouaa Alwaz, a biotechnology major from Watertown, was nominated as an outstanding senior and has been named Minuteman's valedictorian for the Class of 2020. She has performed exceptionally well in honors classes at Minuteman and in dual-enrollment classes for college credit at Middlesex Community College. She is also on the soccer and basketball teams, and has served as Peer Leader, Student Ambassador, and in the Community Service Club at Minuteman. Last year, she and her team scored third place in a state competition with SkillsUSA. The team project involved examining genetically modified foods using polymerase chain reaction. In a separate project for the Massachusetts State Farmers of America, her team earned a gold medal for a project which used mushroom enzymes to create biofuel from cellulose in wood fibers.
Liam DaSilva, a metal fabrication (welding) major from Arlington, was nominated for beginning his major his junior year and excelling in the program. He found a welding job after school and has made this a co-op position to receive course credit. A member of the football team, he is described as a respectful and pleasant young man who plans to enlist in the U.S. Army upon graduation.
Emily Hawkins, a health assisting major from Lexington, was nominated for being an active contributor in class and for her community service work. Emily is part of the Kangaroo Kuddles non-profit organization, which was formed by Minuteman students to knit blankets for premature infants. About one year ago, Emily was recognized for providing first aid to victims in a serious car accident. Last year, Emily won a gold medal in the SkillsUSA competition.
Jason Kim, an environmental science major from Belmont, is among the few students in the environmental science program who has earned all available federal and state certifications or licenses thus far, including those for hazardous waste removal, confined space entry, first aid/CPR, wastewater treatment, and others. At Minuteman, he has served as treasurer of the student council, a School Ambassador, and a Peer Leader, which involves leading school tours and mentoring other students. He's also an active participant in SkillsUSA, winning awards in competitions among other career technical schools. Jason has also obtained his scuba-diving certification.
Otto Rademacher, an environmental science major from Arlington, is described as highly charismatic, respectful, and motivated, with a desire to work in marine science. He has shown perseverance through long-term projects, which have involved working with the Cambridge Water Department, Mass. Wildlife, Mass. Water Resources Authority, and the Sudbury Valley of Trustees. Described as trustworthy and reliable, he has served as a Student Ambassador to provide tours of Minuteman to prospective students, and as a Peer Leader to mentor fellow students. Otto was a three-sport varsity athlete, playing for Minuteman's soccer, swim and basketball teams, serving as captain for all three.
Roxanna Sanjar, a design and visual communications major from Bolton, currently ranks sixth in her graduating class and is described as having excellent creative and computer skills, with innate drawing abilities of illustrations that are unique and exemplary. She has significant graphic design knowledge and skills in tools such as Adobe Illustrator and Photoshop. She received honorable mention for her poster design for the Mass. Water Resources Authority's "A Clean Boston Harbor for All" campaign. She volunteers at numerous school events, which includes providing videography and photography services. Roxanna is a member of the school's community service club, film club, newspaper, and cross-country team. She is a design intern at SurfaceWorks and has completed pre-college summer programs at Savannah College of Art and Design.
Nicholas Moy, a robotics major from Concord, is described as an eager problem-solver whose contributions help the students and teachers around him. For his senior project, Nicholas upgraded the hardware of the technology used in Minuteman's robotics program to help students compete in the national SkillsUSA competition. Nicholas is in the school's game club and is an avid biker and outdoors person. He completed a three-week camping and biking trip along the West Coast in 2018, and a four-week trip from Amsterdam to Spain in 2019.
Benjamin Tangora, a robotics major from Concord, has earned silver medals in the SkillsUSA competition for humanoid robotics. He also competed in Savage Soccer, an engineering, robotics, and design competition sponsored by Worcester Polytechnic Institute, for the past four years. Ben is a violinist, archer, fencer, and hiker. He completed a three-week hike along the Appalachian Train in 2017. He is a member of Minuteman's game club.
Joshua Kerble, a carpentry student from Arlington, is a member of the National Honor Society, and has made academic honor roll every term since ninth grade. He worked in a co-op to obtain course credit while gaining real-world experience. He also played on the golf and basketball teams all four years and is a member of the math team. He is also a member of SkillsUSA. He also served as a Student Ambassador, representing Minuteman at a variety of events, and a Peer Leader. Outside of school, Josh participates in numerous community activities, including religious education and community service work with his church.
Sabrina Raposo, a cosmetology student from Watertown, has received accolades for her talents while performing hair and beauty work. She has worked a co-op job at a local salon while consistently maintaining a high grade point average. She has an excellent attendance record and volunteers with her local church.