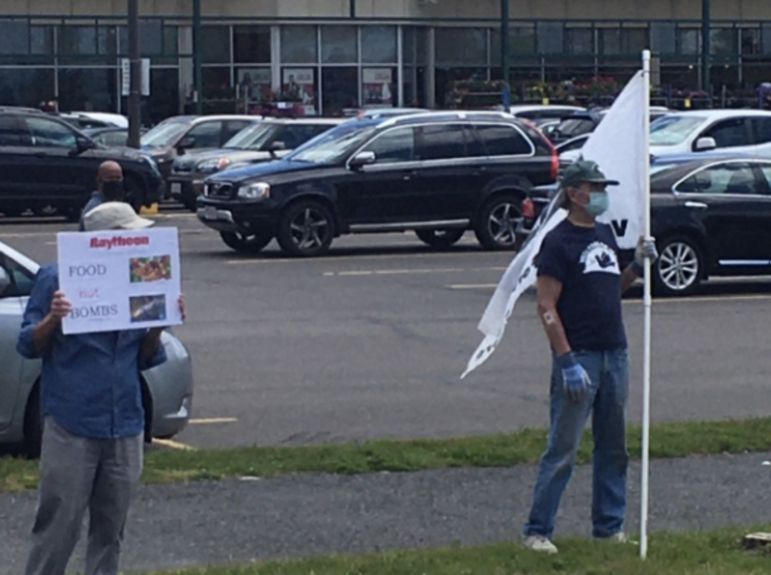 On Saturday, May 16, Peace Activists from Watertown Citizens for Peace, Justice and the Environment joined others from Massachusetts Peace Action and from Veterans for Peace to protest local company Raytheon's continuing partnership with Saudi Arabia in the destruction of Yemen, even in the midst of a global pandemic.
The people of Yemen have been enduring famine and war for over 5 years. Now they face the threat of COVID-19 with a public health system that has been horribly damaged by war.
Local Activists stood along the sidewalk of Route 2 at Fresh Pond Shopping Center early Saturday afternoon. They wore masks and held signs 6 feet apart, maintaining public safety while drawing people's attention to the devastation Raytheon is enabling in Yemen.
On that same day the New York Times published a major article exposing the lengths to which Raytheon has gone to continue providing arms to Saudi Arabia, despite the people of the United States and Congress
opposing these sales on humanitarian grounds.
Merchants of death, led by #Raytheon, now dominate US arms sale policy, write @michael.laforgia.5 and @walt.bogdanich in a major investigative report in the @nytimes.
"As the nation turned against the war, a range of American officials —
Democratic and Republican — tried three times to halt the killing by blocking arms sales to the Saudis. Their efforts were undone by the White House, largely at the urging of Raytheon."
The Standout against Raytheon engaged passers-by and received much support from the public.
Jeanne Trubek
Watertown, MA