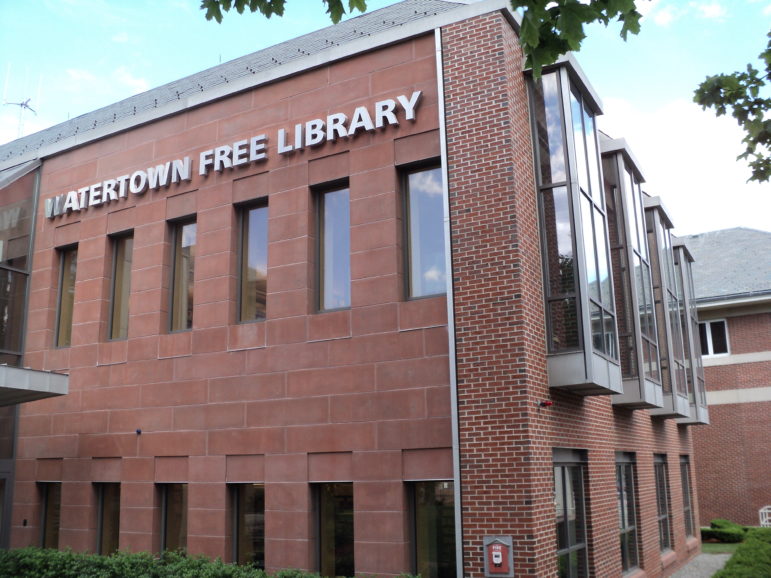 The following information was provided by the Watertown Police Department:
The Watertown Free Public Library's new curbside book pickup service has been a big hit with Watertown residents. "Talking to patrons and hearing how thrilled they are to have books again is truly the highlight of my day" says WFPL director Leone Cole.
While curbside orders pick up, WFPL continues to offer virtual programs. This week via Zoom, find peace during Community Yoga, learn to knit, or make homemade mac & cheese during Cook the Books: Pantry Edition. For tweens in grades 5-7, the Library is starting First Chapter Fridays (via Facebook Live) to spotlight some fantastic books available online via the Library apps Hoopla and Overdrive.
Here's a full list of virtual offerings for the week of May 25 – 31:
FOR CHILDREN
Springo!
May 1 – 30 | Can you get bingo on our spring-themed outdoor scavenger hunt? Post your bingo board on social media and be sure to tag WFPL! Download the Springo bingo board here: bit.ly/SpringoWFPL
Story Time (via Facebook Live)
Tuesday at 10:30 am with Emily | Thursday at 11 am with Kazia | facebook.com/watertownfpl
Lunch Bunch Book Group (via Facebook Live)
Mondays and Thursdays | 12 PM | Children's Librarians will read aloud from The Tale of Despereaux by Kate DiCamillo. This title is available without waiting via Hoopla. If you need to catch up, all of the previous videos are available on our Facebook page: facebook.com/watertownfpl/live
First Chapter Fridays for Grades 5-7 (via Facebook Live)
Fridays starting 5/29 | 12 PM  | Emily, Kelly, and Kazia will be reading the first chapter of some great books recommended for 5th to 7th graders. These books are available online through hoopla and/or Overdrive, free with your library card. Check out our reading schedule here: watertownlib.org/firstchapter
Story Time Video Library
Story videos and sing-alongs that you can watch anytime at home: watertownlib.org/storyvids
FOR TEENS
Animal Crossing
Come visit WFPL's Animal Crossing island for freebies, games, gardens, shops, and FRUIT! The island will be open Monday through Friday from 4 – 5 pm. We'll post the Dodo code here prior to opening: watertownlib.org/animalcrossing
My True Story: Writing Contest for Teens
How has your life changed during the COVID-19 pandemic? Finalists in middle and high school categories will win Amazon gift cards! Learn more: watertownlib.org/mytruestory
Red Queen Book Discussion Group (via Zoom)
Wednesday, 5/27 | 3:30 PM | Red Queen by Victoria Aveyard is available in the Hoopla app, free with your Library card. Recommended for those in grades 6-12. Register for the Zoom meeting here: bit.ly/QueenGrpMay27
Next Book Group: On June 3, we'll talk about Truly Devious by Maureen Johnson. Learn more: watertownlib.org/teenbookgroups
First Chapter Fridays for Grades 5-7 (via Facebook Live)
Fridays starting 5/29 | 12 PM  | Emily, Kelly, and Kazia will be reading the first chapter of some great books recommended for 5th to 7th graders. These books are available online through hoopla and/or Overdrive, free with your library card. Check out our reading schedule here: watertownlib.org/firstchapter
FOR ADULTS
The Moonstone Read and Watch Along (via Zoom)
Every Tuesday, Starting 5/12 | 2 PM | Join us in reading Wilkie Collin's classic murder mystery, which is always available online, free with your library card. After finishing the novel, we'll watch the BBC Miniseries Moonstone (streaming through Hoopla), and compare it to the book! Register: bit.ly/MoonstoneWFPL
Community Yoga (via Zoom)
Every Wednesday | 9:15 AM | To join the class, head to: bit.ly/YogaWFPL
Using LinkedIn for your Job Search (via Zoom)
Wednesday, 5/27 | 12 Noon | This session will cover Linkedin best practices, including creating a strong profile, optimizing for search, and deciding what information to include. Register: bit.ly/LinkedInMay27
Learn to Knit with Emily (Zoom Class)
Thursday, May 28 | 11 am | This class will go through the basics of learning to knit, teaching how to cast on, knit, and purl. Bring needles and yarn to learn. Register: bit.ly/LearnKnitMay28
Technology Craft Corner (Zoom Class) 
Thursday, 5/28 | 2 PM | Have time for hands on crafts? Whether your creativity is digital or DIY, the library has resources for you to learn new skills or find new projects. Requirements: Zoom and a web browser. Register: bit.ly/TechCraftMay28
Historical Fiction Round-up (Zoom Class)  
Thursday, 5/28 | 4 PM | Join Reference Librarian Pauli as she features several historical fiction titles of interest – all of which are available as e-books and/or e-audiobooks from the library! Register: bit.ly/HistoricalFicMay28
Introduction to Programming Using Python (Zoom Class)
Thursdays 5/28 – 7/9 | 6-8 PM | This is a 7-week course for those who have basic computer skills but little or no experience in computer programming. You should plan to attend all 7 class sessions. Register: bit.ly/PythonSpring20
Cook the Books: Homemade Mac & Cheese (via Zoom) 
Friday, May 29 | 10 am | Join Aimee as she moves our popular Cook the Books program to her kitchen for a very special "Pantry Edition" every other Friday. Check out the ingredients list and register here: bit.ly/CookTheBooksMay29
HATCH MAKERSPACE
Hatch Curbside Pickup
Tuesdays & Thursdays | 10 – 4 pm | Even though Hatch Makerspace is closed, we can 3D print and laser cut your creations for you. Just send us the files and we'll notify you when the job is complete. The best part? It's free! Pickup will be available at Hatch Makerspace, 20 Summer Street in Watertown. Learn how to submit your work here: watertownlib.org/hatchpickup
Home DIY: Build Your Own Beanbag Toss (Zoom Demo)
Wednesday, 5/27 | 2pm | Also known as "cornhole," this is the perfect yard game for sunny afternoons! Did you know there's a regulation size and style? We'll cover the tools and materials you need to complete this project step by step. Register: bit.ly/BeanbagMay27
Book Arts: Ethiopian Binding (Zoom Demo)
Friday, 5/29 | 2 PM | Learn how to make an Ethiopian style binding! Also known as a Coptic binding, this style lays flat when open and works great as a sketchbook or journal. Register: bit.ly/EthiopianBindingMay2