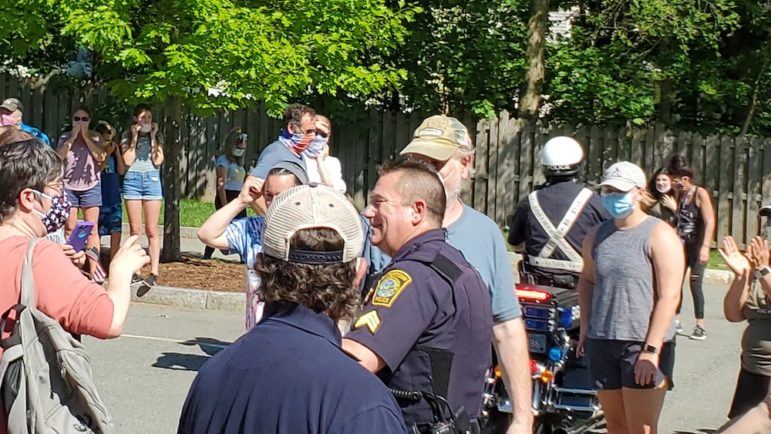 Watertown Police Chief Michael Lawn summarized Sgt. John MacLellan's career saying "The world would be a better place if there were John MacLellans in it."
Tuesday afternoon, one of the men involved in the shootout with and capture of the Boston Marathon Bombers got a hero's farewell at the Watertown Police Station. Dozens of residents lined Main Street and waved as he pulled into the parking lot for the last time. Waiting for him were many of his WPD colleagues.
"I never expected anything like this, this is unbelievable," MacLellan said, to which one of the attendees said "You deserve it!" (See video of the ceremony below, courtesy of Watertown Cable Access)
He also received a proclamation from State Rep. John Lawn, congratulating him on his retirement.
MacLellan was appointed to the Police Department on Oct. 1, 1990 and spent all 30 years on the night shift.
He has been popular both inside and outside of the WPD. Lawn said he probably has the most thank you notes of any officer in the history of the Watertown Police. He also was so committed to community policing, Lawn said, that he would sign his police reports John C.P. MacLellan, for community policing.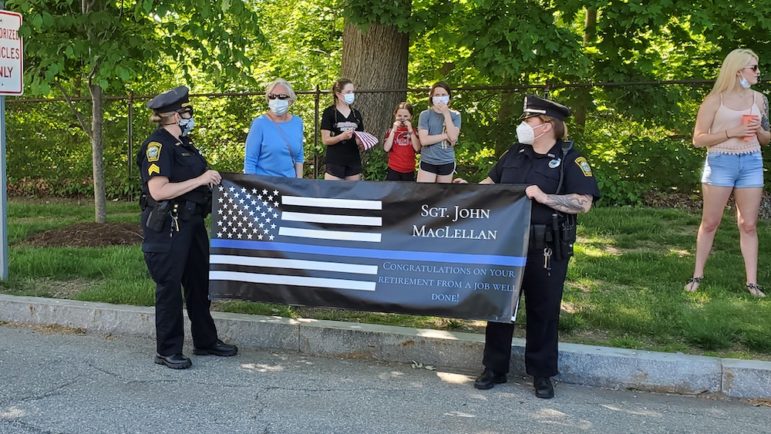 "He's the only police officer I know that does community policing on and off duty," Lawn said. "I'd find John down at the housing complexes on weekends buying all the kids ice cream off the ice cream truck."
The Chief and MacLellan joined the Police Department about the same time, and Lawn remembers MacLellan vowing never to become a sergeant.
"He was like, 'Dude, there's now way I am taking the sergeants test. I'm never taking it,'" Lawn said. "Cause if you knew John, John just rode the motorcycle — that's all he did and he loved it."
What many remember MacLellan for is helping to lead the pursuit and capture of the Boston Marathon Bombers in April 2013. Lawn said "John was and is a hero" from that day. He garnered many awards, including the George Hanna Memorial Award for Bravery, the Public Safety Officer Medal of Honor, the Law Enforcement Congressional Badge of Bravery and was honored by the Department of Justice and many other organizations.
For Lawn, the Shootout and capturing of the Bombers will not be the top highlight of MacLellan's career.
"What I remember most about John MacLellan — ya I'm going to remember 2013 — but that's not the first thing I am going to remember," Lawn said. "What I remember most about John is what he continues to do for the less fortunate people in this community."
Former Chief Ed Deveau also attended the ceremony, and said he remembers MacLellan as someone who mentored a lot of the younger officers.
"Then the one time in his whole career he was tested beyond any of his training, he was just incredible. John's my hero," Deveau said. "What he did on the backstreet that night, they will teach in the academy now. He was just so cool under pressure."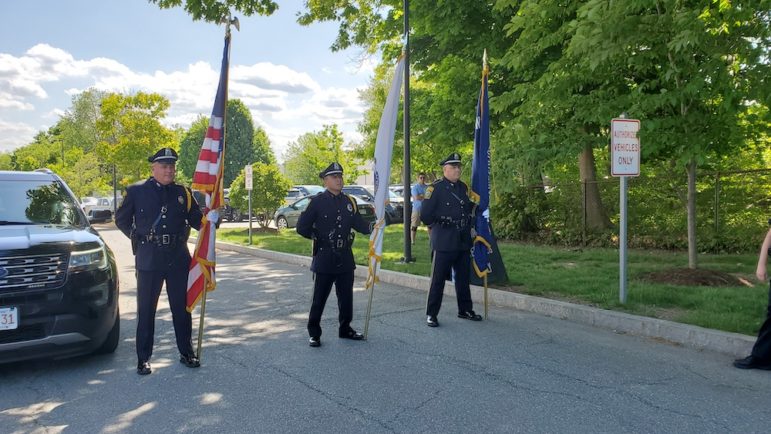 One of the reasons MacLellan is retiring before the required age of 65 is so that he can focus more work with the local Catholic churches and the Society of St. Vincent DePaul in Watertown.
Father Matthew Conley, priest at Watertown's two Catholic churches and police chaplain, said that he looks forward to seeing more of MacLellan at the St. Vincent DePaul.
"As much as it is a sad day for you, it is a very good day for me, because we have a whole list of things for him to do," Conley said.
Lawn said MacLellan will be missed around the Watertown Police Station.
"You are truly one of the best police officers to ever walk through the doors of the Watertown Police Department," Lawn said. "You have left a mold that will be very difficult to replace."