The following information was provided by the creators of the Watertown Square Banners Project:
The next time you travel through Watertown Square take a few minutes
to admire the colorful new banners hanging on poles throughout the square. They were the brainstorm of local graphic designer Carole Katz and feature works developed by students from the Hosmer School and the Watertown Middle School.
Driving through the square one day Katz decided the square needed some colorful banners to replace the current historical banners (that she designed) that have been hanging for several years now. Immediately she thought of the incredibly colorful and diverse community that is Watertown and wanted the banners to reflect that diversity in
some way. She reached out to World in Watertown for their help. They suggested she contact Ms. Mattson at the Hosmer School and Ruth Henry at the Middle School. Both teachers have been exploring themes of cultural history with their students.
The past seven years, Maggie Mattson's fourth graders at Hosmer Elementary have culminated their school year by creating beautiful works of art that show and tell their familymigration stories. Students begin by interviewing a family member who migrated to the U.S., or if this was long ago, researching as much as possible about their family histories. Once students have a story to tell, they create portfolios of hand-painted papers to use as a medium for collage. As they cut and glue their pictures together, they constantly refer to their surveys and research for details, just as writers add details in words.
The students create five collagesthat depict life in their country, reasons for leaving, journey to the U.S., arrival and immigration, and life in the U.S. today. Once the artwork is complete, the writing begins. This process of making pictures before the writing encourages students to rehearse their stories along the way and allows students of all abilities and nationalities to express themselves in the universal language of art.
Once the migration stories have been written, books are bound together and shared with families in a powerful celebration of unity and equality. This project was created as part of the Picturing Writing program developed by Beth Olshansky at the University of New Hampshire, in order to meet the needs of students with diverse learning styles.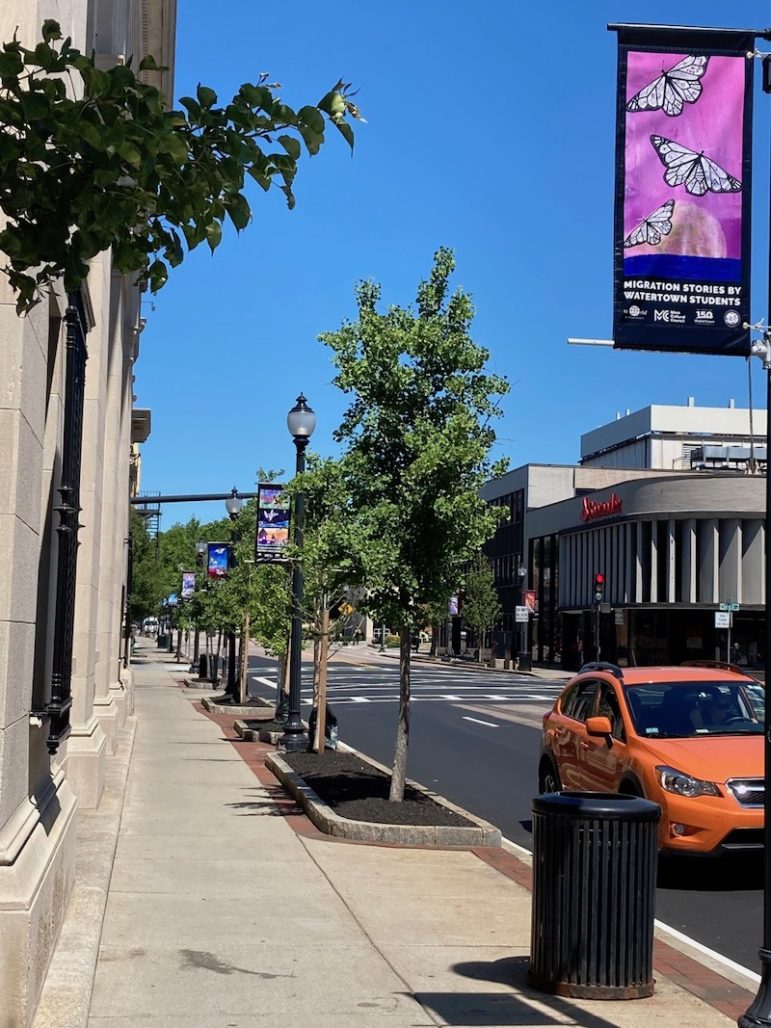 The Hosmer students whose work was chosen for the banners include the following: Ethan Ho, Evelyn Kain, Cyrus and Elana Kiani, Lily Leitz, Kemiyoda Limketkai, Rohan Mannan, Lily Ng, Nathaniel Nichols, Garri Vehapetyan and Natalie Yusem.
Middle School teacher Ruth Henry also explores cultural history in her classes. Earlier this year at Watertown Middle School, teacher Ruth Henry and her mural crew invited our larger school community to write and/or draw their own stories of migration into thewings of monarch butterflies. These monarchs were inspired by artistFavianna Rodriguez and the Migration is Beautiful movement.
WMS participants were invited to include stories of the different places they, their families, and their ancestors have lived, as well as the different things they have lived through. They were also invited to include things they liked or that were important to them. Our hope is to show how our many shared stories of migration unite us as a community, regardless of where or when they each begin. We look forward to including the many butterflies we have collected into a school-based mural once we are back in
the building, and in the meantime are very grateful to be able to share the examples included on these banners with our town.
The banner project was developed with support from the following sponsors: World in Watertown, Watertown Savings Bank, Massachusetts Cultural Council and the Town of Watertown.