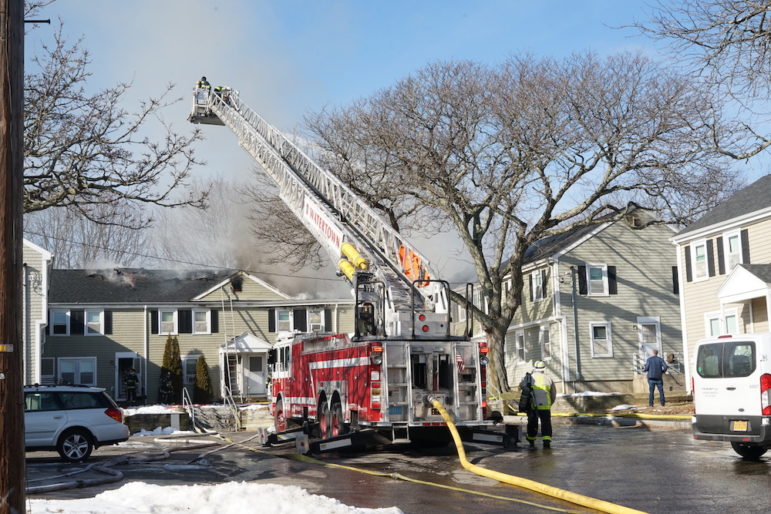 Dear Friends,
As you all know on January 24th, 2020 a 4-alarm fire forced 11 families to move from our homes. There are so many to thank and we all hope that we are not forgetting anyone.
Thank you to the young woman who frantically banged on each of the doors to get everyone out of the houses while Watertown Fire Department rushed to the scene. Thank you, all the Watertown Fire Department, as well as the surrounding towns who responded to the call for help. A special thank you to the fireman that went into a home several times to find a scared cat and Animal Control for taking good care of the animals until we got them back.
Thank you to all of the Watertown police officers and to the person(s) that ordered pizza. Officer Miguel Colon thank you for making connections with us personally and being here still for us. Many thanks to the Red Cross for helping us with the things needed immediately and guiding us while we were cold and scared. Thank you to all our neighbors, the ones that gave warm blankets and socks, snacks, and kind words during fire.
Thank you to the neighbors who help us move 3 times in one week. Thank you to the ones that made sure we had transportation, and helped take care of our kids. Thank you to the ones that came to us at the hotel with donations, hugs and just to talk. Thank you to the neighbor who blessed the twins with presents on their 1st birthday. Thank you to the family that made us a homemade dinner, and to Firefighter Shane for the lasagna. Thank you to those of you that coordinated and sorted through the enormous amount donations and created GoFund me pages.
Thank you for those that gave to us even though they have very little themselves. Thank you to the Watertown Public Schools, and PTO for the gift card drive that helped us purchase items for our new homes and for immediately organizing a clothing drive at the middle school. Thank you to Jeremy, all the players and parents from Watertown Youth Basketball, especially the kids that helped move the donations before and after basketball games.
Thank you to the businesses that feed us: Pizza Roma, Joe's Variety and Chef Mike. Thank you to the businesses that collected money, gift cards, and items: Fitz's Bar and Grill, Watertown Town Hall, Watertown Boys and Girls Club, Akian's Plumbing, City Streets, Minuteman High School, Home Depot, Bob's Furniture, PetCo and Beaverbrook Pediatrics. Thank you for the discount Watertown Mattress. Thank you to the Newton Marriott for the great service. Thank you to the wonderful volunteers at the Watertown Food pantry and for opening special for us.
Thank you to the men at Watertown Housing who worked tirelessly to get some apartments move in ready. Thank you to staff in the front office for being there each step with kindness and understanding.
We will be forever grateful that when we needed help the most, and was given to us in abundance. We haven't had much time to process the trauma before COVID-19 changed the way we do things right now, but we thank each of you that continue to help us get the things we still need and emotional support especially for the families that were placed out of Watertown. We will be forever grateful to each and every one of you for the outpouring of love, we families feel.
Thank you all for listening to us through our sadness, anger, anxiety, and disbelief. Thank you for putting your lives on hold to be there for us.
Love,
Watertown Fire Families