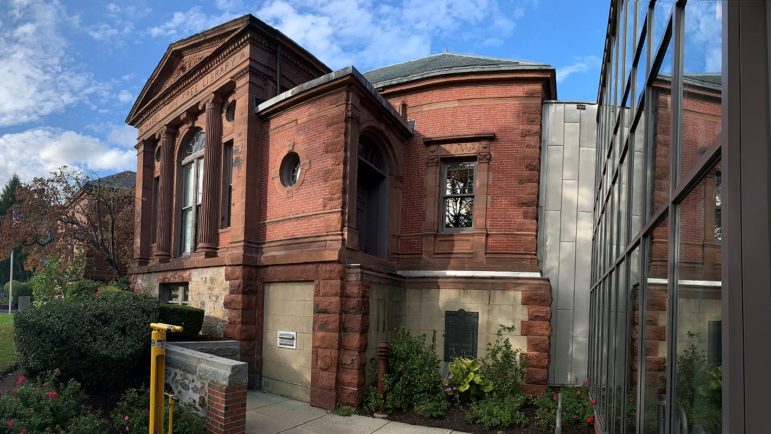 The following information was provided by the Watertown Library:
This Wednesday at 7 PM, join us in welcoming Erik Edstrom for an author talk and Q&A session via Zoom. Edstrom's memoir, Un-American: A Soldier's Reckoning of Our Longest War, tells the story of his military service Afghanistan while probing his eventual disillusionment with the War on Terror. 
Also this week,Aimee is hostingLiving Room Triviavia Zoom andour popular"read/watch" groupwill explore the world ofMy Antonia.Do you know a teen with acreative streak? Starting today, we'reoffering free "take and make" project materials for students in grades 6-12, available for pickup at WFPL.
Keep scrolling for a full list of virtual programs…
CURBSIDE PICKUP POLL
Would you like the library to continue curbside service when we open to the public? We're taking a poll. Leave us a yes/no answer here: bit.ly/WFPLCurbsidePoll
About Curbside Pickup: WFPL is offering curbside pickup for library books and materials. Learn how to place your order at watertownlib.org/pickup
WFPL REMINDERS
Open a Library Card: Yes, you can open a Library card from home! Complete this registration form to sign up. 
Contact WFPL: If you're having trouble logging into our digital services because of account issues, we'll do our best to get you connected. Click here to ask question. 
COMMUNITY RESOURCES
Remembering Stonewall | June marks the 50th Anniversary of Boston Pride and the anniversary of the Stonewall Uprising. In honor of this month, we encourage you to explore Stonewall and its impact, and browse our Staff Picks for Pride.
Anti-Racism Readings and Resources | We hope you'll use these booklists and resources to better understand the history and present reality of racism in this country, start conversations, and take action.
The COVID-19 Collective Memory Initiative| What's your COVID-19 story? Submit a written reflection or sign up for a video interview. 
Watertown COVID-19 Resource Guide | WFPL has created an online resource to help answer all of your questions about the COVID-19 pandemic.
FOR CHILDREN
Children's Summer Reading
June 16 – September 9 | WFPL is here to help keep your student on track with our annual Summer Reading Program.
Story Time (via Facebook Live)
Monday at 10 AM | Tuesday at 10:30 AM | Thursday at 11 AM
Monday Moments (via Facebook Live)
Mondays | 11 AM | Join us for a moment! We'll share quick crafts and activities.
First Chapter Fridays for Grades 5-7 (via Facebook Live)
Fridays | 12 PM  | Discover books that are instantly available in the eLibrary!
Story Time Video Library
Enjoy stories and songs anytime from home.
Book a Children's Librarian
Need recommendations? We can meet via video chat, email, or phone. Email emiranda@watertown-ma.gov or follow the link to get started.
FOR TEENS
Take and Make
June 29 – August 7 | Need some inspiration? This summer, we're offering bags of free project materials to kick-start your creativity. New projects are available every week.
Teen Summer Reading Challenge
June 15 – August 21 | Log books and earn chances to win an Amazon gift card! 
Animal Crossing
Have you been playing Animal Crossing? Visit WFPL's island!
Teen Book Groups (via Zoom)
Your library card gives you free, instant access to some amazing audiobooks and ebooks in the Hoopla app. Listen to a book on our list, then join us on Zoom.
First Chapter Fridays for Grades 5-7 (via Facebook Live)
Fridays | 12 PM  | Discover books that are instantly available in the eLibrary.
FOR ADULTS
Summer Reading for Grown-Ups: Book Bingo
Let WFPL inspire your summer with librarian-curated reading recommendations and social distancing activities. Don't forget to share your reading list with us!
Monday Morning Meditation (via Zoom)
Mondays, 6/1-6/29 | 9:15 AM