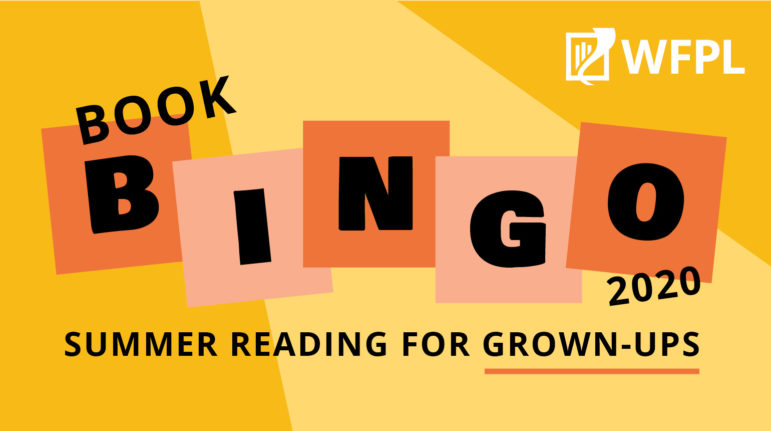 The following information was provided by the Watertown Library:
Why should kids have all the fun? This summer, the Watertown Free Public Library (WFPL) is offering Summer Reading for Grown-Ups, a season-long reading challenge complete with librarian-curated reading recs and a bingo game full of summer activities. 
Even though WFPL is temporarily closed to the public, there are still many ways to check out library materials. Books, DVDs, and CDs can be ordered for curbside pickup. eBooks and audiobooks can be accessed through WFPL's digital collection. For more information, visit the Library's website: watertownlib.org
This year, WFPL's grown-up bingo game encourages players to read widely from a diverse list of authors, stay active while social distancing, and chronicle the summer with lots of photos. 
Here are a few highlights:
Read about someone who survived a pandemic
Post your COVID-19 experience as a poem, short story, or art
Read a book by an LGBTQ author
Read a book from WFPL's anti-racism booklist
Post your pandemic playlist!
Join the Library's yoga class, via Zoom
As part of the game, WFPL is encouraging patrons to share summer reading and inspire others by posting book covers, book bingos, and summer activities on social media with the hashtag #WFPLsummer. Reading recommendations go both ways you know, and Watertown's librarians want to know what you are enjoying!
Ready to get started? Download the grown-up bingo board and peruse summer reading booklists on the library's website. Head to: watertownlib.org/summerreading
About WFPL: The Watertown Free Public Library provides access to a wide variety of popular materials, resources, services, and programs that fulfill the informational, cultural and recreational needs of Watertown and surrounding communities. WFPL works to create an environment that attracts and welcomes users of all ages and abilities. watertownlib.org
This Week at the Library
This Wednesday, Hatch Makerspace is hosting Signs of Protest, a virtual workshop to support your artwork and signage for social change. Also on Wednesday, Children's Baking with Emily is back via Zoom. Do you have some budding bakers at home? We're making Rainbow Sprinkle Cake!
Keep scrolling for a full list of virtual programs…
PROJECT LITERACY
Project Literacy has moved online! This summer, English classes and conversation groups will meet virtually via Zoom.
Students, our summer classes are filling up but we are adding more. Visit the Project Literacy website to view class listings and register. If you are interested in self-instruction, please take advantage of our online resources.
Are you interested in becoming a Project Literacy tutor? Sign up online.
FOR CHILDREN
Children's Summer Reading
June 16 – September 9 | WFPL is here to help keep your student on track with our annual Summer Reading Program.
Story Time (via Facebook Live)
Monday at 10 AM | Tuesday at 10:30 AM | Thursday at 11 AM
Monday Moments (via Facebook Live)
Mondays | 11 AM | Join us for a moment! We'll share quick crafts and activities.
Children's Baking with Emily: Next Level (via Zoom)
Wednesday, 7/8 | 12 PM | This week we're making Rainbow Sprinkle Cake! 
First Chapter Fridays for Grades 5-7 (via Facebook Live)
Fridays | 12 PM  | Discover books that are instantly available in the eLibrary.
Story Time Video Library
Enjoy stories and songs anytime from home.
Book a Children's Librarian
Need recommendations? We can meet via video chat, email, or phone. Email emiranda@watertown-ma.gov or follow the link to get started.
FOR TEENS
Take and Make
June 29 – August 7 | Need some inspiration? This summer, we're offering bags of free project materials to kick-start your creativity. New projects are available every week.
Teen Summer Reading Challenge
June 15 – August 21 | Log books and earn chances to win an Amazon gift card! 
Animal Crossing
Have you been playing Animal Crossing? Visit WFPL's island!
Teen Book Groups (via Zoom)
Your library card gives you free, instant access to some amazing audiobooks and ebooks in the Hoopla app. Listen to a book on our list, then join us on Zoom.
Next book group: Dread Nation by Justina Ireland
July 8 | 3:30 PM | Listen to the book and join us via Zoom!
First Chapter Fridays for Grades 5-7 (via Facebook Live)
Fridays | 12 PM  | Discover books that are instantly available in the eLibrary
FOR ADULTS
Summer Reading for Grown-Ups: Book Bingo
Let WFPL inspire your summer with librarian-curated reading recommendations and social distancing activities. Don't forget to share your reading list with us!
My Antonia Read and Watch Along (Zoom Discussion)
Tuesdays, 6/30 – 7/28 | 2 PM | First, we'll watch a documentary on Willa Cather's life, then, we'll read My Antonia in chunks and discuss weekly.
Community Yoga (via Zoom)
Wednesdays | 9:15 AM | Follow the link to join the class on Wednesday mornings.
Wednesday Book Group (via Zoom)
Wednesday, 7/8 | 7 PM | All are welcome to join our discussion of The Lost City of Z: A Tale of Deadly Obsession in the Amazon by David Grann.
COMING SOON FOR ADULTS
Watertown Strong Knit Graffiti Project (Zoom Meeting)
Monday, July 13 | 4 PM | Do you love to knit, crochet, or make fiber art? Join our Zoom meeting to learn how you can contribute to WFPL's first knit graffiti installation!
Mystery Lovers Group (via Zoom)
Tuesday, 7/14 | 7 PM | Join us to discuss recent books, favorite authors, and anything related to the mystery genre. Make yourself a cup of tea and hop on with us! 
HATCH MAKERSPACE
Fiber Arts Online (via Zoom)
Mondays in July | 3 PM | This is an open session to share your works-in-progress and ask questions. Get help or get started! 
Intro to Fusion 360 with Betsy (via Zoom)
Tuesday, 7/7 | 7 PM | Get to know the Fusion 360 3D modeling environment. We'll cover CAD best practices, sketches, feature trees, and assemblies.
Signs of Protest with Liz (via Zoom)
Wednesday, 7/8 |  6 PM | Making signage to promote your stance is an art form. We'll discuss visibility, materials, weatherproofing and more.
Clam Shell Box: Part 2 of 2 (Zoom Demo)
Friday, 7/10 | 2 PM | This sturdy, tightly-closing box is perfect for keeping a book safe on the shelf or holding a group of loose objects, like a sewing kit.