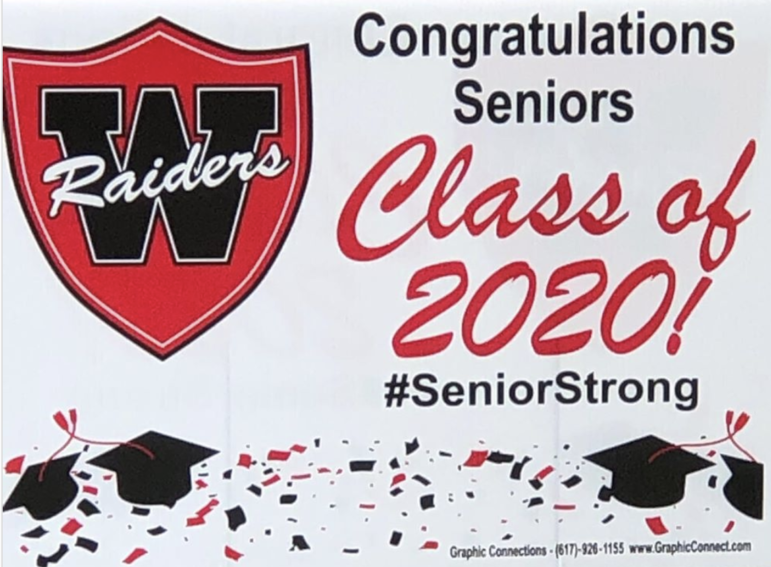 A dozen Watertown High School graduates got an extra honor when they graduated in June — the Seal of Biliteracy.
The students who got the seal had to show they could speak, understand, read and write in both4 English and another language. They showed this by getting certain scores on the standardized tests like the MCAS, and ones for other languages.
The Seal of Biliteracy has been adopted by 39 states and in Washington, D.C.. California was the first state to offer the seal, approving it in 2011, and Massachusetts approved it in 2017.
Twelve WHS seniors got the Seal of Biliteracy, and two got the Seal with Distinction, for reaching a higher level on the tests. More students will be getting the Seal of Biliteracy next year, with 16 members of the Class of 2021 already meeting the standards.
The members of the Class of 2020 who got the Seal of Biliteracy are: Liam Daniel Carvajal-Janke, Elias Ruth Cherry-German, Guilherme Lima De Oliveira, Josselyn Estefany Gonzalez-Teo, Ivan Dmitrievich Kalachev, Mishleen Kamil Kerio, Brandon Eduardo Latin Hernandez, Isaac Mugomba, Srinivasa Mahidhar Naraharisetty, Nayara Victoria Soares da Costa Rocha, Siranush Helen Tolmoyan, Hatydzha Muradovna Yelliyeva (Carvajal-Janke and Yelliyeva earned the Seal with Distinction).
This year, the majority of students who got the Seal were those who grew up in a household where a language besides English was the primary language. Students in the Watertown Public Schools speak 56 languages, said Kate Phillipson, Watertown's English as a Second Language Coordinator.
"The two biggest being Spanish and Portuguese, followed by Pashto, Armenian and Arabic," Phillipson said. "The next tier is Turkish and Farsi."
English Language Learner (ELL) students are taught to speak English over a number of years and each January they are tested to see their progress. Eventually, they pass a test showing they have enough English skills to move out of the ESL program.
The students who had tested out of ESL were encouraged to take the test in their native language to get the Seal of Biliteracy, Phillipson said. Not everyone passed, Phillipson said, because while they might be able to speak and understand the language, they may not have had formal lessons in reading or writing. Those skills can be particularly challenging for languages such as Arabic or Armenian, where there is an alphabet different from the Latin alphabet used in English and most other European Languages.
Two students who studied a foreign language in the Watertown schools also got the Seal of Biliteracy. WHS offers Spanish, Italian and Arabic, along with a section of Armenian, which also includes a big cultural section, said Adam Silverberg, the district's World Language Department Coordinator. There were also some who were enrolled in a language class at the High School who also spoke another language at home, so they took it in that language.
Silverberg said he thinks more students would have qualified if the schools had not closed.
"I'm convinced if COVID didn't hit more would have passed," Silverberg said. "A number needed only needed to pass one section (to qualify. Only one kid at school did it at home, and didn't pass."
In coming years, Silverberg anticipates the number of students who grow up speaking English will jump significantly. The Watertown Public Schools began teaching all elementary school students Spanish beginning in kindergarten a few years ago. The first group will be in fourth grade in the fall.
To show literacy in a foreign language, most students can take the AAPPL language aptitude test. The standard to get the Seal of Biliteracy is reaching the Intermediate High level on the AAPPL, which Silverberg said he would expect most students to be able to achieve if they have studied Spanish since kindergarten.
"With Intermediate High they have control of the past, present and future tenses. They can still make some mistakes, but the meaning does not get lost," Silverberg said. "They can narrate something in the past, present and future with ease."
For languages that do not have an AAPPL test, the school used another program where they have to do a portfolio in the language and show they can read, write, understand and speak it, Phillipson said.
Watertown School officials began discussing having students get the Seal of Biliteracy a few years ago, Silverberg said, but he said Phillipson was the real driver.
"This was Kate's second year. There was talk of implementing it before but it was really her pushing it," Silverberg said.
This year, a seal was added to the students diplomas, and it will show up on their transcripts, Silverberg said. The acrylic seal was created in the WHS FabLab.
"They definitely can put it on their resume, and they put a special thing on their diploma," Phillipson said.
Another perk for obtaining the seal of literacy is that the State will allow those who get it to take the MTEL (the teacher's license test) for free. A subject test costs $139.
"Massachusetts has a lot of families who don't speak English at home," Phillipson said. "They are trying to encourage people (who are multilingual) to join the teaching profession."