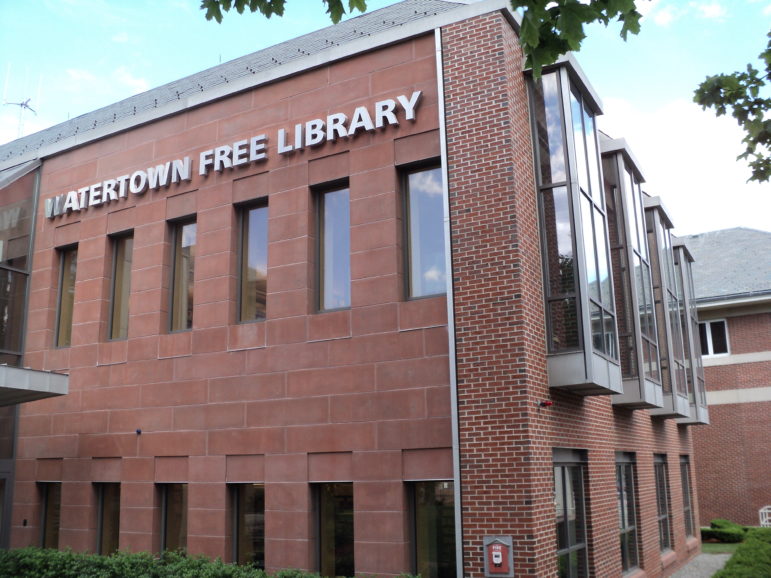 The Watertown Library sent out the following announcement:
The Watertown Free Public Library will reopen to the public on Monday, July 27. Using the Library will be a very different experience until coronavirus is no longer a major health concern. We are very excited to invite our patrons back. Unfortunately, we cannot offer all of the services that so many have been able to depend on, but it won't be forever.
This is what we can do for you now until the time comes that is safe to resume our regular services. See you soon, Watertown!
New Hours
During this phase of reopening, our new hours are:
for elderly and high-risk individuals only
Monday – Friday: 9 AM – 10 AM
for all patrons
Monday – Thursday: 10 AM – 7 PM
Friday: 10 AM – 5 PM
Saturday: 9 AM – 12 PM
Sunday: Closed
What You Can Do
The library will be open for browsing with limited capacity. This means that patrons who comply with our health and safety rules are able to enter the building to select library materials and check them out. Our librarians will be able to help you choose books and direct you in the right direction to find what you're looking for. Notary services will be available by appointment.
What You Can't Do
Unfortunately, there is a long list that you won't be able to do in the library for the foreseeable future. We will not offer:
Public computers
Newspapers
Study rooms
Meeting rooms
Study space
Toys and play space
Lounging and social activities
On site programs and meetings
What to Expect
In order to allow the public back into the library we are taking the health and safety of staff and patrons very seriously. All people entering the building must wear a face mask or covering. These coverings must cover the nose and mouth and fit snuggly to the face. If wearing the mask is not an option, patrons will be given instructions on how to take advantage of our curbside service, but will not be allowed entry into the building. Masks must remain on during the entirety of the visit.
Social distance and directional markers will be clear throughout the building. Patrons will be required to adhere to social distance rules. Library staff will be monitoring the space for capacity and adherence to social distancing.
Hand sanitizer will be available throughout the building. Public restrooms will also be available. Paper towel dispensers have been installed in all restrooms. The water fountain will not be available.
We are reopening with a capacity limit of 120 patrons in the building at a given time. You may need to wait in line before entering if we reach that capacity.
All returned library materials are quarantined for 72 hours before getting checked in and re-shelved.
Plexiglass sneeze guards have been installed at all public service desks. Please stand behind and away from them. Please follow rules for check out.
Hatch
Hatch is not yet open to the public. We are offering a variety of programs online. See what's coming up atwatertownlib.org/hatchcal
Project Literacy
Project Literacy has moved online! This summer, English classes and conversation groups will meet virtually via Zoom. Visit the Project Literacy website to view class listings and register as a student or volunteer as a tutor: watertownlib.org/literacy Applications can also be picked up and dropped off outside of the Project Literacy office, on the second floor of the library.
Red Leaf Café
There is no date yet to reopen the café but we expect it to open soon for takeout only.
Visiting Etiquette
We welcome you to come browse and choose materials to check out. While you're here we ask that you follow all of our safety protocols and respect the requests of staff. Please do not linger longer than you need so that other patrons can use the space.
We know many families like to visit the library together. If everyone in your family is selecting items, please, come together! However, if you have small children who primarily use the library for play or aren't old enough to choose their own materials yet, we recommend that you leave them home if you can—we won't have the usual play area available to use.
About WFPL
The Watertown Free Public Library (WFPL) provides access to a wide variety of popular materials, resources, services, and programs that fulfill the informational, cultural, and recreational needs of Watertown and surrounding communities. Our Library works to create an environment that attracts and welcomes users of all ages and abilities. For more information, visit watertownlib.org.