To whom it may concern:
I'm writing to add my voice in support of preservation of the public shade tree at 142 Forest Street, which by Mass. State law is receiving a public hearing today.
I've heard from multiple concerned Watertown residents about the risk to this tree. All reports indicate that this is a vigorous, healthy pin oak which is providing significant benefits to the neighborhood and if preserved and protected should have decades of healthy service ahead.
In sweltering hot weather, large-canopy urban trees like this oak play a critical role in cooling city neighborhoods. See for example the attached infrared photo showing the temperature on an 81.6F degree day of tree-shaded lawn, nearby un-tree-shaded lawn, and nearby unshaded pavement. As this IR photo illustrates, the temperature difference between tree-shaded and hard unshaded surfaces can be tens of degrees.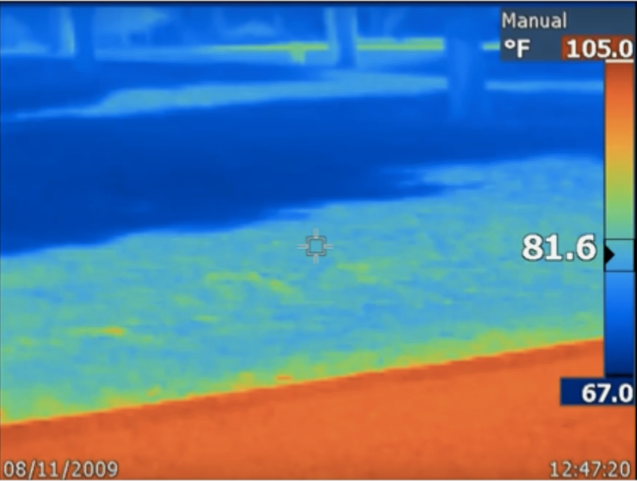 This has major implications for public health and for energy use. Unshaded pavement on a hot summer day absorbs enough heat to severely burn a dog's paws. The heat radiating from this hot pavement bakes pedestrians, bicyclists, and cars. It bakes nearby plantings, including tender young trees. Along with direct sunlight this reflected heat bakes nearby buildings, increasing air conditioning costs and the burden on the power grid.
The critical protective role urban tree canopy plays doesn't stop when the sun goes down. Unshaded hard surfaces store up infrared energy in the summer like the walls of an oven, and like the walls of an oven they radiate that heat at night, keeping urban neighborhoods hot. Tree canopy blocks this heat storage and evaporatively cools the air, substantially reducing ambient nighttime temperatures.
Big healthy shade trees have many other benefits too. To highlight just a couple:
— Experiencing healthy tree canopy, and even just seeing it daily, provides measurable psychological and physiological benefits. Multiple studies have shown this makes us healthier and makes urban neighborhoods friendlier and safer.
— Preservation of healthy neighborhood tree canopy is increasingly important with increasing frequency and intensity of heavy rainfalls. Big healthy shade trees have big root systems which can absorb and filter thousands of gallons of storm water annually, and their big protective canopies temper the force of deluges. This helps prevent flooding of roads and cellars.
Planting new trees is very important too. Every well-selected, well-sited, new urban shade tree is a blessing for the whole neighborhood. But it takes many years for a new tree to provide the magnitude of ecoogical services and community benefits that an existing mature shade tree provides. And in the harsh urban environment, those intermediate years are fraught with risk for a new tree.
Speaking as President of Trees for Watertown and as a fellow citizen, I urge Watertown residents and property developers to make every effort to prioritize the preservation of existing healthy shade trees on public and on private land. Watertown needs this hard-working green infrastructure now, and we will need it even more in future.
Sincerely,
Libby Shaw
President, Trees for Watertown