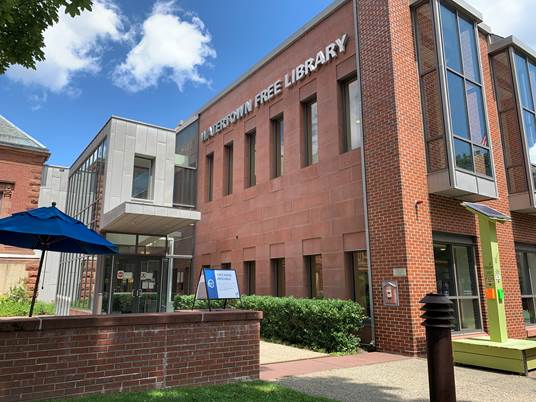 The following information was provided by the Watertown Library:
The Watertown Free Public Library reopens this week for browsing only. This means you will be able to check out materials and purchase used books in the café. Our librarians will be able to direct you to what you're looking for. Curbside pickup service will continue. For more information about visiting the Library, visit watertownlib.org.
Since we still can't host gatherings inside, virtual programs continue via Facebook Live and Zoom. This week, join ourMad about the Moviesgroup to talk about the comedy/horror hitWhat We Do In the Shadows,test your fandom cred withMarvel Cinematic Universe Trivia, or learnwatercolor paintingwith Yi Bin.
A full list of virtual programs for this weekis included below.
FOR CHILDREN
Children's Summer Reading
June 16 – September 9 | WFPL is here to help keep your student on track with our annual Summer Reading Program.
Story Time (via Facebook Live)
Monday at 10 AM | Tuesday at 10:30 AM | Thursday at 11 AM
FOR TWEENS
First Chapter Fridays for Grades 5-7 (via Facebook Live)
Fridays | 12 PM  | Discover books that are instantly available in the eLibrary.
FOR TEENS
Teen Summer Reading Challenge
June 15 – August 21 | Log books and earn chances to win an Amazon gift card! 
Take and Make: Craft Kits for Teens
June 29 – August 7 | This week's Take and Make is Hogwarts Pom Poms. All of our bags have been claimed. If you reserved a bag, check your email this week for instructions on how to pick it up!
FOR ADULTS
Summer Reading for Grown-Ups: Book Bingo
Let WFPL inspire your summer with librarian-curated reading recommendations and social distancing activities. Don't forget to share your reading list with us!
Community Yoga (via Zoom)
Wednesdays | 9:15 AM | Follow the link to join the class on Wednesday mornings.
Mad About the Movies: What We Do in the Shadows (via Zoom)
Thursday, 7/30 | 7 PM | We can't hold Movie Mondays right now, but we can still enjoy films together! First, stream the comedy/horror hit What We Do in the Shadows on Hoopla, then join us for a guided conversation about the film.
Cook the Books: Tortellini Salad (via Zoom)
Friday, 7/31 | 10 AM | This week, we're making a great dinner salad. Click the link to check out the ingredients list and register.
Fandom Friday Trivia: Marvel Cinematic Universe (via Zoom)
Friday, 7/31 | 7 PM | Join us for virtual trivia from the Marvel Cinematic Universe! We'll test you on the origin stories of our favorite Marvel heroes and villains. Play solo, or as a team with the "super" fans in your life.
HATCH MAKERSPACE
Fiber Arts Online (via Zoom)
Mondays in July | 3 PM | This is an open session to share your works-in-progress and ask questions. Not sure what to do next? Get help or get started! 
Intro to Arduino with David (via Zoom)
Monday, 7/27 | 7 PM | Learn how to get started using Arduino hardware and programming. Perfect for beginners with no programming experience.
Pocket Organizers Aren't Just for Pens (via Zoom)
Wednesday, 7/29 | 5 PM | Learn how to create custom fabric organizers for tools, shoes, jewelry and more! 
Watercolor Painting with Yi Bin (via Zoom)
Friday, 7/31 | 4 PM | Discover the beauty of watercolor in this demonstration. Learn about the brushes, the paint surface, and the paint itself.