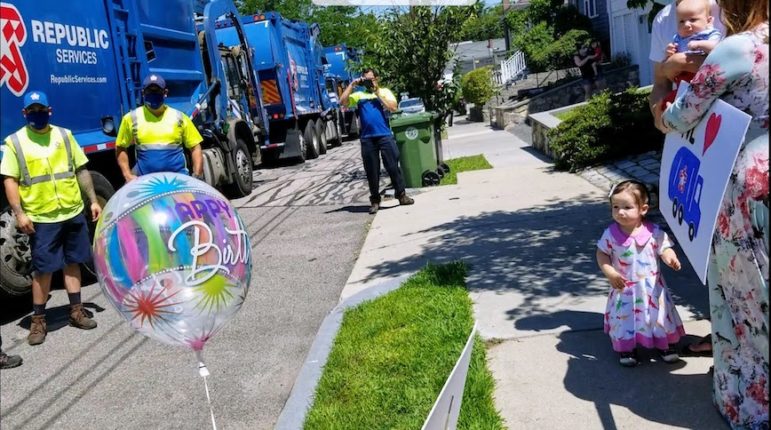 This week, a young Watertown girl got a special visit from Republic Services, the town's trash and recycling contractor, to celebrate her second birthday. Emmeline's mother Ashley Dixon wrote this letter in appreciation of the celebration:
Dear Ms. Osmond and Mr. Leavery,
I am writing with a sincere thank you to Shane, his Republic Services crew, and the Town of Watertown.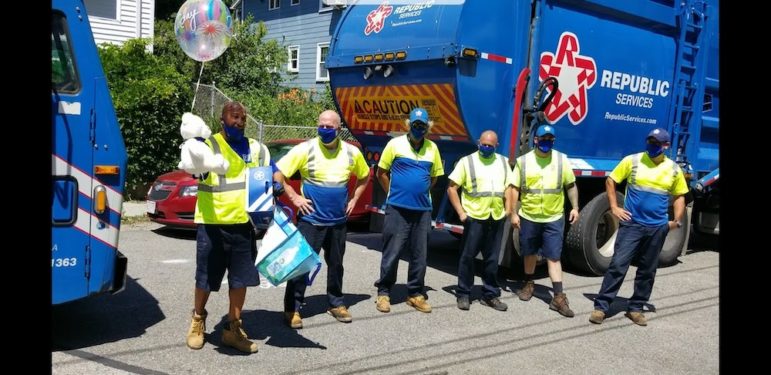 Whenever my daughter hears one of their trucks, she drops everything to go and watch in amazement. So we thought what better gift than to see if they could stop and wave for her birthday. Shane and his team went above and beyond coordinating a parade of 5 trucks. It was so special to have them all stop and introduce themselves, wish her a happy birthday, and give her some generous presents. In the video, you may have seen that she was frozen in awe, but immediately fell in love with her new Republic Services trucks, teddy bear, and balloon. She also insists on watching the video over and over.
(See a video of the birthday celebration by clicking here.)
It meant so much to our family to have the town be a part of her birthday during a time when we weren't able to have a traditional celebration. It will be such a treasured memory of her childhood.
I shared our story and some photos on the Watertown Parents Facebook page and with my mom group. The post has been flooded with over 100 likes and comments about how everyone was so impressed with the kindness of Shane's team, and how their children also share a love of their trucks and drivers.
I am attaching our photos and a link to the full video. We would also love to see your video, since the person taking ours got a little too excited to hold the camera very still.
Thank you again and take care,
Ashley