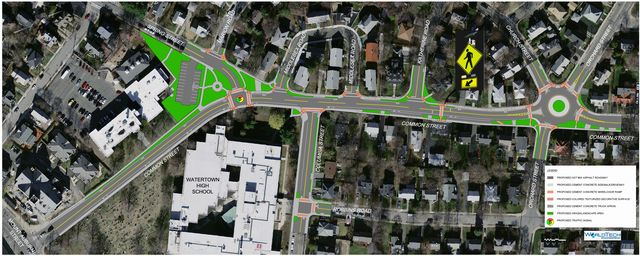 The Department of Public Works announced that sections of Common Street, including the rotary, will be closed while the final paving work is completed on the project.
The Watertown DPW sent out the following announcement:
The Common Street project is scheduled to install top course paving on Common Street starting on Tuesday, September 8th. Work is anticipated to begin at Orchard Street and proceed towards Spring Street.
To facilitate the paving, the roundabout and intersecting streets will be closed to vehicular traffic. Closures may continue for up to several hours thereafter to allow the pavement to cool.
Detour routes will be posted for vehicles traveling on Orchard Street, Spring Street, Common Street and Church Street. Travelers and abutters should expect road closures, detours, and delays for the duration of the work.
The Watertown Police will be informed of the construction and its effects.
Please contact DPW at 617-972-6420 if you have any questions or concerns.