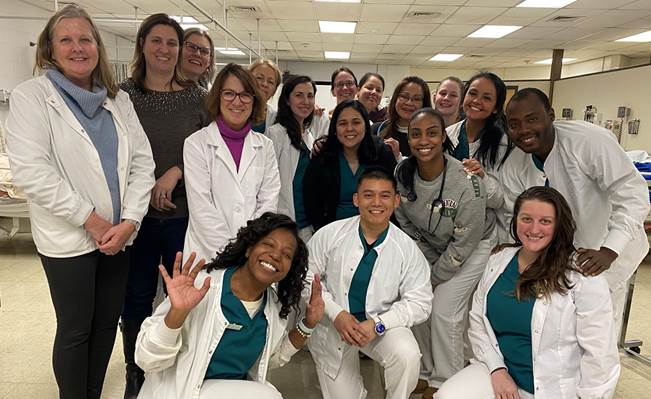 The following information was provided by MassBay Community College:
MassBay Community College is pleased to announce it has been ranked as the #1 Practical Nursing (PN) Program in Massachusetts for 2020 by PracticalNursing.org, a nursing advocacy organization. In March, MassBay's Associate Degree in Nursing (ADN) Program was also ranked #1 for 2020 by RegisteredNursing.org.
"MassBay has a long and proud tradition of educating the next generation of nurses who serve the MetroWest and Greater Boston area by providing the highest quality care to patients," said MassBay President, Dr. David Podell. "We provide our students with comprehensive technical training and skills that prepare them for successful health care careers. We thank them for entering their careers at such a critical time and know they are well on their way to impacting the lives of their patients."
PracticalNursing.org assessed MassBay's Practical Nursing program on several factors, all of which represent how well a program supports students towards licensure and beyond. One key consideration is past and present first time "pass-rates" of the NCLEX-PN, the required certification exam used by all state boards of nursing across the United States to assess a student's competency.
In their assessment of the MassBay PN program, PracticalNursing.org states, "Students learn both theory and practice as part of the program, with clinical experiences taking place at area health care facilities to emphasize best nursing practices as they relate to direct patient care."
"I'm so proud that our students' success has been recognized," said MassBay Health Sciences Dean, Dr. Lynne Davis. ""This is the fourth consecutive year our Practical Nursing (PN) students earned a 100% first-time pass-rate on the NCLEX licensure exam and the third year the Associate Degree in Nursing (ADN) program has had a 100% pass-rate for our graduates, which speaks to the excellent education students receive at MassBay. Our nursing students are prepared and ready to work on the frontlines and we applaud their hard work and dedication."
Publishing their annual rankings since 2014, PracticalNursing.org describes themselves as "nurses helping future nurses," and their goal is "to guide those interested in pursuing the exciting career in healthcare…Our trusted nursing experts are informed educators, experienced in their crafts, and advocates for healthcare professionals."
MassBay offers a Practical Nursing certificate, as well as an Associate Degree in Nursing and a Certified Nursing Assistant certificate program. Other health sciences programs at MassBay's Framingham campus on Flagg Drive include associate degrees and certificate programs in Radiologic Technology, Surgical Technology, Central Processing Technology, Computed Tomography, Emergency Medical Technician (EMT), Medical Coding, Medical Office Administration Assistant, Paramedicine, and Phlebotomy. MassBay is scheduled to open a new Health Science and Human Services campus at the corner of Mt. Wayte and Franklin Ave. in Framingham in 2023.
Prospective students interested in nursing or other health science programs can contact our Admissions Department at 781-239-2500 or admissions@massbay.edu. Fall classes begin on Tuesday, September 8, 2020.
To learn more about PracticalNursing.org and see the 2020 Massachusetts ranking visit https://www.practicalnursing.org/lpn-programs/massachusetts/