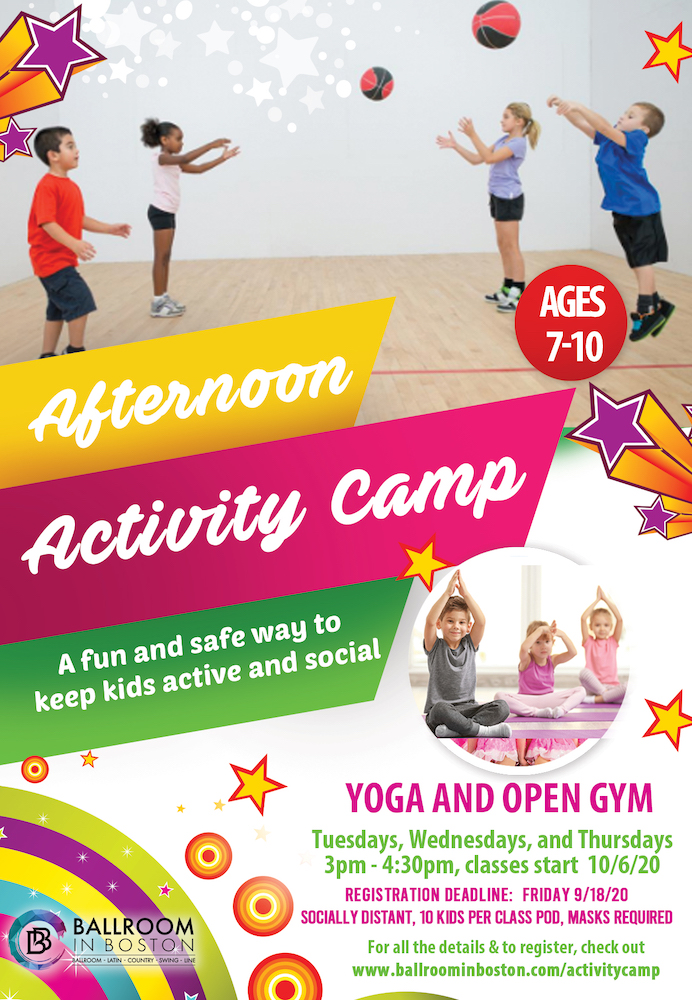 The following information was provided by Ballroom in Boston:
This school year it is more important than ever that your child have the opportunity to be active and social in a safe environment. Ballroom in Boston is offering a brand new program: After School Activity Camp to get your kids moving after spending hours sitting in front of a screen! And through generous donations by Watertown Savings Bank and Cunniff PTO we are able to offer scholarships for families who need a helping hand to make participation possible. 
The October classes include Kids Yoga and the ever popular Open Gym. The class is 1.5 hours in length so you will have time to run errands, work, or enjoy a few quiet moments at home; all while knowing your child is having a great time in a healthy and safe environment.
Our classes will be socially distant and require masks/face coverings to keep all participants safe. We'll also make sure that your child meets with the same small group of children each week to maximize safety. All classes are held in our newly renovated 5,000 sq. ft. studio, which features 23 foot ceilings at 100 Parker St. (previously the indoor playground). Class size is very limited (10 children max), so enroll your child today to make sure you don't miss the opportunity!
Thanks to generous donations by Cunniff PTO and Watertown Savings Bank, we are able to offer scholarships for the Kids After School Activity Camp! If your child would like to participate but you need a scholarship to make it happen, please apply here. Scholarships are available for students from any school. We have a limited number of scholarships to offer so please apply ASAP.  
If you love the idea of helping more kids in need participate in this program and others like it, please reach out to us at info@ballroominboston.com to discuss how a small donation can create a scholarship for another participant!