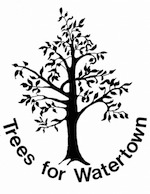 The following announcement was provided by Trees for Watertown:
Are you trying to forget our brutal summer that featured heat wave after heat wave? Now it's official: the National Oceanic and Atmospheric Administration reports that June through August 2020 was the hottest summer on record for Massachusetts, Connecticut and Rhode Island.
As hot as it was, on walks around the neighborhood (what else was to be done during a global pandemic?), I felt instant relief as I passed beneath the green canopies of street trees.
The immediate cool I felt was not only due to the leafy parasol above sheltering me from direct sunshine, it was also thanks to the lack of heat radiating off asphalt and sidewalks, which store up solar gain and turn our streets into ovens. Evaporation from trees helps cool the air, too.
The difference between shaded vegetation and paved surfaces can be as much as 40 degrees Fahrenheit. Imagine if the entire length of a street had this canopy shading us and our homes!
Such oases are too few in Watertown and clustered only in some parts of town. Truth is, every neighborhood deserves this green infrastructure.
The good news is that we, residents of Watertown, can have more trees! With support from the nonprofit organization Trees for Watertown, the Town of Watertown is launching a new drive to collect requests for more street trees.
Whether you're a renter or an owner, you can request a free public shade tree by filling out the online tree request form at http://bit.ly/treewatertown. Even if it may look as though there isn't a spot for a tree in front of your home, at your request the Town can remove asphalt that now covers what used to be a planting strip decades ago, or cut the sidewalk to create a tree pit. Wires overhead? It may still be possible to plant a small or medium-sized tree. Even if your planting strip already hosts a Town tree, there may be room for another.
Watertown's new tree warden Greg Mosman started working at the end of September. Area landscapers respectfully refer to Mosman as the Bill Belichick of tree wardens, because he comes with experience and skills gained from his successful career as the City of Boston's tree warden. He will gladly work with you to determine whether you have an appropriate location near your home for a new public shade tree.
The Town provides and plants the trees. It asks for your help in maintaining your new street tree's well-being by helping to water it in its first few years, helping protect its roots from being parked on, and notifying the Town if a branch needs pruning.
With a little help from you, your new street tree will get a great start. New trees planted today will create a more pleasant, resilient Watertown for us right now and for our future generations.
Real estate agents know that healthy street trees add value and curb appeal to our homes. Their seasonal beauty also soothes and refreshes our spirits.
By simply occupying the marginal spaces of tree pits and planting strips, street trees do so much more for us as well. They filter toxins in stormwater runoff and in the air, reduce flooding, generate oxygen, sequester carbon, lower our summer cooling bills, absorb noise, and even calm traffic!
Larger, mature trees provide the most benefits, so let's start now, planting new trees and growing our urban forest so it can protect us from even hotter summers ahead.
By acting locally, as locally as the planting strip in front of your home, you can support the entire planet. We can do this, one tree at a time. Join this Watertown effort to plant more street trees.