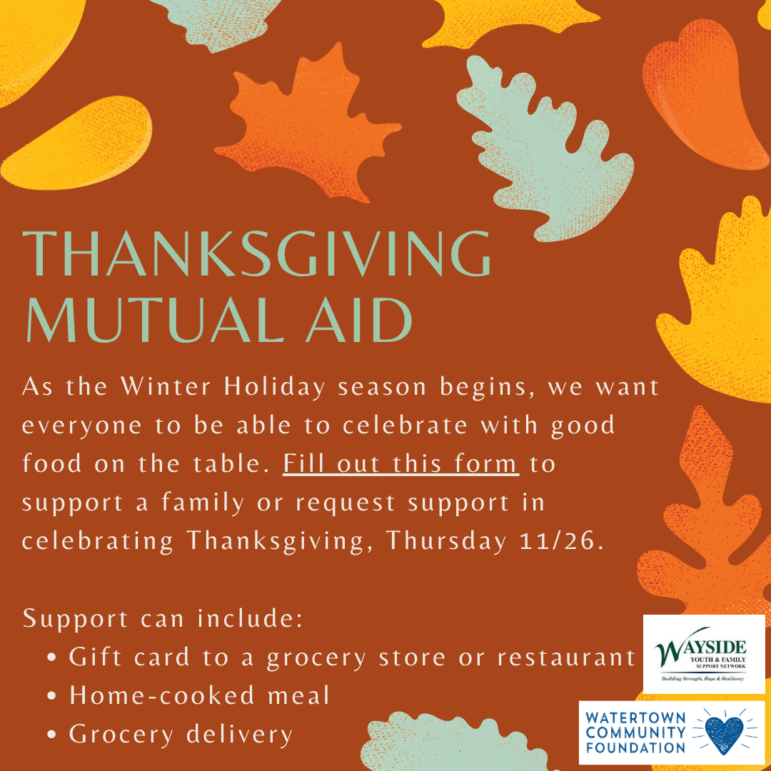 Mutual Aid, which is sponsored by the Watertown Community Foundation and Wayside Youth and Family Support Network, sent out details about how to provide or request support:
As the Winter Holiday season begins, we want everyone to be able to celebrate with good food on the table. Fill out this form https://forms.gle/373WyM4aoCxDH8tL6 to support a family or request support in celebrating Thanksgiving, Thursday November 26th. Support can include a gift card to a grocery store or restaurant, a home-cooked meal, or grocery delivery.
If you have any questions or concerns, please contact Sophia, the Community Coordinator at watertownmutualaid@waysideyouth.org or 617-744-9585.
If you need other resources, contact the Watertown Social Services Resource Specialist (SSRS) Program at 617-744-9585. If you are 60+, call the Senior Center at 617-972-6490.