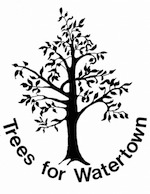 Trees for Watertown invites residents to meet the new Watertown Tree Warden/Forestry Supervisor during an online event on Nov. 11.
The group sent out the following announcement:
Please join us via Zoom on 
WEDNESDAY, NOVEMBER 11 (VETERANS DAY)
6 PM – 7:30 pm
for a very special event!

TFW is delighted to be welcoming 
GREGORY MOSMAN, MCA
Watertown's new Forestry Supervisor-Tree Warden
at TFW's 2020 Annual Meeting!
Greg Mosman comes to Watertown with 18 years managing Boston's public forest of over 37,000 shade trees.  We are immensely lucky to have his experience!
Greg's plate was full here as soon as he arrived. In his first week our trees were hit by a heavy windstorm, and Watertown's Fall tree planting deadline was imminent.  
Added to these, the response to Watertown's tree request campaign has been extraordinary. In just three weeks, close to 200 requests have been made on line at bit.ly/treewatertown and via post card, by Watertownians hoping to see new public shade trees planted to beautify and protect their homes and neighborhoods.
Greg Mosman has enthusiastically agreed to join us for a "Get To Know Your Tree Warden" interview at TFW's 2020 Annual Meeting. Please join us on Zoom to welcome our new Forestry Supervisor-Tree Warden to Watertown! (BACK to Watertown, in fact. Greg grew up in Watertown.)
We'll start with a one-on-one interview, followed by an opportunity for a Q&A with TFW members and friends. We look forward to learning more about Greg's past experience and future plans, to sharing ideas and concerns, and to exploring ways to work together in the important task of improving Watertown's urban forest.  
Please do join TFW in welcoming Greg Mosman on Zoom on Wednesday the 11th starting at 6 pm. All are welcome!  
To join the Zoom meeting, please register via bit.ly/MeetGregMosmanMCA.