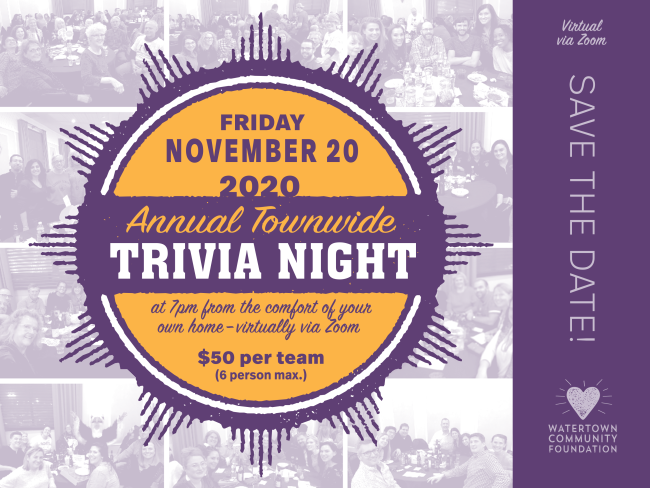 The Watertown Community Foundation's Annual Townwide Trivia Night is coming up on Nov. 20, so get your team of trivia buffs together.
The event will be held over Zoom on Friday, Nov. 20 at 7 p.m. Teams are up to six people. The cost is $50.
Find out about how this year's Trivia Night will work below.
FAQ:
Will I receive an invite with event details?
Yes. After you sign up, you will receive an email receipt for your purchase and you will be able to download your tickets.
How do we log in?
The host will provide you with a code at the ZOOM meeting that you can use to log in. You can log in on another screen on your computer or
just use your phone or smart device.
After I registered, I received an email with tickets to download. Do I need those tickets?
No. Since this is a virtual event, you do not need those tickets.
Who chooses teams?
Teams are selected when you register. Whoever names the team, will let their team members know the team name and the night of the event you will join your team by a drop down menu when you log in.
How do I play?
Once the question is read, the timer starts and you have a limited time to answer on your device. Each question starts at 100 points, and the point
value is decreased as the timer counts down.
How do I win?
It's team play, the team with the highest percentage of correct
answers or the highest score will win.
How long will it last?
Typically games run 90 minutes with breaks in between rounds. The rankings of each player / team are displayed throughout.
Can I answer multiple times?
No … Once you answer, it is locked in for the question.
Do I lose points for incorrect answers?
No … You gain points for your correct answers, but you do not lose points for incorrect answers. You do however, impact your team if you are playing by percentage of correct answers. Non-answers do not effect your team. If you do not answer, you don't register a negative or positive with your team.
What if my entire team is virtual?
That's great. Each team will have their own breakout room over the Zoom call so that you can discuss your answers before submitting them.
What if I'm not part of a team?
If you don't have a team, but would like to be a part of one, a team name will be chosen for you.
How do I see the questions?
They will be displayed on your smart device, computer, or phone as we play. You answer directly on your device. There will also be a master screen displayed on the ZOOM meeting screen which will be for viewing only.
When do I log in?
We recommend you log in early … If the game starts, you can log in late, but you do not get the ability to answer any questions that have passed.