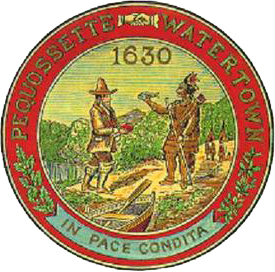 The draft of Watertown's new Bike and Pedestrian Plan will be discussed at a public meeting in December, and the Town has a new section of the Community Path near the Watertown Library.
Watertown Transportation Planner Laura Wiener sent out the following information:
New Bike and Ped Plan will Pave the Way for more Biking and Walking.  
Public Meeting December 7.
The Town is undertaking a Bicycle and Pedestrian Plan, to show the way toward roads and sidewalks that welcome bikers and pedestrians, along with cars. Partnering in this endeavor are the Town Council, the Bicycle and Pedestrian Committee, the Department of Community Development and Planning, Public Works Department, and McMahon and Associates.  This effort has been ongoing for about a year.

There will be a public meeting to review the Draft Plan, on Monday evening December 7, 2020, at 7:00PM via Zoom. The meeting is hosted by the Town Council Committees on Economic Development and Planning and Public Works. The consultant, McMahon and Associates, will present the draft plan and its recommendations, and then take questions and comments from Council members and the public.

The Draft Plan, and other information is available on the Town website, HERE.  Click on the Flyer link for a link to the presentation and the Zoom meeting.

Bike Ped Plan Project Goals
Increase opportunities for bicycling and walking, and thereby reduce the number of vehicle trips in Watertown.
Increase safety and access for bicyclists and pedestrians, to promote biking and walking.
Create a road map for future improvements to the Bicycle and Pedestrian network. 
Quick Build Community Path Extension in Watertown Square
Have you noticed some changes behind Town Hall and the Library?  The Town received funding from a MassDOT program called Shared Streets/Shared Spaces, to fund quick-build projects that support Covid-friendly outdoor activities. The Department of Community Development and Planning and Public Works together applied for funds to do a temporary shared use path from Saltonstall Park to Church Street, through the Library parking lot, crossing both John Sonny Whooley Way and Church Street. This is a pilot project, to test changes before creating a more permanent shared use path through Watertown Square. Walking and biking should feel much safer in this area now. Big kudos to Public Works for doing most of the construction in about a month! Check it out and let us know what you think, by replying to this email.
Contact Laura Wiener at lwiener@watertown-ma.gov for more information.
See the entire Watertown Health Transportation News email by clicking here.