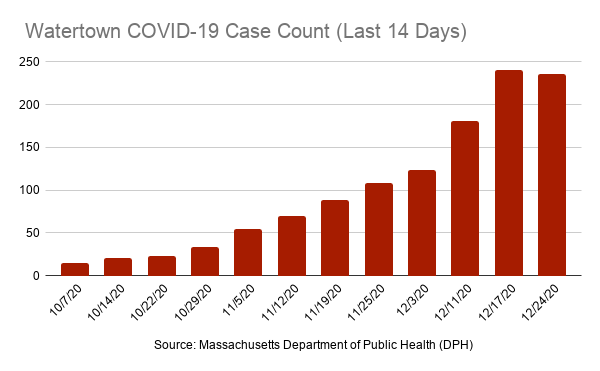 The numbers of new cases of COVID-19 in Watertown dropped slightly in the most recent community-by-community report by the Massachusetts Department of Public Health (DPH), but the percent of positive tests rose.
The number of cases over the prior 14 days in the Dec. 24 report (released on Dec. 31) was 236, down from 241 the prior week. The drop was the first since the DPH's Sept. 30 weekly report.
The total number of cases is 1,144, up from 1,023 the previous week. The percent of positive tests is 4.7 percent, up from 4.35 percent the previous week.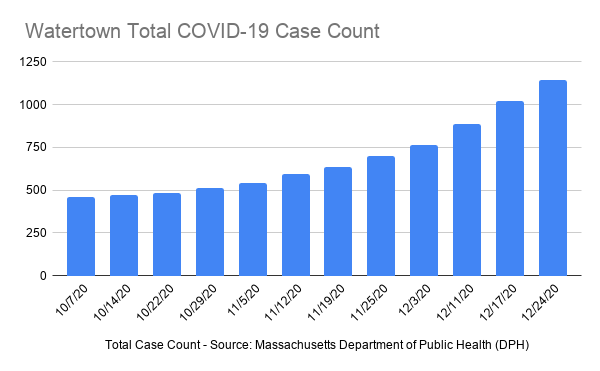 Watertown's average daily cases over the prior 14 days is 51 per 100,000 residents. With the positive test rate of below 5 percent, it puts the Town in the State's yellow category — moderate risk — for a town of its size (10,000 to 50,000).
Waltham is in the red, or high risk, despite being at 47.4 average daily cases at 4.8 percent positive test rates because in the State's standards for a community over 50,000 a 4 percent positive rate put a community into the red category. Belmont (29.4 cases per 100,000 and 3.06 percent positive), Newton (23.5, 1.44%), Cambridge (26.9, 1.18%) and Boston (59.1, 3.48%) all fall into the yellow category.
Watertown, MA COVID-19 Trends – 1-1-21 by Charlie Breitrose on Scribd