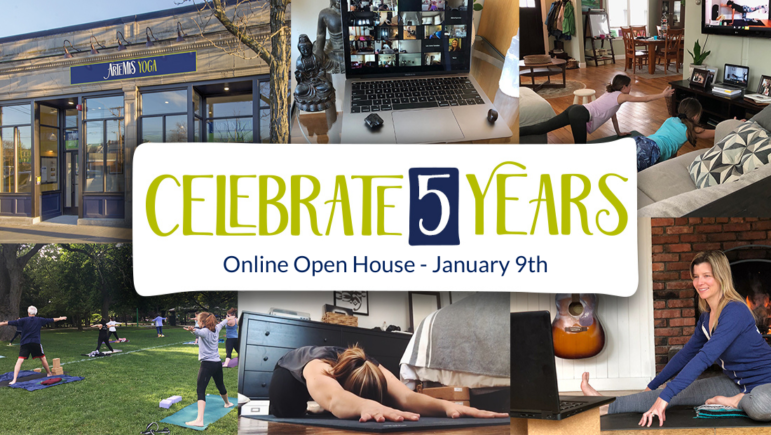 The following announcement was provided by Artemis Yoga:
Artemis Yoga of Watertown is celebrating its fifth anniversary with an Online Open House on Saturday, Jan. 9, that includes a day of complimentary, online 15 yoga classes for kids and adults.
All classes are free to register, but with a suggested donation of $5.00 to directly support the Watertown Boys and Girls Club (WBGC). Since 2015, we have hosted annual Open Houses and raised over $3,000 in total for
the WBGC, so we hope that this year, our 5TH ANNIVERSARY, we can meaningfully continue the tradition. This year more than ever, we need to support at-risk youth whose families are bearing the brunt of the pandemic.
We are excited to offer specialty classes such as restorative yoga with live cello, kids yoga, Iyengar yoga, a special "desk decompress" yoga class for those working at their desks too much and even and intro to astrology among other offerings at the online open house. All students must pre-register at the www.artemisyoga.com/celebrate and you will join class via Zoom.
Artemis Yoga opened in December 2015 on Mt. Auburn Street in Watertown's Coolidge Square. As a community yoga center, Artemis is a local, woman-owned, friendly studio, where anyone can learn and
practice yoga to strengthen your body and relax your mind. After the pandemic started in March, Artemis pivoted to online classes and now we have over 40 classes online plus at least six weekly in-studio classes with proper social distancing and top-notch ventilation enhancements.
To learn more about Artemis Yoga or to sign up for the "Celebrate" Open House schedule for Jan. 9, please www.artemisyoga.com/celebrate