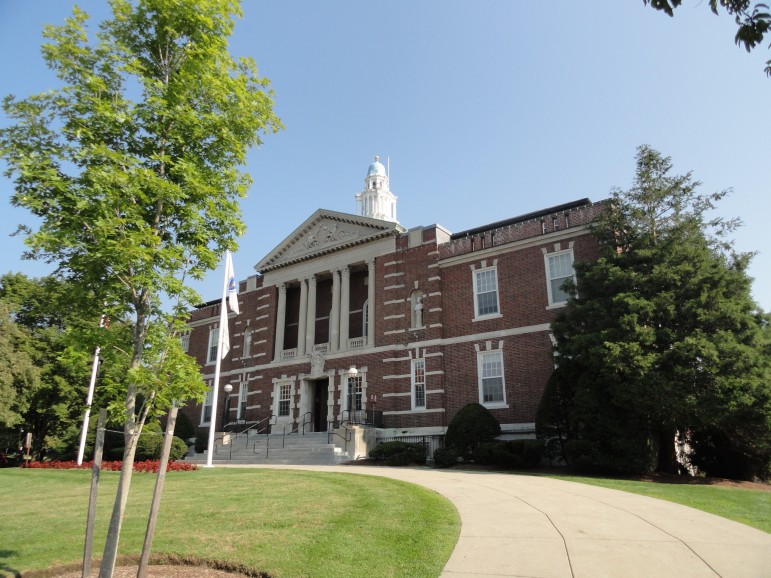 This week's Charter Review Committee meeting covered a range of topics, from a vision for Watertown to how the charter could be changed to make the government more accountable and responsive to the public, and even the debate of keeping the Town Manger type of government or changing to a mayor.
At times the discussion became heated, both between committee members and even members of the public participating in the virtual meeting.
The biggest question before the group of 15 (nine Town Councilors and six members of the public) will be taken up directly in upcoming meetings. Town Council President Mark Sideris said the merits of mayor and strong manager forms of government will be on the agenda of the next meeting, and future ones.
Tuesday's agenda called for reviewing the panel discussions with at the two previous meetings with elected officials from other cities and towns. The topic the group spend the most time on, however, was vision. That came in the form of a vision for the Town, a vision for the way the government works and a vision for what should be in the charter.
Panels
The Charter Review Committee looked at what some other towns have done to make their charter more responsive, and also discussed the lessons learned by those communities. The Committee heard from two mayors and a town manager at one, and at the second from four councilors — three from communities with mayors and one from a manager style government.
They noted that some communities with a hired Town Manager as the executive have a person in that position who spends a lot of time interacting with the public and attending public events beyond government meetings. They heard from councilors who worked with mayors who got elected on a single issue who did not have any experience running a city. On the other hand, with a manager and council decisions are made by consensus, which can lead to more harmony between the legislative and executive branches. That can also lead to issues stagnating if no consensus is reached.
The Councilor panel discussed how councils work with mayors in those governments, and how the Council does not have the same amount of power, but that the mayor must still get approval from the council to spend or borrow money and to create new programs and ordinances.
Resident member Anne Fitzpatrick said one thing she heard from the Councilors from other cities was it was more challenging for them to come up with a united vision. That makes it hard for a voter, she said, compared to voting for the vision of a mayor.
"It's a lot different when you vote for a Town Councilor who shares your vision," Fitzpatrick said. "If there are only three (councilors) in your camp who has your vision, but the other side has six, whatever vision they subscribe to it's not yours so yours isn't being advanced."
Councilor Ken Woodland said he heard from panelists that the success of a city with a mayor depends on the person in the office.
"One of the things the councilor from Gloucester said was that in a mayoral form community was it was only as good as the mayor wants it to be," Woodland said. "A lot of emphasis seems to be in that form of government on the person that holds that office. We got another horror story from someone elected to one term, came in, turned things inside out, and they spent years after trying to fix it."
Resident member Marcia Ciro said believes that the people in the executive positions were more important than the type of government.
"One of the things I seemed to take away is it is not so much the mayor or town manger form of government, it is really the people you have in those roles, whoever they are," Ciro said. "That really highlighted that we have a 1990 government trying to force in 2021. A lot of these places felt like the were actually in 2021."
Resident member Leo Martin commented on the professional staff help that mayors had, or lacked.
"One thing I was kind of surprised in the mayoral group, neither one of them had a financial person, they did it all themselves," Martin said. "In Newton and Framingham they have a financial person that runs the place and they just sort of do the other stuff."
Communication with residents was a topic discussed at both panels. The charters in some communities call specifically for ways to engage with the public, said resident member Bill Oates.
"The community participation officer, community engagement officers Amherst talked about certainly seems like an interesting thing for us to be thinking about," Oates said. "We talked a few weeks ago about services like 311, when you talk about that engagement: how do we get that open door to Town Hall, how do we get thatsingle call to Town Hall to alleviate some of these challenges where people seemingly are unable to get an answer to the questions they are looking for?"
He also pointed to charters that require the Council or the Council President and Town Manager hold meetings once or twice a year to update residents on the town's vision, where the Town is going, as well as giving residents the time to ask questions and get responses.
Vision
During the discussion of vision, some committee members and residents talked about the vision, or lack thereof, for what Watertown will look like in terms of development. Some also said how frustrated they were trying to find information about the Town's vision, and did not think it was enough to have it in a budget document on the Town's website.
Resident Sarah Ryan said she sees a major disconnect between the "politically involved" people in town see as the Town's vision and what average citizens see as the vision for hte community.
Others focused on the vision for what they would to see the charter accomplish.
Former State Rep. Jonathan Hecht, who also served on the Council, said he his vision for the charter includes a more clear spelling out of how the government operates, including strengthening the ability of the elected officials in Watertown's current government to set policy.
"I think there are things in the area of rule making, that have been allowed to fall over to the executive branch that could more properly come back to the legislative branch," Hecht said. "I think things in the areas of appointment, where there are boards that are essentially carrying out policy making sorts of power, we could create mechanism not only through the appointment process but also through consulting and other mechanisms where elected officials could play a more active role."
Several people on the committee and from the public complained about accountability, and how difficult it is to figure out if a plan or ordinance is accomplishing what it was intended to do. Resident Nancy Hammett suggested that all new ordinances or plans include written goals, metrics for measuring if they were accomplished and a timeline for when they would be reviewed.
Councilor Tony Palomba said he believes vision and values are related, and said that he would like to see something in the charter capturing the Town's values, perhaps in a preamble.
"Before you can have a vision you need to be clear about what your values are. I don't think we spend enough time on what do we value as a community. That is something I think can be achieved," said Palomba, who added that if you have a vision based on your values, you can then have goals to make that vision a reality, and accountability by seeing if you are reaching those goals.
Council Vice President Vincent Piccirilli said one of the differences between mayor and manager forms of government is who sets the vision.
"One of the hallmarks in the vision of the community is do we want to be a community where the vision, the policy is developed by consensus or by one person," Piccirilli said. "I've heard a lot about if we only had a mayor that mayor could cut through the red tape and just develop a vision and carry it out, make it happen. Certainly, that happens in places like Boston and happens in places like Somerville where the vision of city is one person's vision. If you agree with it, that's great. If you disagree with it, it's too bad."
Councilor Lisa Feltner said said she does not believe the division of power is that severe.
"I don't think mayors dictate their vision. The way it is presented it is almost an authoritarian person who comes over and tells us this is what you are doing, if you like it or not," Feltner said. "Mayors are elected by a majority and they have to make their case just as councilors have to make their case."
Fitzpatrick said she feels like as one of the non-councilors on the committee she was being condescended to, and fear mongered about what could happen with a mayor.
"I have got to be honest, the people of Watertown feel like they have been held hostage for a long time by the current form of government," Fitzpatrick said. "That's the experience. At least with mayor we can go and vote them out two years later."
Woodland said he did not intend to make people fearful, adding that he wanted to present the facts. He noted that under Massachusetts municipal law the mayor has most of the power when it comes to creating the budget, and the Council in those governments can only approve, reject or reduce the budget. They cannot add to the budget and if they reduce a department budget it won't necessarily remove a particular position or program.
Ciro said she would like to look at how Watertown's current form of government can be altered to work more effectively.
"I think we try to fix the town manager form of government to see if we can get what we want out of it. If not, then it is kind of obvious we might need a mayor form of government," Ciro said. "To decide we just want a mayor and move forward seems very sudden to me."
Next Meeting
When the Charter Review Committee meets again on Feb. 16 at 6 p.m., they will start formally discussing the mayor vs. manager issue. Sideris said the decision will not be made that night, but that the Collins Center, which is working with the Town on the Charter Review, needs some guidance to know what to work on in upcoming meetings.
"We are going to, at the next meeting create a process, where community members as well as members of the of public be able to submit input about what they might want to see as a changes to the charter," Sideris said.
Councilor John Gannon said he believes people need to know more about the current charter before giving informed input.
"Some dispassionate person, not committed to keeping or obliterating the Town Manager system, should be given an opportunity to give some kind of information and educate people about what the current charter is before we decide what's wrong with it," Gannon said.
See more information about the Charter Review process by clicking here.
Charter Chat
Watertown Forward — a non-partisan grassroots civic action group promoting public engagement in the town's Charter Review process —  will be hosting a Charter Chat on Sunday, Feb. 7 at 3 p.m. See how to join the virtual conversation here.
Find out more about Watertown Forward at watertownforward.org or on our Facebook group.