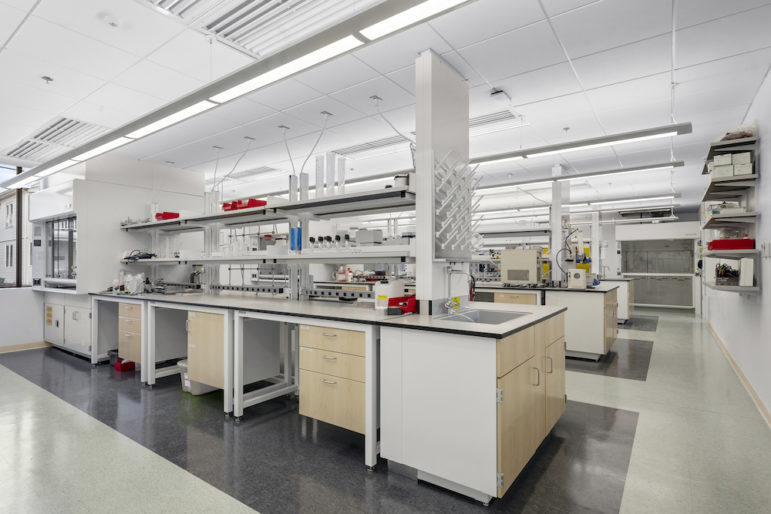 The former New England Flag and Banner building at 165 Dexter Ave. has been renovated and prepared for life science labs.
The following information was provided by Ebbrell Architecture + Design:
Enticed by an open floor plan flooded with natural light, executives at startup Via Separations knew they found the perfect home in a former Watertown flag factory. Massachusetts-basedEbbrell Architecture + Design, a certified Woman-owned Business Enterprise, worked closely with Via Separations in rolling out a phased plan for the new headquarters, complete with a state-of-the-art wet lab that houses eight fume hoods — six benchtops and two walk-ins — as well as extensive prototyping space for the company's revolutionary membrane filtration research.
Shreya Dave, CEO of Via Separations, said she knew the dated 1940s facility needed significant infrastructure improvements and she interviewed six architectural firms before settling on Ebbrell. "I needed a firm that had start-up lab design experience and also brought a human touch," said Dave. "Ebbrell worked with us to determine our needs and conducted soft-focus groups to make sure they got it right from the start. It was really exciting to work with them."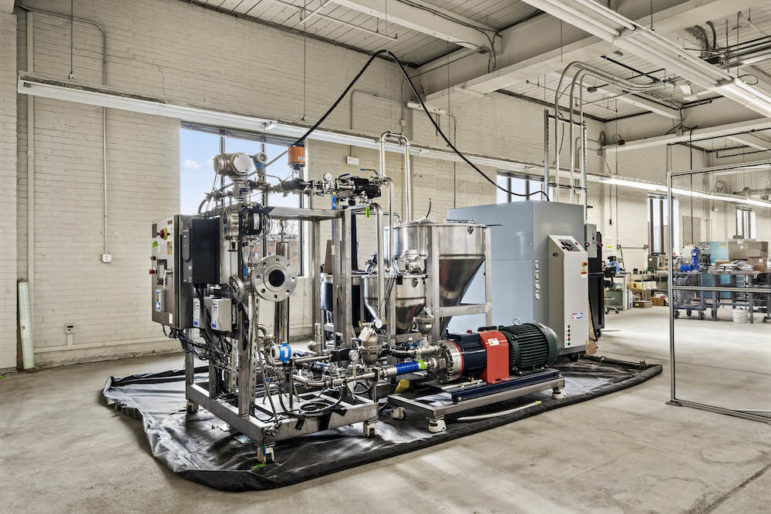 Ebbrell's Senior Lab Architect Ariane Purdy,led the project from concept to completion. Dave noted they had a tight budget and said Ariane was helpful in determining 'must haves.' "I've worked in labs for a long time, but never ran one or thought about what's behind the wall," said Dave. "Ariane had conversations with us about not-obvious decisions, such as adding insulation, that will have a big impact on how efficiently we operate."
Purdy, who has over 15 years' lab design experience said, "This is the type of project I get excited about – we not only got to help a tech client whose environmental mission will benefit the world, but we also developed a new purpose for a older industrial building."
Upgrading the infrastructure for the 74-year-old facility was key to the project's success – R.W. Sullivan's experienced lab engineering team worked closely with Columbia Construction to install new480v electrical and larger gas service lines, as well as two new, large rooftop HVAC units to accommodate40air changes/hour in the 1,500-sf wet lab.
Miika Ebbrell, Principal at Ebbrell Architecture + Design noted that her firm collaborated closely with the client, their project manager (Leggat McCall Properties), the engineers and the contractor on identifying cost-saving opportunities while maintaining focus on delivering a high-quality, high-functioning lab and support spaces. "Our firm believes the most successful projects come from clear and frequent communication," said Ebbrell. "We approach every project as a unified team, working to create the best value and outcome for our clients."
Dave confirmed Ebbrell's enthusiasm for a team culture. "There was great cross-communication that helped keep things moving, even with pandemic setbacks," said Dave. "The whole construction team communicated frequently, which was great."
Phase 1 work was completed in January 2021. The infrastructure is now in place for the Phase 2 build-out that includes a modern 30-person office space, updated restrooms, a future prototyping lab, and a multi-functional community room.
About Ebbrell Architecture + Design
Ebbrell Architecture + Design is a Massachusetts-certified Woman-owned Business Enterpriselicensed in MA, NH, and CT.The company is comprised of a small group of talented, experienced design and architecture professions who pride themselves on being flexible, responsive, honest, diligent, energetic, and highly creative. Ebbrell team members possess specialized design expertise in a wide-range of project types- from office and lab/technical projects to recreation and educational/institutional design. Ebbrell Architecture + Design offers its clients big company talent with small company service and value. To learn more visitwww.ebbrelldesign.com.