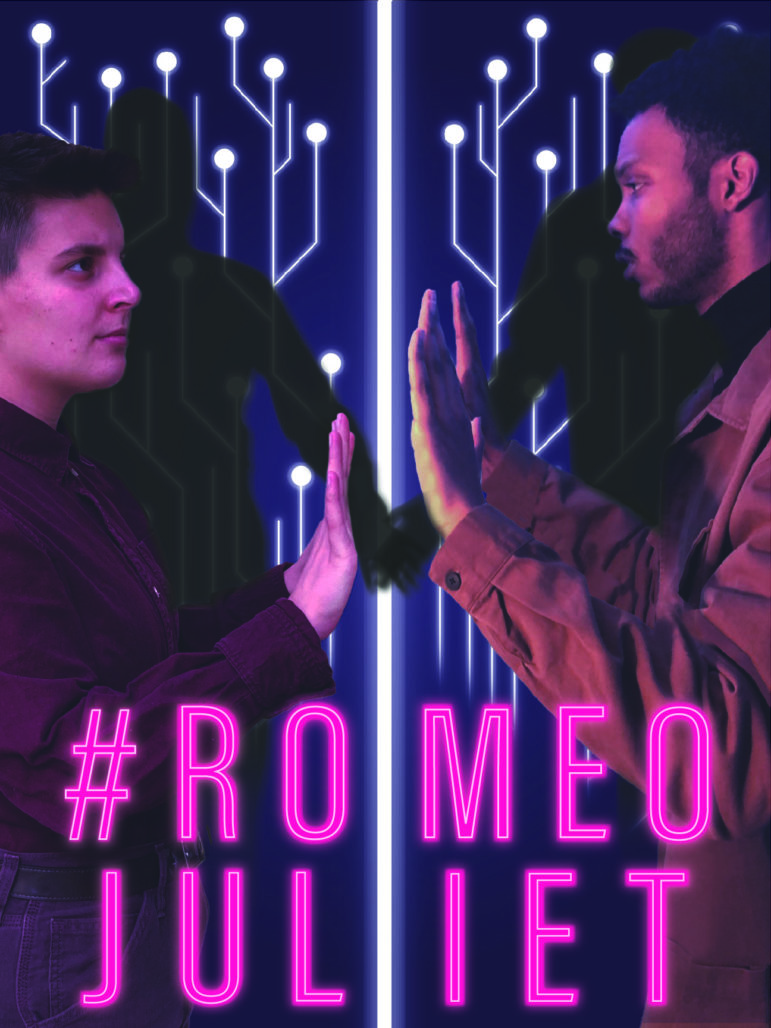 New Repertory Theatre and Queen Mab Productions present #RomeoJuliet, a raw and relevant 2-person interpretation of Shakespeare's classic Romeo & Juliet, directed by Benjamin Evett and starring Diana Lobontiu and Sharmarke Yusuf.
Considering our shared experiences of 2020, this production examines deeply the play's themes of isolation, separation, and what sacrifices we make as we attempt to cross boundaries. The performance will be available to view March 15 – June 15, 2021 for school and group organizations only. More information about #RomeoJuliet can be found at
https://www.newrep.org/productions/romeojuliet/
"We are so thrilled to collaborate with Queen Mab Productions to produce this innovative and contemporary educational version of Romeo & Juliet." shares New Rep's Communications Director, Jaclyn Dentino. "#RomeoJuliet give us an opportunity to safely engage with schools, as well as interact with our community and artists, while providing a unique theatre experience in the virtual classroom."
Accessibility
Captions will be available with the recording.
About #RomeoJuliet
Original theatre, delivered to your inbox. New Repertory Theatre and Queen Mab Productions collaborate to create, produce, and film an original production of Romeo & Juliet for the isolated and virtual world in which we find ourselves. A purchase of #RomeoJuliet includes:
A private link to the recording of our new production, to be accessed at anytime between March 15 – June 15, 2021
A complete study guide to use with your class or group
A live, virtual discussion with theatre professionals and your class or group
#RomeoJuliet is the perfect opportunity to experience imaginative theatre and study Shakespeare's seminal piece, all from the safety of your virtual classroom or gathering space.
Join us as we continue to create modern approaches to one of the world's most beloved art forms.
Artistic Bios
Benjamin Evett (he/him/his, Director) is an internationally recognized actor, director, and producer. He is the Artistic Director of Queen Mab – a Micro-Theatre. He won Boston's Elliot Norton Award for Outstanding Solo Performance for Albatross in 2015. He was a member of the American Repertory Theatre Resident Acting Company in Cambridge from 1993 to 2003, appearing in over fifty productions. He was Founding Artistic Director of The Actors' Shakespeare Project, playing Hamlet, Coriolanus, Petruchio, Edmund and Caliban. He has appeared with the New Repertory Theatre, the Huntington Theatre, Gloucester Stage Company, the Poets' Theatre, the Arizona Theatre Company, the San Jose Rep, the Virginia Stage Company, the Missouri Rep, the Alley Theatre, and the Cleveland Play House, among others. Internationally, he has performed in Moscow, Taipei, Paris, Venice, and Madrid. Ben studied at Harvard and the ART Institute, and currently lives in Arlington with his wife, two sons and a dog.
Diana Lobontiu (she/her/hers, Actor) is an actor and playwright. She is originally from Romania but has lived all over the world, including Anchorage, Alaska. She graduated from Wellesley College with a BA in Theatre Studies and Psychology, and is an alum of the National Theatre Institute at the O'Neill. Recent theater credits include The Killjoys in the Hollins Playwrights' Festival (Elsie/Sam), Mother of the Maid at the Lewes Public Library's Shakespeare Festival (Joan of Arc), Hamlet with Praxis Stage (Laertes), and Well with Wellesley Repertory Theatre (Joy/Dottie/Herself). For the past three years she has been performing her solo show Sfânta: Hell Bent on Heaven, an absurdist comedy about a wannabe Romanian saint, which she's taken to the Minneapolis, Philadelphia, and Kalamazoo Fringe Festivals. More at dianalobontiu.com.
Sharmarke Yusuf (he/him/his, Actor) is an actor and writer currently based and born & raised in Boston, Massachusetts. Sharmarke graduated from the Boston Conservatory at Berklee with a BFA in Contemporary Theater. He has appeared in several Boston-area theater productions including as Aaron in Titus Andronicus (Earthstone Theater Company), Buckingham/Ensemble in The Three Musketeers (Front Porch Arts Collective), Theseus in A Midsummer Night's Dream (Boston Conservatory at Berklee), and on television, most recently as Axmed in season two of
Castle Rock on Hulu. He can be found on instagram @sharmarke_y 
Abby Lass (she/her/hers, Dramaturg) is a Boston-based theatremaker and arts educator. She specializes in dramaturgy, directing, and sound design, and has a special interest in female-centered works and classical adaptations. Previous dramaturgy credits include: Buried Child,
Safe Hands: A Musical Workshop, O, Hysteria!, A Fan's Sermon (Vassar College), and Helen(Newton Theatre Company). Abby has also produced several theatre-adjacent research projects, including "Playing the Man I Am: An Exploration of Gender and Genre in Shakespeare's Coriolanus" and "Performance and Pedagogy: An Exploration of the Psychological Benefits of Theatre Education for Adolescents." Abby is currently finishing up her
senior year at Vassar College, where she is completing her double major in Drama and Psychology with a minor in Greek and Roman Studies. She also serves as the Marketing and Social Media Director of Newton Theatre Company, is currently New Rep's Artistic and Engagement Intern, and has taught with Newton Theatre Kids.
All creative bios are available at www.newrep.org
About New Repertory Theatre
Founded in 1984, New Rep is an award-winning professional theater located on the historic Arsenal on the Charles campus, a vibrant cultural hub in Watertown, Massachusetts featuring amplefree parking and restaurant dining.
In residence at the Mosesian Center for the Arts, New Rep stages contemporary and classic plays and musicals, including world premieres, that awaken the heart, challenge the mind, and expand the human spirit. We mount productions in two fully accessible performance spaces: the state-of-the-art 340-seat MainStage Theater and the intimate 90-seat BlackBox Theater, which provide excellent views from every seat.
New Rep embraces theatre as the basis for enduring connections with our community. Through entertaining, innovative, and thought-provoking live theatre performed at the highest standards of excellence, we seek to spark community conversations about the crucial issues of the day. Our Post-Show Talk-Abouts provide opportunities for audiences of all ages and backgrounds to explore a play's themes with esteemed experts and seasoned dramaturgs.
New Rep has long been an active advocate for the arts and a major voice in the national dialogue defining the role of theater in our culture. New Rep is now at the vanguard of a momentous drive to develop anti-racist theater practices in the Greater Boston community. We aim to create an authentic sense of belonging for artists and audiences alike.
New Rep's Mission
New Repertory Theatre produces plays that speak powerfully to the vital ideas of our time.