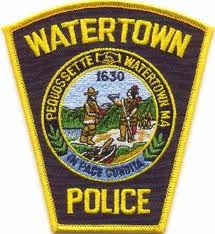 An alert resident helped police catch a man who had broken into an East Watertown church.
The Watertown Police received a call on Feb. 6 just before midnight about a person banging on a door at the Greek Orthodox Church/Hellenic Cultural Center on Bigelow Avenue, said Watertown Police Lt. James O'Connor.
"When we arrived, officers observed a glass door on the Bigelow Avenue side of the building completely shattered," O'Connor said. "As officers approached the shattered door they heard noises from inside the building. They observed, from looking in, a male wearing a dark hooded sweatshirt."
Officers entered the building and detained the man, later identified as Michael Tyrone Moore of Watertown. Police took him into custody after determining he had broken into the building.
Nothing was missing from the building, O'Connor said, and the door was the only thing damaged.
Moore, 39, was arrested on a charge of breaking and entering in the nighttime, which is a felony, O'Connor said.
"The quick 911 call from neighbors and quick response by police led to the success in stopping the incident," O'Connor said.