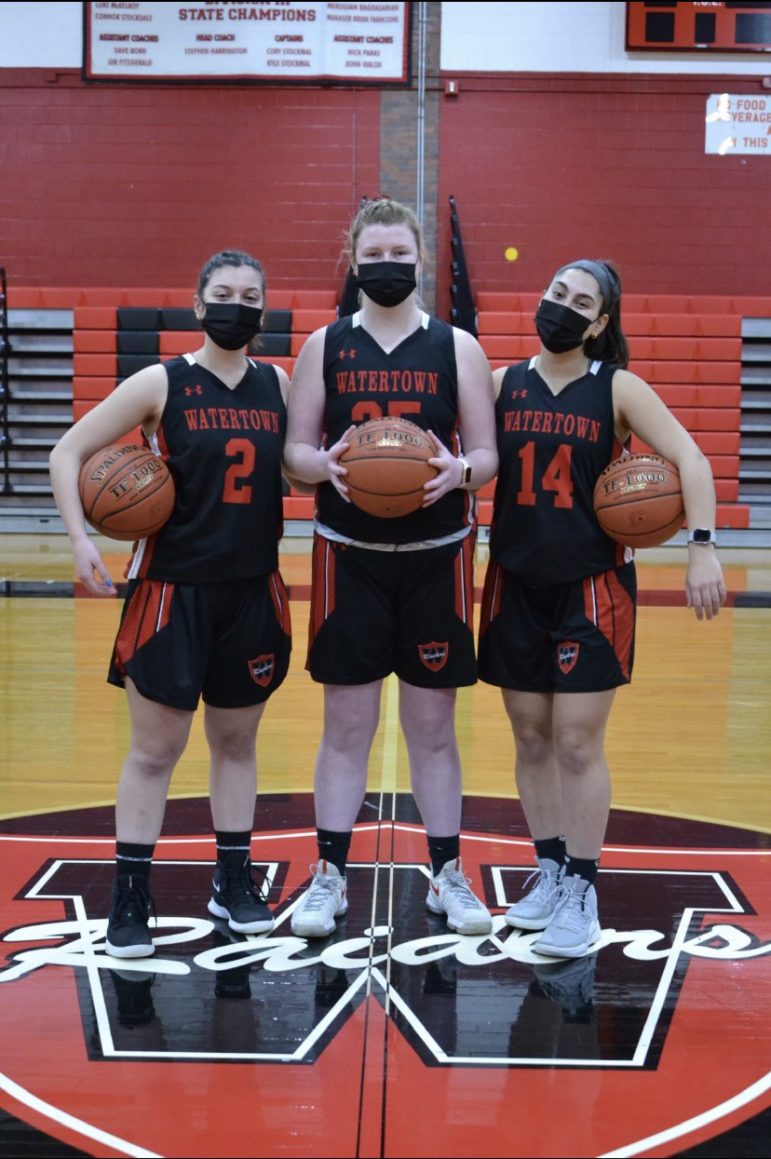 The season ended Wednesday for the Watertown High School girls basketball team with a loss in the first round of the Middlesex League playoffs, but Head Coach Pat Ferdinand still called it an "incredible season."
The Raiders had to adjust to the season shortened by COVID-19, and the safety guidelines put in during the pandemic, including having to wear masks while playing and not having fans in the stands. The team even had to find ways to work on their game even when they couldn't practice in person, Ferdinand said.
He particularly thanked the three seniors, Leah D'Amico, Morgan Beirne and Christina Zouein.
Ferdinand reflected on the season in some end-of-the-year posts on Twitter:
In a challenging year of adjustments I couldn't have felt luckier coaching this group of incredible student athletes, with the support of a phenomenal coaching staff. Everyone was invested and dedicated. We had some bumps but felt lucky to just be able to practice and compete.
Players learned about themselves, studied film, when we couldn't practice did virtual workouts, zoom yoga, and just worked on being connected. The incredible staff at the HS: AD Murphy, Jae Smith, everyone working & doing the table, trainers, custodians, and parents. We wouldn't Have a season without everyone's support.
For our seniors they gave everything and embody the toughness that allows us to compete. Captain Leah D'Amico, Morgan Beirne, and Captain Christina Zouein have been class acts their entire career they maximized their abilities and led by example. The entire program thanks you
Boys Basketball
The Raiders survived a late surge by Arlington to win the Middlesex League Tournament semifinal on Thursday night. Watertown will host Winchester in the final on Saturday at 3 p.m. Fans will not be allowed, but the game will be live streamed on Watertown Cable (wcatv.org).
Watertown took the lead with a three pointer late in the first quarter, and led 32-22 at halftime. The Raiders extended the lead to 19 points in the third quarter. Arlington narrowed the gap, and ultimately fell to the Raiders by a score of 64-60.
The team was led again by Gabe Spinelli, who scored 34 points. The senior guard has been on a hot streak, scoring at least 30 points in the last four games.
The Boston Globe featured Spinelli in a story on Friday, and looked back at his time at Watertown, including being part of the team that won the State Championship in 2018, and then transferring to a Beaver Country Day before returning to Town for his senior season. Spinelli has traveled the country as his father, Scott, moved around to different college assistant coaching jobs.
Read the Globe story by clicking here.
Boys Hockey
The boys hockey team lost to Reading, 4-1, in the final game of the year. The Raiders won the first game of the Middlesex postseason on Wednesday, 5-3 over Lexington.