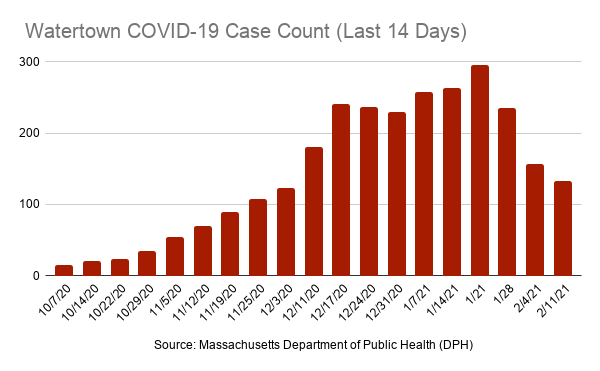 Watertown's COVID-19 cases dropped for the third straight week, while vaccines have been made available only through the state's vaccination locations.
The Mass. Department of Public Health reported that the number of cases over the previous 14 days in Watertown, as of Feb. 18, was 113. The number dropped by 20 from the previous week. The Town has a total of 1,970 cases.
Vaccines will no longer be available from the Town of Watertown's Health Department, but those residents 75 and older who got shots during the Town-run clinics will be contacted about getting their second shot, according to the Senior Center.
Watertown, MA COVID-19 Trends – Watertown Data (4) by Charlie Breitrose on Scribd
Last week, the Health Department was informed by state officials that they would not be getting more vaccine. Health Director Larry Ramdin expressed his disappointment with the decision at last week's Board of Health meeting.
Instead, people eligible to get the vaccine are being directed to the state's sites, including at Fenway Park, the Natick Mall and Gillette Stadium, as well as at a variety of pharmacies. Some include select CVS locations (including the one on Watertown Street), Hannaford in Waltham, Wegman's and other locations. See the sites by clicking here.
The eligible list includes people age 65 and older, as well as those with two comorbidities. See more information on the Watertown Health Department's COVID-19 webpage: https://www.watertown-ma.gov/978/Coronavirus.