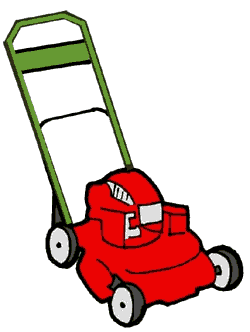 The Proposed Noise Ordinance Effectively Bans All Residential and Commercial Leaf Blowers/Lawn Mowers & Will Have Significant Other Negative Effects on Watertown Residents
On September 12, 2017 (yes 2017), the Town Council was asked to consider an issue brought up by the then Health Director regarding the Town's noise ordinance. The reason? A resident, who lives next to the Commander's mansion, claimed the landscaper who cuts the grass around the mansion was violating Watertown's noise ordinance by cutting the grass too early in the morning. The Health Department disagreed. They reasoned that the noise ordinance, in its current form, exempts domestic lawnmowers and although the ordinance did not explicitly mention exempting commercial lawnmowers like the ones used outside the mansion, such a strict interpretation would likely place all commercial landscaping equipment in violation of the ordinance and result in a complete ban of such activity (which
clearly was not the intent of the ordinance). Following a meeting of relevant department heads, some language was developed to clarify this position in the ordinance and allow for better enforcement. It was that language the Town Council was asked to consider.
This issue has since snowballed from a small and narrow language consideration to a completely unnecessary overhaul that will have serious implications on hundreds, if not thousands, of residents. The purpose of me writing this article is to highlight the most egregious of these proposed changes. They are as follows:
MOST Currently Owned lawnmowers and ground maintenance equipment will effectively be ILLEGAL To Use (as well as any equipment that emits noise above 80 dbA):
1.1. The proposed ordinance says: "Noise associated with power equipment, ground maintenance equipment used by residents or commercial enterprises such as lawn mowers and power saws is permitted between 7:00 a.m. and 8:00 p.m. on weekdays and between 9:00 a.m. and 5:00 p.m. on weekends and legal holidays, provided that the cumulative noise level of all work on one site at any one time shall not exceed 80 dbA, as measured at a distance of fifty (50) feet from the source." (dbA is the most widely used sound level filter).
1.2. The Centers for Disease Control and Prevention (CDC) lists lawnmowers as producing between 80-85 dbA. As the average mower, not to mention a commercial lawnmower, is above the proposed legal threshold, this equipment would now be illegal to use in Watertown. Other commonly used equipment above 80 dbA includes wood chippers, chainsaws, blenders, trimmers and vacuums.
1.3. When I inquired about how folks could take care of their lawns if much of their current equipment is now illegal, the committee seemed to indicate that folks could purchase new, quieter lawnmowers and equipment instead. If you think that the committee made a proposal for the Town to pay for the replacement cost of your now illegal equipment you would be wrong.
1.4. There is also no exception for commercial landscaping companies. If their equipment is over 80 dbA it would now be illegal. The joint committees did not hear from any local landscaping companies as to how this will effect their Watertown operations or if the costs to replace equipment will be passed onto the homes they serve.
1.5. According to Police Department records, in the entire calendar year 2017 there were only 6 calls related to landscaping noise. In 2018 there were 7. I think these numbers speak to whether or not this is a widespread issue in Watertown warranting such a drastic change in policy.
MOST Currently Owned Leaf Blowers will effectively now be ILLEGAL To Use:
2.1. The proposed ordinance caps noise from leaf blowers at 65 dbA. The Centers for Disease Control and Prevention (CDC) lists leaf blowers as producing between 80-85 dbA. As the average leaf blower is above the
proposed threshold, this equipment would now be illegal to use in Watertown. As mentioned before, there was no discussion about the Town compensating folks for the cost of getting new, compliant leaf blowers.
2.2. There are a number of Watertown based landscaping companies who may be substantially effected by these changes and likely have useful information about the equipment and operations we are regulating. The committees
reached out to zero of them for input.
Reduced TIME When Ground Maintenance Equipment Can Be Used:
3.1. For those who do have the quieter equipment, the proposed ordinance allows using such equipment between 7:00 a.m. and 8:00 p.m. on weekdays and between 9:00 a.m. and 5:00 p.m on weekends. However, it then adds
another section that says if the equipment is being used before 10:00 a.m. or after 6:00 p.m. it has to conform to more strict noise level rules, which the ordinance sets at 60 dbA (for more than 10 minutes in residential areas).How noisy is 60 dbA? The CDC notes that a normal conversation, people simply speaking aloud to each other, is usually 60 dbA (public forum during one of the meetings was measured by someone in the room at a little above 60 dbA).
3.2. So unless your equipment is quieter than a normal conversation, it will not be permitted between 7:00-10:00 a.m. or 6:00-8:00 p.m.
3.3. Again, in 2017 and 2018 combined there were only a total of 13 calls to the Watertown Police Department about this issue.
No More Outdoor Home Events – Residential Noise Capped between 55-60 dbA:
4.1. The proposed ordinance caps permissible noise from 7 a.m. to 10 p.m. in residential areas (more than 10 minutes long) between 55-60 dbA (depending on duration). Again, the CDC notes that a normal conversation is
usually 60 dbA.
4.2. A quick example. My wife and I have a small front deck that we like to eat dinner on, weather permitting. Under the proposed ordinance revisions, having a conversation during dinner would technically be in violation of the proposed noise ordinance. The same would likely be true for anyone hosting a BBQ or having company over in any outside space. If you're sitting on your porch with a fussy, crying baby for more than 10 minutes, technically you are violating the noise ordinance.
Does anyone in your house play a musical instrument or maybe you have an animal that makes noise? If this ordinance passes as presented, I'd start looking at dbA levels or make sure you're friends with your neighbors.
A couple more quick examples:
There is a very charming family that lives near the high school who I observed playing music on their lawn during the early days of the pandemic … while the music was lovely and pleasant … they would now be breaking the noise ordinance
Remember the tuba player? That guy is awesome … would have also been violating the noise ordinance
Live next to a dog park? Presumably the police could be called anytime there is over 10 minutes of noise
As the tone of this article likely indicates, I find all of these proposals ridiculous and not supported by any objective analysis or reason. Under the proposed rules, countless Watertown residents will be affected. To be strictly compliant, it is highly likely you will either have to adjust your lawn equipment (without compensation), adjust your maintenance schedule, evaluate anything else in your house that makes noise or do all three. Commercial enterprise will be faced with operational constraints the Town Council doesn't understand and didn't try to understand. And the origins of this issue and Police Department data both indicate noise is not a nuisance in Town and especially not one that warrants such drastic action to be taken.
Even more though, this ordinance is unfortunately a perfect tool for disgruntled neighbors to use against one another to weaponize normal, everyday occurrences. Even though it would now be illegal, I don't foresee any of my neighbors calling the police on the local landscaper who has a mower above 80 dbA or on a crying baby or on my wife and I eating dinner on our porch. And likewise I could not care less when there is noise coming from pool parties, leaf blowers or outdoor movie nights. But that can't be said for all neighborhoods in Town. I fear if this ordinance is passed as written it will have no impact on amicable neighborhoods like mine (who, though we are technically violating the ordinance, it will never get reported) but will be the major reason for contention elsewhere.
Further, cities around the country are looking for more ways to not force the police to respond to non-emergency, mundane situations. To that end, a great way to reduce calls to law enforcement would be to not have ordinances on the books that criminalize common, everyday activities.
Part of the reason that I am writing this article is because the full Town Council has not voted on this issue yet. There is still time to be heard. The Council will be voting on this on Tuesday, March 30th at 6:00 p.m. Please come
out (via zoom) and be heard.
In the meantime, if anyone would like to contact the full Town Council with your opinions of this matter, the email address is: towncouncilors@watertown-ma.gov
Ken Woodland
District D Town Councilor