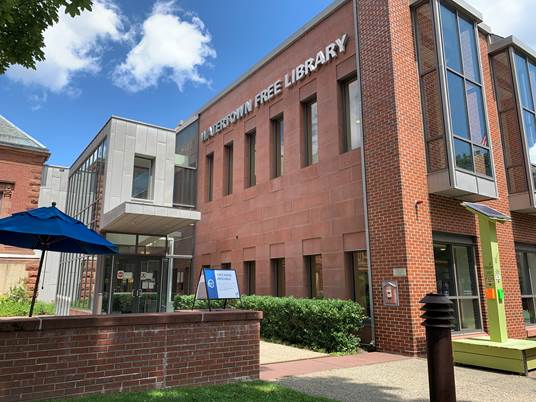 The Watertown Library provided the following information:
Welcome, spring! The Library is now open 9 AM – 5 PM every Saturday. We're also offering public computer access inside the Library, limited to one hour per patron, per day. Desktop computer use is available by appointment only.
And we have a full calendar of virtual programs this month. Are you intimated by auto shops and basic car maintenance? Chaya Milchtein of Mechanic Shop Femme will help demystify the "whys" and "whens" of preventative car care. Feeling stressed, exhausted, or sad? Do you know someone who is struggling? Sign up for the Watertown Mental Health Series.
Oh, and we're excited about this: bestselling author Jane Healey will join us to discuss The Secret Stealers on April 6! 🤩
Keep scrolling for a full list of virtual programs…
For Children
New: Story Time Video Library
Still missing story time at WFPL? We're revamping our story time video library with a few new titles to highlight each month. Click the link to check out the April additions now! Don't worry: Previous videos are still available on our YouTube channel.   
Story Time (via Facebook Live)
Monday at 12 PM | Tuesday at 10:30 AM | Thursday at 11 AM | For families with children of all ages. Tune it at facebook.com/watertownfpl
Take and Make
Do you have a creative kid at home? Pick up a take and make bag in the Children's Room! Through the month, we'll continue adding more crafts, games, and DIY fun.
For Teens
Take and Make Bags for Teens
This month, we're making pom pom bunnies and everything duct tape. Follow the link to reserve your bag of free project materials. Quantities are limited!
Teen Focus Group
Monthly | Time TBD | via Zoom | Do you have ideas that could make the Teen Room a better place? We want to hear them! This could be a great opportunity for volunteer or community service hours. Email libraryteendepartment@watertown-ma.gov or call 617-972-6437 to learn more.
Teen Creative Writing Club
4/12, 4/26, 5/10 | 3 PM | via Zoom | Join our fun, flexible, writing group! Writers of all skill levels are welcome. Email libraryteendepartment@watertown-ma.gov or call 617-972-6437 to learn more.
Brainfuse HelpNow
Preparing for SAT, ACT, or AP tests? Need some extra help with your homework? WFPL is now offering free, online tutoring through Brainfuse HelpNow. 
For Adults
Author Talk: Jane Healey Discusses The Secret Stealers
Tuesday, 4/6 | 7 PM | via Zoom | WFPL is joining several area libraries to host the bestselling author of The Beantown Girls. Jane Healey will discuss her latest historical fiction novel, The Secret Stealers, in which a female American spy finds purpose behind enemy lines in Nazi-occupied France. 
Community Yoga
Wednesdays | 9:15 PM | via Zoom | Follow the link to sign up for yoga with WFPL!
Wednesday Book Group: A God In Ruins
Wednesday, 4/7 | 7 PM | via Zoom | This month, we'll be talking about A God In Ruins by Kate Atkinson. Discussions are fun and informal, not based on academic analysis. All are welcome!
Eat Well Watertown: Spring Greens and Microgreens
Thursday, 4/8 | 6:30 PM | via Zoom | Join Community Chef Carabeth Connolly and host Ilana Hardesty to learn delicious recipes with spring vegetables!
Mad About the Movies: The Last Black Man in San Francisco
Monday, 4/12 | 7 PM | via Zoom | First-time director Joe Talbot brings us the story of a young man searching for home in a changing city that seems to have left him behind. Watch iton Kanopy, Hoopla, or DVD, then join our discussion on Zoom.
The Whys and Whens of Car Maintenance
Monday, 4/12 | 7 PM | via Zoom | Join us in welcoming Chaya Milchtein from Mechanic Shop Femme as she teaches the basics of preventative car care. Learn why and when to perform specific maintenance tasks, including changing fluids and filters, belts, air conditioning recharges, and more.
Mystery Lovers Group
Tuesday, 4/13 | 7 PM | via Zoom | We'll discuss recent books, favorite authors, and anything related to the mystery genre. Make yourself a cup of tea and hop on with us.
Live Well Watertown: Increase Resilience with Mindfulness
Thursdays 4/15–5/6 | 4 PM |via Zoom | This 4-week class teaches mindfulness strategies while helping you understand your emotions and triggers.
Take and Make for Adults: Gouache Paint Night with Yi Bin
Thursday, 4/15 | 6 PM | via Zoom | Materials Provided | Gouache is an opaque watercolor paint. Pick up your "take and make" paint kit at WFPL, then paint along with Hatch Assistant, Yi Bin Liang, on Zoom. 
Senior Center Readers Advisory Circle (Zoom Discussion)
Wednesday, 4/21 | 11 AM | To sign up, email mkirsanova@watertown-ma.gov or call the Watertown Council on Aging/Senior Center: (617) 972-6490
Watertown Mental Health Series
Question, Persuade, Refer Training: A Suicide Awareness and Prevention Workshop
Wednesday, 4/7 | 6:30 PM | via Zoom | Learn proven prevention measures
Family Strategies: Stress, Isolation, Coping, and More
Thursday, 4/22 | 6:30 PM | via Zoom | With local therapist Liz Brenner
Mental Health First Aid Training: Interfacing with Adults
Saturday, 5/8 | 9 AM – 5 PM | Registration information coming soon.
Mental Health First Aid Training: Interfacing with Youth
Saturday, 5/22 | 9 AM – 3 PM | Registration information coming soon.
Co-sponsored by Wayside Youth & Family Support Network, the Watertown Police Department, Watertown Community Foundation, and WFPL.  
Library Events
What Should I Grow in My Medicinal Herb Garden?
Tuesday, 4/27 | 7 PM | via Zoom | The right herbal "superstars" can help treat common ailments. Learn about medicinal herbs and how to grow them with Ehris Urban and Velya Jancz-Urban from Grounded Goodwife. Next month, Ehris and Velya will be back to teach us all about DIY ginger ale and extracts!
Coming Soon: Mass Audubon & WFPL Team Up!
Stay tuned for "Spectacular Spring Pools," "The Life of a Meadow," and "The Web of Life in That Lovely Summer Pond," programs coming this summer!
Explore the Library
Spotlight on: Kanopy
The Oscar nominations are in! As award season ramps up, revisit past winners and nominees on Kanopy. Watertown residents can stream up to five films per month.
What else is in eLibrary? Your library card gives you access to thousands of ebooks, audiobooks, movies, and more. Click the button below to see what's available.