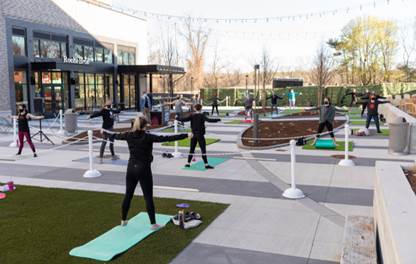 The following information was provided by Arsenal Yards:
With summer just around the corner, Arsenal Yards invites area residents and visitors to get outside and break a sweat as part of its spring and summer outdoor fitness series. In partnership with local Watertown and Greater Boston fitness studios, guests can visit Arsenal Yards' River Green Sunday through Wednesday for a variety of fitness classes taking place from April to September.  
While the past year has made it difficult for many to workout indoors and in gyms, Arsenal Yards is thrilled to invite the Watertown community onto the River Green for unique outdoor, socially distant fitness experiences. With classes ranging from yoga and barre to boot camps and cardio kickboxing, participating studios include Pure Barre Arsenal Yards (coming soon to Arsenal Yards), Kick it by Eliza, Monique from Burpees to Bubbly, Artemis Yoga, Get Lively: Health & Fitness and Ballroom in Boston. All classes must be reserved online in advance, and a small donation is requested to hold each spot. Online registration opens one week prior to the date of the class. All classes support a local community organization which will change each month; proceeds raised during the month of April will be donated to support the Watertown Food Pantry. 
"We're so excited to partner with local Watertown and Boston studios for the return of our outdoor fitness series, which was hugely popular last year," said Jessica Reed, Marketing Director at Arsenal Yards. "With Pure Barre coming soon to Arsenal Yards and the warmer weather approaching, we couldn't think of a better time to invite visitors and the Watertown community to come together to enjoy these classes out on our River Green, while also giving back to some of our favorite local community organizations." 
Available classes for April follow below, and visitors are encouraged to check out the Arsenal Yards Events Calendar for additional classes to be added for upcoming months: 
• Tuesday, April 20th at 5:30 PM with Pure Barre Arsenal Yards 
• Wednesday, April 21st at 4:00 PM Bootcamp with Get Lively: Health & Fitness 
• Sunday, April 25th at 10:30 AM with Artemis Yoga 
• Monday, April 26th at 5:30 PM with Kick it by Eliza and a live DJ 
• Tuesday, April 27th at 5:30 PM with Pure Barre Arsenal Yards  
• Wednesday, April 28th at 6:15 PM with Ballroom in Boston, Line Dancing 
The health and safety of guests, staff and instructors is of the utmost importance to Arsenal Yards. Masks are required for the duration of each class. Participants will be separated by at least 6 feet and will be assigned a socially distant location upon check-in. There is limited capacity for each class, which will be strictly enforced.  
Classes will be held outside on the River Green, located near Shake Shack. Parking is available in the free red or purple parking garage, along with the surface parking area near City Works. For more information about Arsenal Yards, visit  www.arsenalyards.com.  
ABOUT ARSENAL YARDS
Along the Charles River, in the heart of East End Watertown, Greater Boston's next great neighborhood is emerging. With continued growth and development, by 2021 Arsenal Yards will be a thriving new neighborhood with over 50 curated shops, eateries, fitness, and entertainment venues including The Majestic 7, Shake Shack, and Roche Bros. The more than one million square foot mixed-use development also includes state-of-the-art life science lab space, 300 contemporary apartments, and a 146-room Hampton Inn & Suites by Hilton. Merging the best of community, culture, and lifestyle into a uniquely ideal place to live, work, and play, Arsenal Yards' original mural art installations are adding to the urban vibe along with enhanced outdoor and green spaces for social and community gatherings. Arsenal Yards is a co-development of Boylston Properties and Wilder. For more information visit  www.arsenalyards.com.