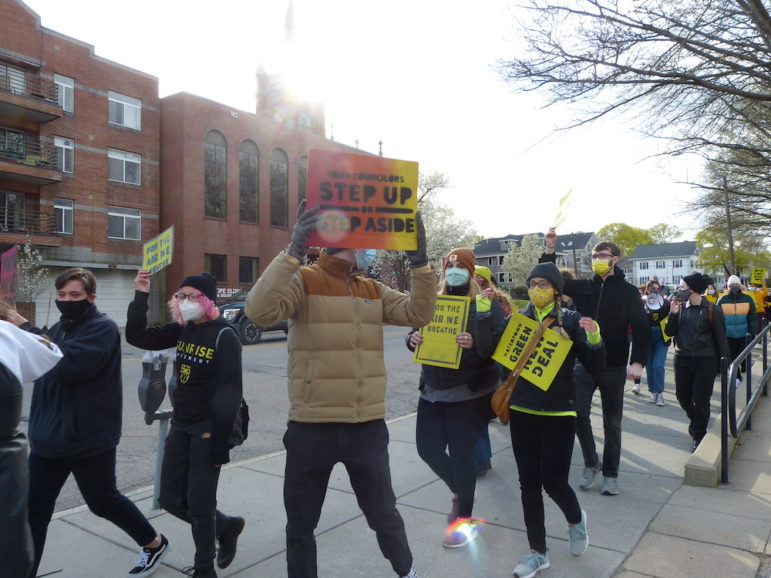 The following piece was provided by Sunrise Watertown:
Fifteen months ago, Sunrise Watertown convened with the intention of hosting a 2020 Earth Day event for the community. Little did we, or anyone, expect, our plans would come to a screaming halt at the hands of the pandemic. Nevertheless, we reworked our ideas by hosting a virtual Earth Day event; We invited community members to make signs to post pictures with, sign our petition to enact a Massachusetts Green New Deal, and watch some of the videos we had created through Zoom.
Since then, we have gone on to meet with Massachusetts Senators, town councillors, and a whole host of other people willing to help us fight for a livable future. We even had the privilege of hosting an in-person action last October in preparation for the US presidential election and the election for our Massachusetts senator. This year we were finally able to organize an Earth Day action and are hoping to make this a tradition that Watertown can follow for many years to come.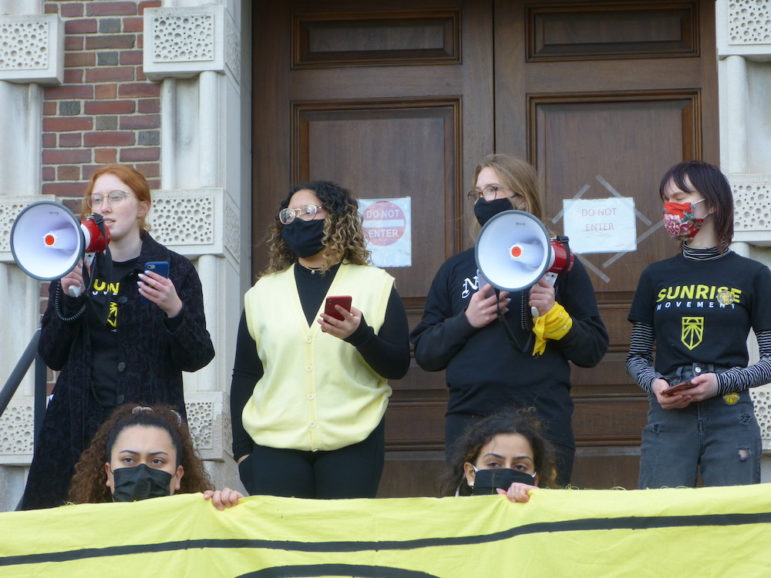 Thursday's Earth Day event, attended by over 50 community members, had one central goal: Call upon the town councillors to buckle down and enact stricter climate change mitigation methods. As we walked through the town we chanted and sang with enthusiasm, much of which was returned to us as honks from passing vehicles. At Town Hall, we paused to read a few speeches written by our own members. They talked largely about how our town would change if we continued to ignore the climate crisis.
"It's clear what the Town Council is doing and has been doing is not enough. It's clear they don't prioritize this crisis like the emergency it is and are not listening to the youth in this town. Those things have been made very clear to us throughout the past few months," Sunrise Watertown hub coordinator Leyla writes.
Prior to this action, Sunrise Watertown put forth a resolution to the Town Council demanding that they declare a climate emergency. Declaring a climate emergency would clearly and unequivocally establish that there is a crisis facing our community and that we need to act quickly to prevent it. However, at the meeting to pass this resolution, many of the town councilors refused to acknowledge the resolution for what it was and instead chose to nitpick and misconstrue its ideas. Sunrise Watertown felt that we had to let the town know that these councilors weren't taking our homes, our safety, and our futures very seriously. At Town Hall on Thursday, we also read an op-ed about the lack of action coming from the councilors."The build up to this action has been so exciting and I am glad to have been a part of it.
"There is something so empowering about marching down the streets of our town with a group of activists who want to create a livable future," recounts Zoe, the Communications Lead.
"As young people, what we want to see is radical climate measures taken, including comprehensive climate education in schools, policies centered on resilient development, and green jobs that mirror what a Watertown green new deal might look like," adds Leyla.
As many of the leaders of Sunrise Watertown are graduating this May, they're handing this important work over to a select few upperclassmen that have shown excellent leadership and incredible initiative this past year. These new leaders will continue the fight to create a safe and livable future for Watertown. May they have much luck in their endeavors.