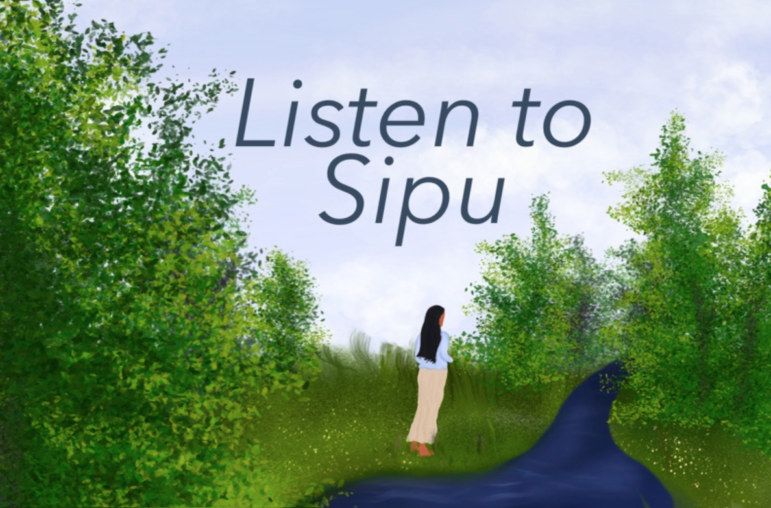 The following piece was provided by New Rep Theatre:
New Repertory Theatre has partnered with the Pigsgusset Initiative, the Historical Society of Watertown and the Watertown Free Public Library to present Listen to Sipu, an outdoor immersive theatrical experience that leads audiences through a too often overlooked history of Watertown. The second play in the Watertown Historical Moving Play series, Listen to Sipu will kick off June 5th , and will focus on local Indigenous culture-keepers.
This moving play will be led by actors Maria Hendricks (Mashpee Wampanoag) and Grace Wagner (Wampanoag Tribe of Aquinnah), featuring a script written by Morgan (Mwalim) J. Peters (Mashpee Wampanoag), and Director, Jaime Carrillo (Aymara). Tickets are $25/each, and will be on sale May 10th. More information about Listen to Sipu can be found at https://www.newrep.org/productions/listen-to-sipu/
About Listen to SIPU
Following the success of New Rep's first Historical Moving Play, the Charles W. Lenox Experience, audiences were clamoring for more. Listen to Sipu answers the call with a captivating and powerful story that illuminates Watertown's Indigenous history. Join in on a socially-distanced tour by a modern-day Tour Guide and meet Sipu, a quick-witted Indigenous woman who's more than willing to correct misinformation when she hears it. Armed with facts, the Tour Guide begins describing the history of the park only to find that the facts are missing a lot of truths. Sipu is ready to step in and set the record straight for audiences to listen.
"We are honored to bring this original and vital piece by Morgan (Mwalim) J. Peters to the New Rep and Watertown community," shares Interim Executive Artistic Director, Bevin O'Gara. "A story more important than ever to share on the Indigenous culture- keepers of Watertown. Listen to Sipu give us an opportunity to safely interact with our community, provide a unique live theatre experience to enjoy outdoors, all while uplifting the stories of local Indigenous history and landmarks this Spring."
Health & Safety
To ensure the health and safety of all staff, artists, and participants, each outing will strictly abide by state and city health and regulation guidelines. Actors and audience members will be required to wear face coverings.
Artistic Bios
MORGAN (MWALIM ) JAMES PETERS (Mashpee Wampanoag) (Playwright, he/him/his) Mwalim "DaPhunkee Professor" (Morgan James Peters) is a multi-award- winning storyteller/spoken word artist, playwright, oral historian, singer, songwriter, music producer, filmmaker, and educator. Born in Bronx, NY., and raised in both New York and Mashpee, MA, he is a graduate of Music & Art High School (now known as LaGuardia), he is a trained violist, jazz pianist and composer. Performing at Carnegie Hall before the age of 14, and by 16, one of the youngest studio session players in EMI history; he is currently, the keyboardist and a singer for the multi- Grammy nominated soul-funk band The GroovaLottos. His plays, solo performance pieces, and experimental films have been presented throughout the USA and Canada as well as the Caribbean and U.K. As an iconic part of the east coast underground art and music scenes for over 30 years, his stages have included theaters, schools, street corners, libraries, galleries, museums, festivals, powwows, jails, nightclubs, temples, community centers, and colleges throughout the country. His latest works include a novel, LAND of the BLACK SQUIRRELS (Thirty-Three Pages, 2020) and a forthcoming album projects by The GroovaLottos and a solo jazz album.
Mwalim is a two-time recipient of the Yen Fellowship, several New England Urban Music Awards for jazz, the Healey Grant, the Osborne Fellowship, and a three-time recipient of the Ira Aldridge Theatre Fellowship. He is a tenured Associate Professor of English & Communications and Black Studies at the University of Massachusetts Dartmouth as well as the CEO of, and Head of Production for Polyphonic Studios, a recording studio and content creation company in Bourne, MA. Mwalim earned his BA in Music and MS in Film from Boston University, and his MFA in Writing from Goddard College. He received his formal training in theater arts and arts education from New African Company in Boston.
JAMIE CARRILLO (Aymara) (Director, he/him/his) In New York, Jaime Carrillo directed 365 Days/Plays at The Public Theater on behalf of The Classical Theatre of Harlem, where he was a company member for six years. His direction of LYNCH PLAY, an examination of slavery and racism in the U.S., recreated segregated seating for audiences and received an AUDELCO award nomination. Locally, Jaime recently directed a mini-tour of Jose Rivera's Cloud Tectonics in association with the Hyde Square Task Force, which included stops in Jamaica Plain, Downtown Boston, Gloucester, and Boston University, in order to engage different communities with local artists of color. Jaime is also a Lucille Lortel Award winning producer. He was associate producer for the renown Waiting for Godot in New Orleans, featuring public art organization CREATIVE TIME and Wendell Pierce. Jaime received his B.A. with honors from Brandeis University and is a graduate of the William Esper Studio.
MARIA HENDRICKS (Mashpee Wampanoag) (Sipu, she/her/hers) Polyglot artist & activist is excited to join the New Rep fam! Maria's honored to represent her Mashpee Wampanoag family (This one's for you Gianni!). Despite performing on virtual stages since April 2020 for international audiences and with theaters in MA, PA, CO & SC, Maria is thrilled to return to LIVE theatre! Upcoming Productions: Hooligans & Convicts (Winnepesaukee Playhouse-Summer 2021); Passing Strange (Moonbox at BCA-Winter 2021); Mamma Mia (Norton Singers 2022). Past Favorites: Elegant Storm (Umbrella Stage Co.); Clybourne Park & Curious Incident of the Dog in the Night Time (both w/ Arts Center of Coastal Carolina); Caroline, or Change (Moonbox at BCA); Between Riverside & Crazy (VA Rep); Sister Act (Actorsingers); The Clean House (Threshold Stage Co.); originating the title role of La Llorona (Fresh Ink Theatre at Boston Playwrights Theatre).
GRACE WAGNER (Wampanoag Tribe of Aquinnah) (Tour Guide, she/her/hers) is thrilled to have the opportunity to perform in Listen to Sipu with the New Repertory Theatre. After graduating from Winchester High School in June, Grace will head to Evanston, Illinois to study theatre at Northwestern University this fall. Grace's favorite performances include playing Finch in Newsies, Ariel in Footloose, and singing as a member of the Premier Choir at Boston Children's Chorus. A member of the Wampanoag Tribe of Aquinnah, Grace hopes to continue to combine her love of the arts with her passions for social justice and the rights of indigenous peoples.
ANGELIQUE DINA (Dramaturg, she/her/hers) is a first-generation American-Nigerian and Native American storyteller. She is currently pursuing her undergraduate studies in Black studies, Theatre, and Anthropology at Rhode Island College with plans to attain her Ph.D. Dina is also a McNair scholar and has dedicated her research to Black theatrical storytellers. Her research question "How do contemporary Black Theatre artists change the narrative within theatre/theatrical institutions and use their work to inform the audience about the Black experience" stems from her journey as a Black femme storyteller. Her methods of storytelling include acting, dance, spoken-word, and playwriting. She is the associate artistic director at Epic Theatre in Cranston, where she also performs. She has also worked and performed with Trinity Rep, The Gamm, and The Wilbury Theater. She thanks God, her ancestors, and her community of Black and Brown indigenous folks for helping her on her journey through the world of art, whiteness, and erasure.
All creative bios are available at https://www.newrep.org/productions/listen-to-sipu/
About New Repertory Theatre
Founded in 1984, New Rep is an award-winning professional theater located on the historic Arsenal on the Charles campus, a vibrant cultural hub in Watertown featuring ample free parking and restaurant dining.
In residence at the Mosesian Center for the Arts, New Rep stages contemporary and classic plays and musicals, including world premieres, that awaken the heart, challenge the mind, and expand the human spirit. We mount productions in two fully accessible performance spaces: the state-of-the-art 340-seat MainStage Theater and the intimate 90- seat BlackBox Theater, which provide excellent views from every seat.
New Rep embraces theatre as the basis for enduring connections with our community. Through entertaining, innovative, and thought-provoking live theatre performed at the highest standards of excellence, we seek to spark community conversations about the crucial issues of the day. Our Post-Show Talk-Abouts provide opportunities for audiences of all ages and backgrounds to explore a play's themes with esteemed experts and seasoned dramaturgs.
New Rep has long been an active advocate for the arts and a major voice in the national dialogue defining the role of theater in our culture. New Rep is now at the vanguard of a momentous drive to develop anti-racist theater practices in the Greater Boston community. We aim to create an authentic sense of belonging for artists and audiences alike.
New Rep's Mission
New Repertory Theatre produces plays that speak powerfully to the vital ideas of our time.