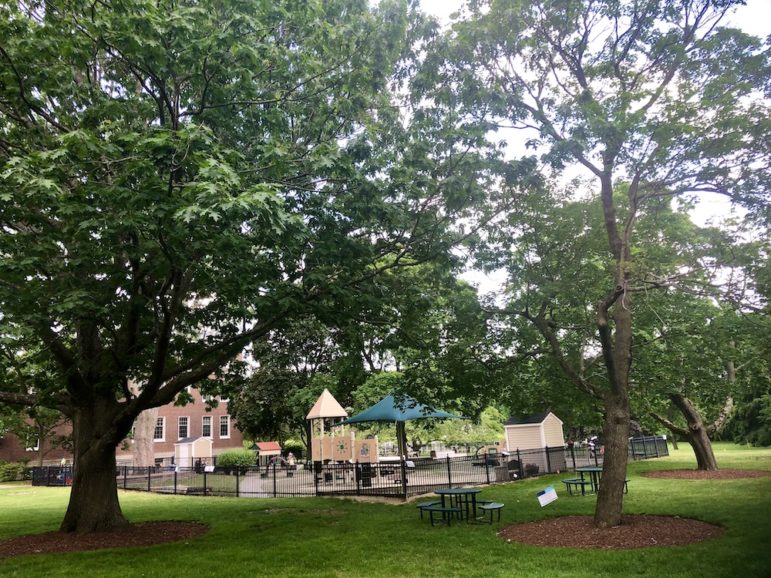 (The following piece was submitted by Sharon Bromberg-Lim, a member of Trees for Watertown)
A large real estate equities firm arrives in a small New England town. Based in California, the firm has rolled into many towns before, bought up properties big and small, and plunked down buildings. This project is just one of many investments that the firm owns.
The firm says it must cut down more than 200 trees to put up its buildings. Some of the trees are mature and wise. The wise old trees do the most work, but together, older and younger trees shelter people and buildings from sun. After heavy rain, they absorb excess water and filter out pollutants. Birds sing and nestle in their branches.
Residents already feel their town lacks enough green space with tall trees. They feel that there is not enough open space for their children to play games or for their parents to take a stroll under leafy shade. They worry about climate change and look to trees, one of the most efficient sequesters of carbon and stormwater, to help. They look at buildings that have recently been erected and they wonder, why is there no grace or beauty? And why is there no room for just a sliver of nature?
Birds flying by the beautiful river that flows through the town have come to rely on these trees. Some of the birds live in the little urban forest year 'round, while others migrate, heading south in the fall and north in the spring. They stop to fuel up in the trees they remember from the last trip. When the trees go, the knowledge passed from one generation of songbirds to the next is no longer relevant. Pushed to the limit, when the trees go, the wildlife goes.
Will the firm adjust its plans for the people and the trees in the small town? Or will the juggernaut push through and cut down as many trees as it finds convenient?
This isn't a storybook. It's real life, and the town is ours, Watertown.
Alexandria Real Estate Equities bought a 29-acre parcel of land between Arsenal Street and the Charles River. Alexandria really has proposed to cut down more than 200 trees, many of them in good health. Trees are efficient, interlocking systems of water absorption, pollution-filtration, and oxygen-generation. As our summers get hotter and precipitation patterns more extreme, we need mature trees more than ever.
That is why I am asking Alexandria to save as many trees as possible.
Alexandria, take this opportunity to be a leader among real estate equity firms. Be creative. Your team of intelligent, innovative professionals — from the visionaries at the drafting table and in the boardroom to the people on-site — can break new ground in development strategy, working with the communities you propose to benefit, to be value-additive. Start right here in Watertown. Conserve a significant part of our urban forest while generating a profit. The two goals are not mutually exclusive, only if we think they are.
My fellow Watertown residents, if you care about trees or wildlife, let the planning board know. Send an email to the planning board members via imarchesano@watertown-ma.gov by Tuesday, June 8, or come to the planning board meeting on Zoom to discuss 311 Arsenal Street (the parcel's official street address) on Wednesday, June 9, 7:00 pm. For more information, visit https://www.watertown-ma.gov/ArchiveCenter/ViewFile/Item/5239.