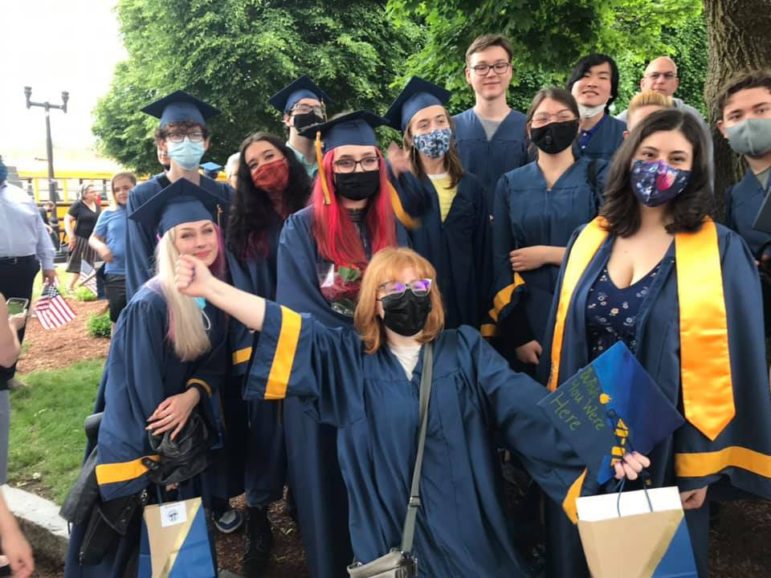 The following piece was provided by Minuteman High School:
On June 4, 138 students from the Minuteman Regional Vocational Technical High School in Lexington graduated in an in-person ceremony at the Lowell Memorial Auditorium, allowing an unlimited number of family members and friends to view the milestone event after the state lifted most COVID-19 gathering restrictions about a week ago.
The ceremony was broadcast live on LexMedia; a video will be posted to the YouTube channels of LexMedia and Minuteman High School. The seniors of the Minuteman Class of 2021 have accomplished a lot despite a difficult year and a half – marked by remote and hybrid learning, and a loss of many activities. Thirteen students were named to the National Honor Society (denoted with an asterisks), which recognizes students in the areas of scholarship, service, leadership and character. Additionally, 94 seniors have received scholarships from Minuteman through various organizations and individual donors.
"The students of the Class of 2021 have accomplished so much despite the challenges we have all faced," Principal George Clement said. "We are proud of them and overjoyed that we can provide a traditional graduation ceremony – a rite of passage – that they so truly deserve." 
In his speech to the graduates, Superintendent-Director Edward A. Bouquillon centered the theme on resiliency in light of the many challenges students have faced due to the pandemic. 
"Choosing to be resilient means you choose to see yourself as the person mainly responsible for your happiness. You are the boss of you," Bouquillon said. He later added: "Adversity may bend you, but it did not break you. It doesn't matter how many times that you fall. All that matters is that you get back up again and keep moving forward. Because every time – every time you get up – you exercise your resilience, and what gets exercised gets stronger." 
The Class of 2021 Valedictorian is Hannah Bardei*, an Engineering student from Arlington. Bardei is the Senior Class Treasurer, member of the National Honor Society and received eight scholarships from Minuteman.
"I remember the first time I stepped foot into Minuteman," Bardei said in her speech. "I saw the passion that so many students here had for their career major, and how much people here genuinely enjoyed going to school. At this moment I knew that this was the high school I wanted to be a part of."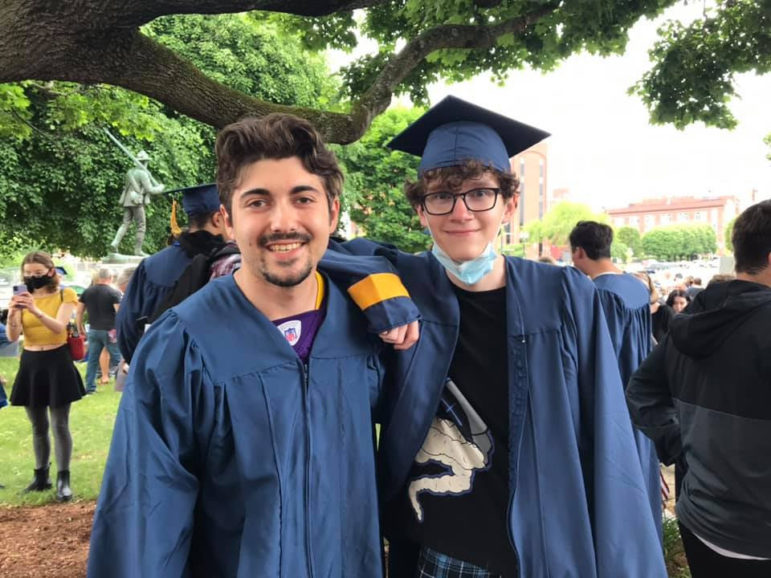 Bardei is passionate about sustainable energy and, in her speech, called climate change "the pressing issue of our time." In addition to volunteer work with climate justice organizations, Bardei spent two years in a cooperative work program with Sense Labs, which specializes in green energy solutions for homes. Bardei will attend the University of Virginia to study biology.
The Salutatorian is Devlin Ih, a Robotics student from Carlisle. Ih received the Adams Scholarship, the President's Education Award for Outstanding Academic Excellence, the Alan J. McLaughlin STEM Scholarship, the Music Academic Achievement Award, the World Language Academic Achievement Award, and the Digital Federal Credit Union Scholarship. Ih will attend Olin College of Engineering to study electrical and computer engineering. 
"I encourage all graduates to thank someone, today, and every day going forward," Ih said in his speech. "None of us made it here alone, and none of us will get anywhere in the future without someone else. Remember, when we work together, not even the sky's the limit!"
Lucy Kitchenka*, a Carpentry student from Arlington, the Senior Class President and member of the National Honor Society, was named Outstanding Vocational Technical Student of the Year. Kitchenka also received the Adams Scholarship, President's Education Award for Outstanding Excellence, Carpentry Career Program Award, History & Social Studies Academic Achievement Award, Digital Federal Credit Union Scholarship, and the Minuteman Principal's Award. Kitchenka plans to attend Wentworth Institute of Technology to study construction management. 
"In middle school I was not someone who really stood out or excelled at anything. At Minuteman, I had the chance to learn what I loved to do, to learn what I was good at, and to have the resource and opportunities to make the best of my four years," Kitchenka said in her speech. "I would say I did pretty well." 
Listed here are the Minuteman High School Class of 2021 graduates from Watertown:
Zoha Bibi, Health Assisting
Samuel L. Cerqueira, Horticulture
Jonathan D. Corbett, Advanced Manufacturing
Dayane M. Coutinho, Plumbing
Faith J. Daley, Early Education and Teaching
Maria E.C. DeFreitas, Early Education and Teaching
Gina M. DiRico, Carpentry
Patricia J. Farwell, Cosmetology
Izadora Karla P. Goncalves, Health Assisting
Lilyrose Love, Health Assisting
Cailyn M. MacVeigh, Design and Visual Communications
Autumn I. Sivits-Camara, Early Education and Teaching
Theodore D. Surenian, Programming and Web Development
Gabriel L. Tulipano, Programming and Web Development
Nicholas R. Vick, Plumbing
(Click here to see the full list of 2021 Minuteman High School graduates.)