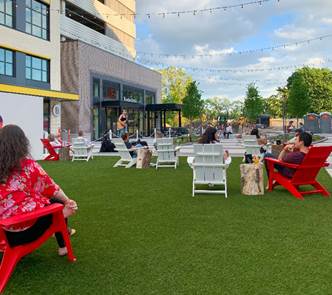 The following announcement was provided by Arsenal Yards:
With summer in full swing, Arsenal Yards invites area residents and visitors to get outside and enjoy a "Picnic in the Park." As part of the new 21+ event series, guests are encouraged to pick up takeout from any of the delicious restaurants at Arsenal Yards, enjoy beer or wine from the cash bar, and meet on the River Green for live music on select dates now through August.
With a schedule packed with a variety of local performers, musical acts include Joe Carson, The Soul Monstahs, and more! All events will have a cash bar serving beer and wine, and registration is required through Eventbrite. Online registration opens two weeks prior to the event date and attendees must be 21 or older. Reservations are available for groups of 2 – 6 people with a small fee of $2 per person benefiting a different local Watertown organization each month. For the month of June all proceeds benefit the Watertown Food Pantry.
"We are excited to invite the Watertown community back out onto the River Green at Arsenal Yards for our Picnic in the Park event series this summer," said Jessica Reed, Marketing Director at Arsenal Yards. "With new restaurants, shops and offerings opening in Arsenal Yards all summer long, we couldn't think of a better time to offer visitors the space to enjoy takeout and listen to some amazing local musicians while enjoying beautiful weather outside."
Available dates for the summer follow below, and visitors are encouraged to check out the Arsenal Yards Events Calendar for updates:
• Thursday, June 17th with Joe Carson
• Friday, June 18th with Joe Carson
• Thursday, June 24th performer to be announced (rescheduled date)
• Thursday, July 22nd with the Soul Monstahs
• Friday, July 23rd with Joe Carson
• Thursday, August 19th with Joe Carson
• Friday, August 20th with Joe Carson
The safety of guests, performers and staff remains the top priority at Arsenal Yards. Arsenal Yards is closely monitoring all changes to COVID-19 rules and regulations to ensure a safe experience for all. Following CDC guidelines, face masks are no longer required for individuals who are fully vaccinated. All non-vaccinated individuals are advised to continue to wear face masks at Arsenal Yards. However, each restaurant and retailer at Arsenal Yards may have different protocols. Events will continue to have limited capacity which will be strictly enforced. Reservations are required, no walk-ins are allowed.
Picnic in the Park will be held outside on the River Green, located near Shake Shack. Parking is available in the free red or purple parking garage. This event is 21+ and a valid ID must be shown for entrance into the event. No one under 21 is allowed. For more information about Arsenal Yards, visit www.arsenalyards.com.
ABOUT ARSENAL YARDS
Along the Charles River, in the heart of East End Watertown, Greater Boston's next great neighborhood is emerging. With continued growth and development, by 2021 Arsenal Yards will be a thriving new neighborhood with over 50 curated shops, eateries, fitness, and entertainment venues including The Majestic 7, Shake Shack, and Roche Bros. The more than one million square foot mixed-use development also includes state-of-the-art life science lab space, 300 contemporary apartments, and a 146-room Hampton Inn & Suites by Hilton. Merging the best of community, culture, and lifestyle into a uniquely ideal place to live, work, and play, Arsenal Yards' original mural art installations are adding to the urban vibe along with enhanced outdoor and green spaces for social and community gatherings. Arsenal Yards is a co-development of Boylston Properties and Wilder. For more information visit www.arsenalyards.com.