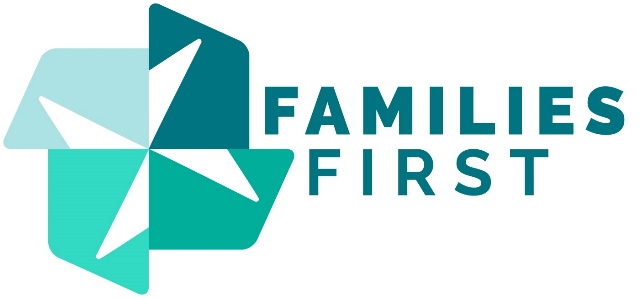 The following announcement came from Families First:
Chosen from a total of 590 applicants during a competitive review process, Families First will receive a $100,00 grant over the course of two years through Cummings Foundation's $25 Million Grant Program.
With over 30 years of experience, Families First is Boston's leading provider of early childhood parenting education, family engagement, and parent leadership programming. The organization partners with hundreds of parents across Greater Boston to: (1) promote their children's development and well-being and (2) engage and advocate within local institutions that impact lifelong outcomes for their children.
Executive Director, Sue Covitz, commented, "By supporting Families First, the Cummings Foundation sends a powerful message that parents are the drivers of change in their families and communities. Receiving such a substantial investment in our work means that we can expand the reach of our organization and leverage additional investments from other funding partners. Thank you!"
With this funding, Families First will reach more parents than ever before through its signature Power of Parenting programs delivered in Boston and Chelsea. This grant also enables Families First to expand its Parent Leadership program in key neighborhoods, equipping communities with more skilled parent advocates who can bring about needed change. By elevating parents to leadership positions and leveraging strategic alliances with cross-sector partners, parents will be able to affect change on a large scale across Boston and gain valuable skills that will build sustainable capacity in their communities.
Families First's unique approach to driving systemic change through parent leadership and family engagement is already heralding attention from major institutions. Partners like Boston Public Schools Universal Pre-K Program and the Massachusetts Department of Early Education and Care have partnered with Families First to utilize our programming. One outcome is that a group of Head Start's extensive, state-wide network of parent leaders will receive Families First's leadership and advocacy trainings to become stronger leaders and agents of change within their early childhood programs and in the wider community.
"We aim to help meet the needs of people in all segments of our local community," said Cummings Foundation executive director Joel Swets. "It is the incredible organizations we fund, however, that do the actual daily work to empower our neighbors, educate our children, fight for equity, and so much more."
Driving meaningful societal change is more important than ever. Families First thanks Cummings Foundation for their commitment to parent-led, community-based initiatives.
The complete list of 140 grant winners is available at www.CummingsFoundation.org
About Families First
Families First, a nonprofit in the Greater Boston area for over 30 years, recognizes that parents are their children's first teacher and best advocate. The organization works with 300+ parents every year, helping to strengthen their parenting knowledge, skills, and supports and elevate their voices within early childhood systems.
About Cummings Foundation
Woburn-based Cummings Foundation, Inc. was established in 1986 by Joyce and Bill Cummings and has grown to be one of the three largest private foundations in New England. The Foundation directly operates its own charitable subsidiaries, including New Horizons retirement communities in Marlborough and Woburn, and Veterinary School at Tufts, LLC in North Grafton. Additional information is available at www.CummingsFoundation.org.