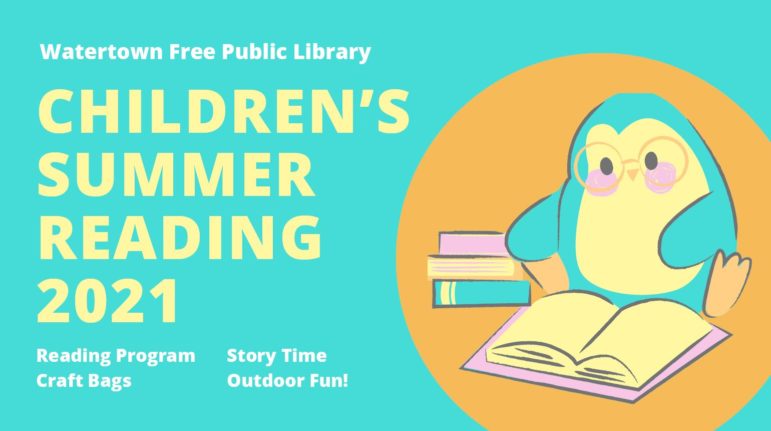 The following information came from the Watertown Library:
As the school year winds down, there's a lot to look forward to! Watertown Free Public Library's annual summer reading program begins when the academic year ends. We're here to help keep your student's reading on track.  
How To Participate
Open the Challenge Card and print it from home. Challenge Cards are also available in the Children's Room.
Read! Keep reading! 
Read some more!
Complete a challenge. Celebrate! Claim a prize!
Every participant is eligible to win a pencil, an eraser, and stickers!
Students have until September 15 to claim a prize.  
Suggested Summer Reading Lists
Watertown Public Schools and Watertown Free Public Library have compiled suggested summer reading lists for students. Please remember these are suggestions only: children have different reading interests and abilities. Children's Librarians are available to assist in helping you find a 'just right' book to enjoy.
Is your child younger than 5 years old? Check out 1000 Books Before Kindergarten.
Summer Events at the Library
Check out out events calendar to find more details about our programming.
Rain cancelations: If you are standing outside and can feel raindrops, the Children's outdoor program is canceled. The Library will do our best to update social media and the event calendar. When in doubt, call the Children's Room at 617-972-6435.
Questions
Contact the Children's Room at 617-972-6435, fill out this form, or send Emily an email at emiranda@watertown-ma.gov.
COVID-19
If you cannot pick up summer reading materials or prizes and wish to participate, please contact the Children's Room. All materials and prizes are available for curbside pickup.
Summer Reading/Tails and Tales is sponsored by Watertown Free Public Library, the Watertown Free Public Library Building Committee, the Charles Burke Fund, the Massachusetts Library System, the Massachusetts Board of Library Commissioners, and the Boston Bruins.