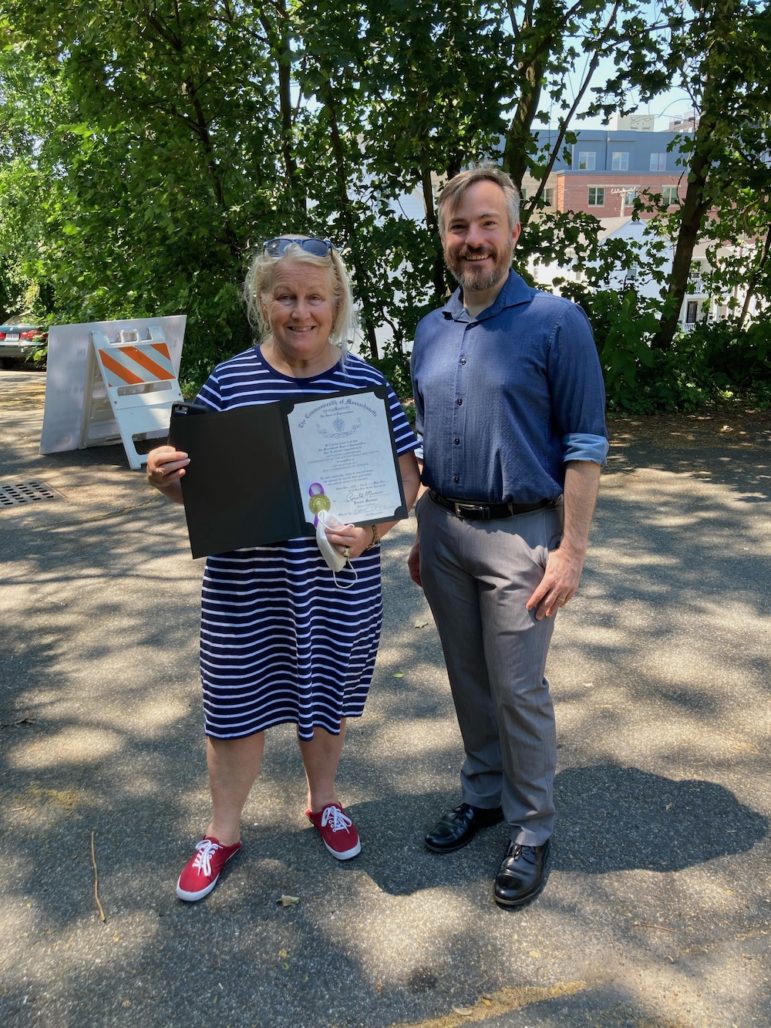 State Rep. Steve Owens provided the following announcement:
Kathleen Cunningham, of Watertown, was honored as a member of the 2021 class of Commonwealth Heroines.
Recommended by State Rep. Steve Owens and selected by the Massachusetts Commission on the Status of Women (MCSW), Cunningham joins over one hundred other women who were recognized for their "unheralded acts on a daily basis that make our homes, neighborhoods, cities, and towns better places to live" according to a statement released by the MCSW. Cunningham serves as the Coordinator of the Watertown Food Pantry, which continues to be a vital resource for community members in the area. She has held this position since 2017. 
Cunningham was honored at the 18th-annual Commonwealth Heroines celebration on Wednesday, June 23.
"Kathy's capacity to make local hometown connections and support her neighbors in need has been nothing short of extraordinary," said Rep. Owens. "Thanks to her efforts, donations to the food pantry from the community have been at an all-time high." 
Over the past year, she led a team of a dozen Watertown Food Pantry volunteers, working heroically at great risk to their own health and well-being. During the pandemic, the Watertown Food Pantry quadrupled the number of families served. The Food Pantry team spent countless hours packing and distributing canned goods and fresh produce to local families in crisis. The volunteers also delivered boxes of food to Watertown housing units in order to keep senior citizens safely at home. The COVID-19 pandemic has exacerbated many issues, especially food insecurity, which has increased the demand for the food pantry's services. Cunningham continued to keep the food pantry open during the pandemic to aid her community at great risk to her and her team's own health and well-being.
The event was held virtually and can be viewed at https://www.facebook.com/MassCSW. To view the full list of the 2021 class visit this link: https://www.mass.gov/doc/commonwealth-heroines-class-of-2021/download.