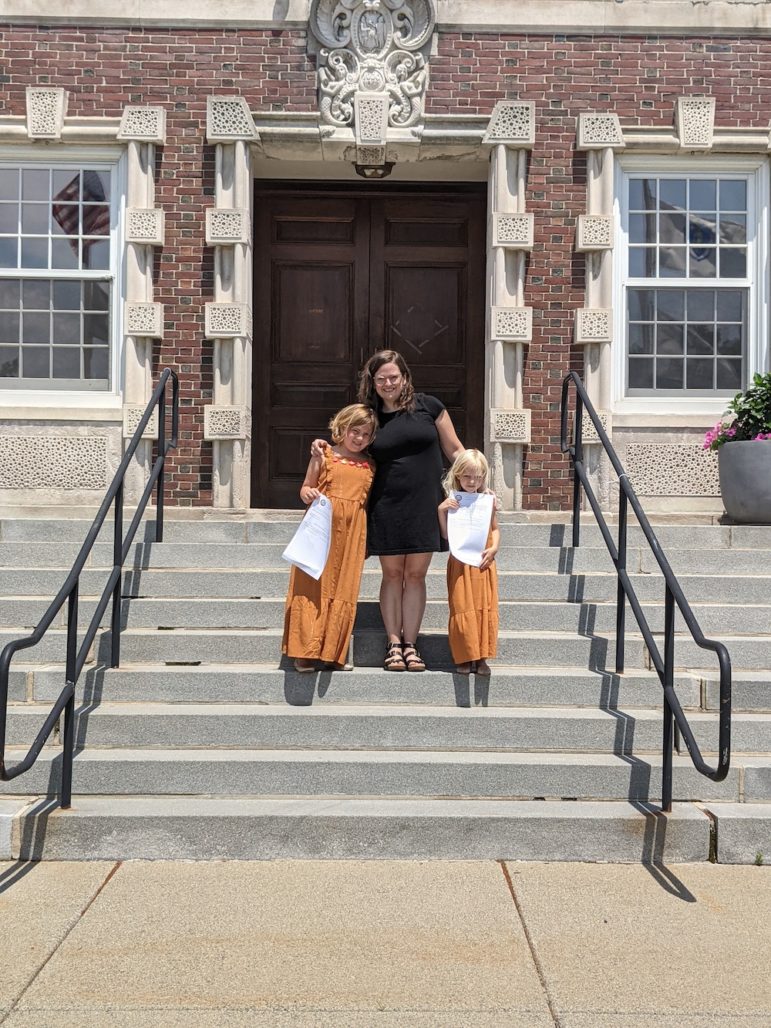 My name is Jessica Middlebrook and I am thrilled to announce my candidacy for Watertown School Committee.
In the wake of the most disruptive and painful school year in living memory, our community needs experienced, empathic leaders who will build connections, foster difficult but important conversations, and work toward creating equitable school cultures where all students feel valued and safe. With my experience as a parent and school mental health professional, my strong progressive values, and my abiding love for our community, I know that I can help our schools work better for all our kids and families.
My husband, David, and I have been residents of Watertown for the past 12 years. We were drawn here to start our family because of its diversity and caring, engaged community. We are now the proud parents of two children entering third grade and Kindergarten at the excellent Cunniff School this fall. In addition to being a Cunniff parent, I have served on the Cunniff School Site Council for the past 4 years, and am a member of the Cunniff Diversity Council and the WPS Anti-Bias Coalition. My experiences in these groups has given me invaluable knowledge about what is wonderful about our public schools, and insight into the difficult work left to do to achieve the district's stated goals of Excellence, Equity, and Community.
From a professional standpoint, I have devoted my life to education and supporting the mental health of young people in schools. I hold a Master's Degree in Risk and Prevention and a Certificate of Advanced Study in School Adjustment Counseling from Harvard Graduate School of Education. I have been a Behavior Specialist in the Cambridge Public Schools for the past seven years. In this role, I work with students, teachers, and administrators across the district from Pre-K through high school to build systems that support students emotionally, socially, and academically. Prior to that, I was a School Adjustment Counselor in special education programs serving students with social, emotional, behavioral, and learning needs. My experience working with students of all ages and teachers around behavior and mental health has given me a wealth of knowledge about what works (and what doesn't) in special education. My experience implementing research-based mental health practices for individual students and on a broader school-wide basis would bring an important perspective to the School Committee as we support students and families returning to school after this traumatic year.
In addition to my experience, my values have drawn me to pursue this seat. I stand for inclusivity, diversity, and active antiracism in our schools. I want my daughters — and all WPS students — to grow up in an environment where each and every child and family is valued for their unique backgrounds and experience. Recognizing injustice and celebrating differences lifts all of us up and helps lead to more active citizenship and civic engagement at this time when it is most necessary. It is imperative that students of all backgrounds feel safe and supported expressing all aspects of their identities. I applaud the district's decision to create a director of Diversity, Equity, and Inclusion and begin an equity audit, and the continued support of the Kingian Nonviolence program and school diversity councils. These are good beginnings, and I want to work with other leaders in Watertown to build upon them.
I know how challenging the pandemic has been at every turn for the families and students of Watertown, and I have been amazed at the fortitude and creativity shown by the teachers in WPS. Now is the time for courageous, empathic leadership focused on listening, healing, and community. I look forward to hearing from families and community members on this journey. Please reach out and share your concerns, hopes, and goals for our amazing school district. I am here to listen. I can be reached at: jessica4WPS@gmail.com. I look forward to hearing from you!
Sincerely yours,
Jessica Middlebrook