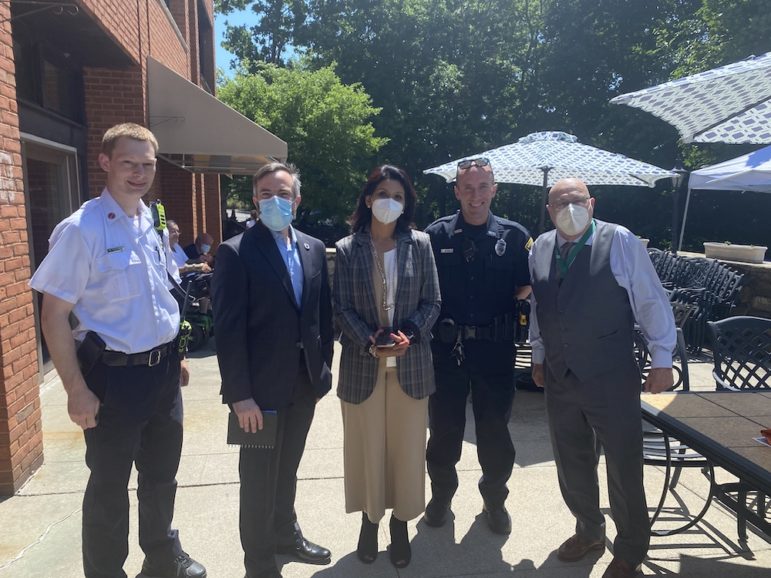 The operators of a Watertown skilled nursing facility that has struggled recently wanted to show that the place is under new management, and invited over the first responders, who visit on a regular basis, to thank them.
At the end of June, Vero Health & Rehab of Watertown held a cookout for the members of the Watertown Fire and Police departments, and also invited State Rep. Steve Owens to come by and tour the facility.
The facility on Coolidge Hill Road came under scrutiny after reports of possible elder abuse and hundreds of 911 calls coming from there, including sometimes from patients. Watertown Police referred the investigation to the Middlesex District Attorney's Office, which was reported on by WBZ Channel 4.
Vero took over management of the facility, formerly known as the Watertown Health Center, in October 2020 after the previous owner went into receivership. Officials from Vero did not want to be quoted by Watertown News, but told the Watertown Police and Fire officials that they wanted to show that they have made changes and things are going in the right direction.
Some of the changes were simple things, including the way that patients make a call from their room. They used to have to dial 9 and 1 to make a call, which sometimes led them to calling 911. Vero has changed the system so people now dial 8 and 1, instead.
Vero wanted to honor and thank Watertown's first responders, said Tim Churchill, administrator of the Vero Watertown facility. The cookout was attended by Police Chief Michael Lawn, Fire Chief Bob Quinn, and other high ranking members of both departments. Several other members of Watertown's public safety departments also stopped by for a bite. The spread included hamburgers, hot dogs, Italian sausages, watermelon, potato salad and green salad. A live musician entertained the diners.
Quinn said that he has been meeting regularly with the management at Vero Watertown.
"They just took over and we are trying to get on the same page," Quinn said.
He has already seen some improvements.
"It's getting there," Quinn said. "It is a slow process."
After having some food at the cookout at Vero Watertown, State Rep. Steve Owens took a tour of the facility, and got to see multiple floors. He had not visited the skilled nursing facility previously, but had heard about some of the reports.
"From everything I have heard, everything is moving in the right direction," Owens said. "It is good they are solving the problems of the previous ownership. It requires collaboration from everybody."