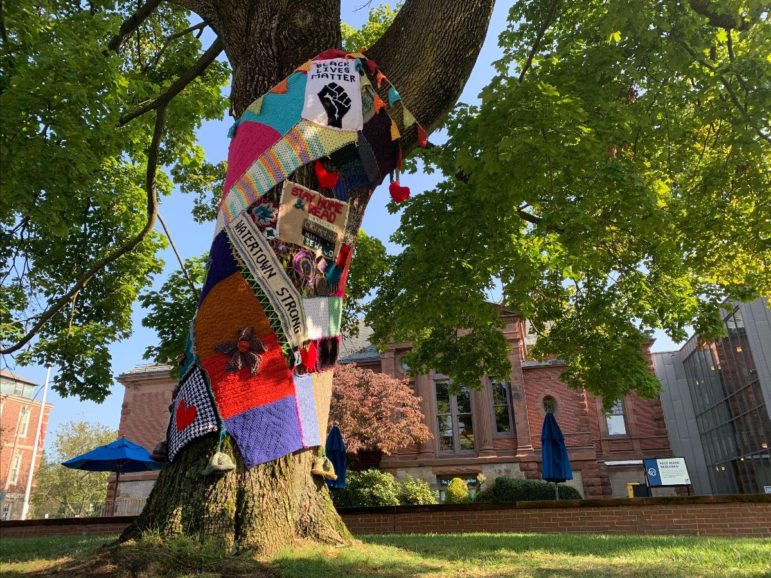 The Watertown Library provided the following information:
Based on the success of the Watertown Strong Knit Graffiti Project in Fall 2020, WFPL has decided to again collect donations of knitted, crochet, sewed, and other crafted items to decorate the Maple Tree — and more — in front of the Library on Main Street.
Are you a crafter? We will be collecting items that are crafted with the fall theme, Watertown Woodland Wonderland, in mind! Sew a leaf, crochet a fairy, carve a toadstool, knit with fall harvest colors, or whatever your crafter hands can think up. Help us turn the front of the library into a magical woodland.
We will collect crafted items in a contactless donation bin for the months of June, July, and August to decorate the front of the library and our Maple tree on Main Street for September 2021.
Knit/Fiber Graffiti Information Sessions
Want to know more about craft graffiti and communal art? Need ideas of what to make or what we are looking to collect? Join us for one of our Zoom info sessions in June and July:
FAQs
What can I donate for this project? Are there parameters?
You can donate anything you have crafted that is on theme, in any medium. Knitters, crocheters, sewers, weavers, and any other handicrafts welcome. We will accept both 2D and 3D objects. If items are not fiber based for stitching together, we ask that it be able to be comfortably carried by one person. Everything donated will be installed as part of the completed project in September.
When and where can I donate?
The Library will be collecting donations in a contactless donation bin in the months of June, July, and August for a September installation. The bin can be found in the back hallway of the library, near the parking lot entrance.
Will I get donated items back?
Anything donated for the project is library property, and the library is not liable for any damages to donated items.